Print This Post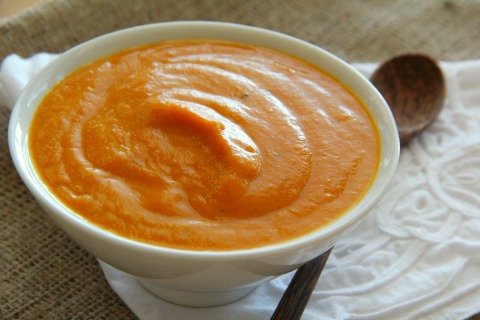 The inspiration for this delicious, healthy soup was simple: things that needed using up.
Squash that was 2 weeks old
A bag of limp carrots
A knob of fresh turmeric I got in Hawaii and smuggled home. Oops…did I just admit that?
A carton of a new brand of chicken broth
All those things were orange-yellow colored, so I began to get an idea that orange-color soup was in my dinner plans.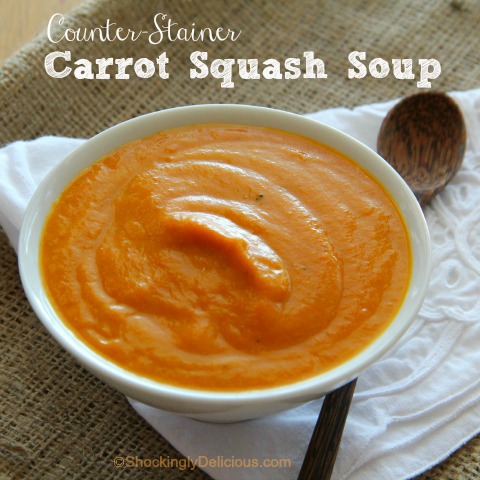 Turmeric, you may know, has been used as a traditional fabric dye, is the chief coloring agent in many mustards, and is used in lots of foods — cheeses, yogurt, dry mixes, salad dressings,  margarine, canned chicken broths, canned drinks, ice cream, yogurt, yellow cakes, popcorn color, cake icings, gelatins, etc. – to give a warm yellow color. It is a key ingredient in most commercial curry powders.
That's why I name this "Counter-Stainer" soup, because if you lay the spoon you're stirring your soup with on your nice white counter, stubborn yellow streaks will remain. So heed my warning and use a plate to rest the spoon on.
And heaven forbid, don't wear a white shirt while you're making it!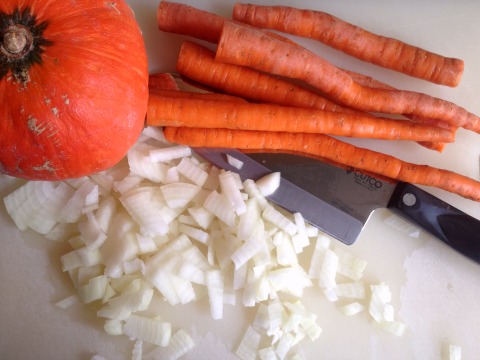 Recipe: Counter-Staining Carrot Squash Soup
Summary: Deep orange in color with a deeply rich, earthy flavor and silky texture, this is a soup to savor as soon as squash comes in season.
Ingredients
1 (1 1/4-pound) Gold Nugget squash
1 tablespoon olive oil
1 onion, finely chopped
1 pound carrots, sliced
1 tablespoon finely minced fresh ginger
1 tablespoon finely minced fresh turmeric (or 1 teaspoon ground turmeric)
1 teaspoon ground cumin
4 cups lower-sodium chicken broth (I used Chicken Soup for the Soul Reduced Sodium Chicken Broth)
8 grinds black pepper
¼ teaspoon freshly ground nutmeg
Garnish: fried onions or chopped cilantro or sliced almonds (just suggestions)
Instructions
Cut squash in half, scoop out and discard seeds using a spoon, and place the squash halves into a microwave-safe lidded container. Add about ¼ cup water. Microcook on high for 6-7 minutes. Test for doneness (a knife should slide easily into the flesh), remove from oven and allow to cool while you work on the rest of the soup.
Heat the olive oil in a large soup pot. Add onion and carrots and cook for about 5 minutes, stirring frequently so they don't burn. Add the ginger, turmeric and cumin, stir, and continue cooking for another 5 minutes.
Add the broth, bring to a boil and simmer, covered, for about 7-8 minutes. While soup is simmering, scrape flesh from squash using a spoon (discard skin). Add squash, pepper and nutmeg to soup and simmer another 7-8 minutes.
Remove from heat and if you like smooth soup, carefully puree soup in a blender, doing it in several batches. (Hot liquids expand in the blender when you whirl them, so do not overfill blender or you will have a dangerous accident. Do it in 3 batches. Trust me.) If you don't like silky smooth soup, you may leave soup in the pot and mash it with a potato masher to keep it chunkier. If soup seems too thick to you, add a bit of water until it is the consistency you like.
Pour soup into bowls and serve.
Serves 4.
Source
Dorothy Reinhold | Shockingly Delicious
Turmeric for health
Turmeric has been used for thousands of years in folk medicine. It has been thought to heal sores (microbial properties), and diseases of the pulmonary and gastrointestinal systems, aches, pains, wounds, sprains, and liver disorders. A fresh juice is used to treat many skin conditions, including eczema, chicken pox, shingles, allergy and scabies. Turmeric milk is used in India as a home remedy for fever, turmeric paste is used as an antiseptic in open wounds, while turmeric with lime is used to stop bleeding. The active compound curcumin is believed to have a wide range of biological effects including anti-inflammatory, antioxidant, antitumor, antibacterial, and antiviral activities. In Chinese medicine, it is used for treatment of infections and as an antiseptic. However, according to the National Center for Complementary and Alternative Medicine, "there is little reliable evidence to support the use of turmeric for any health condition because few clinical trials have been conducted." – Wikipedia.
Preparation time: 15 minutes
Cooking time: 30 minutes
Diet tags: Reduced fat, Gluten free
Number of servings (yield): 4
Culinary tradition: USA (Nouveau)
My rating 5 stars:  ★★★★★ 
Disclosure: Melissa's Produce sent the Gold Nugget squash, and Chicken Soup for the Soul sent the chicken broth for recipe testing. All prose and opinions are my own.