Print This Post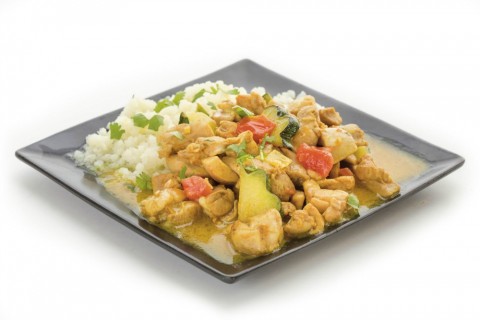 Easy, healthy, veggie-filled Chicken Coconut Curry will be on the dinner plate in about half an hour. Fragrant with curry, made easily in a skillet, this dinner is a family-pleaser. Serve over cauliflower rice if you like.
We've been exploring lower-carb recipes and meals lately on Shockingly Delicious, and none have been as wildly popular as Easy Taco Pie, as welcome for dinner as it is for lunch the next day, dressed up with salsa or sliced avocados.  It's in the permanent rotation.
And so I was excited to learn that the author of the cookbook that spawned Easy Taco Pie has come out with a new book — "Easy Keto Dinners: Flavorful Low-Carb Meals for Any Night of the Week." That describes my usual challenge — I'm looking to get a great tasting, healthy, lower-carb dinner on the table despite work, soccer games and all the other stuff of life. The book has 50+ low-carb, high-fat meals to max out the flavor and minimize the hassle. Amen to that, sister.
Let's see…50 recipes, and if I make one per week, I'll have a year's worth of new ideas on my lower-carb journey.
Every time we go to the neighborhood Thai restaurant I am drawn in by the fragrance of their curries — those smells wafting from tables as I walk to my seat make it hard to order anything else! So the first recipe that popped out at me when I started paging through this clean, pretty cookbook was Chicken Coconut Curry. Ah, yes, come to mama!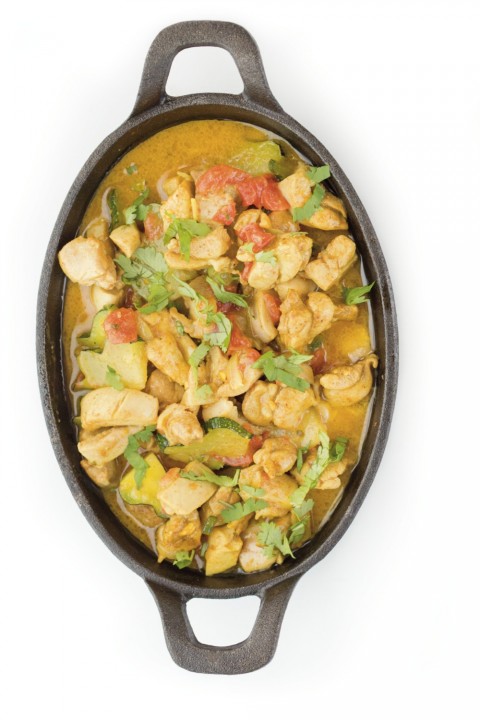 Listen to what author Carolyn Ketchum says about it:
"Every time I eat curry, I wonder why I don't have it more often. The cooking process is simple, and the end result is flavorful and comforting. Note to self: Make more curries! This dish is fantastic served over cauliflower rice."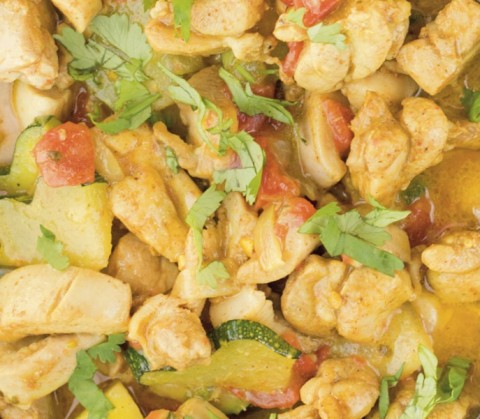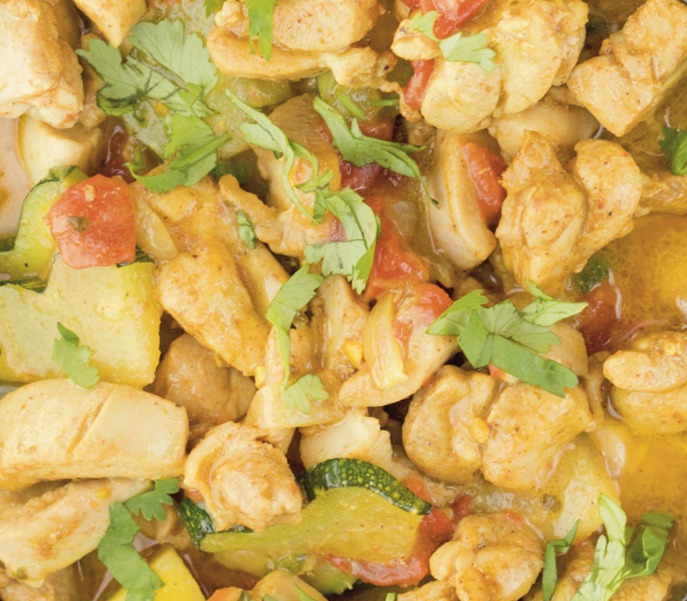 Let's make Chicken Coconut Curry, shall we? Dinner is in half an hour.
Easy, healthy, veggie-filled Chicken Coconut Curry will be on the dinner plate in about half an hour. Serve over cauliflower rice if you like.
Ingredients
1/4 cup coconut oil
1 small zucchini, sliced 1/4- inch thick
1/4 cup chopped onions
2 tablespoons curry powder
1/2 jalapeño pepper, minced
1 1/2 pounds boneless, skinless chicken thighs, cut into 1/2-inch pieces
Salt and pepper
1 cup full-fat coconut milk
1/2 cup chopped fresh tomatoes
1/4 teaspoon xanthan gum (optional, for thickening)
GARNISH: 3 tablespoons chopped fresh cilantro (optional)
Directions
In a large skillet over medium-high heat, heat the coconut oil until shimmering. Add the zucchini and onions and sauté until the onions are translucent, about 4 minutes.
Stir in the curry powder and jalapeño and cook until fragrant, another 30 seconds. Sprinkle the chicken with salt and pepper and place in the skillet. Sauté until nicely browned all over, about 5 minutes.
Add the coconut milk and bring to a simmer. Reduce the heat to medium-low and cook for 10 minutes, until the chicken is fully cooked through. Stir in the tomatoes.
For a thicker sauce, push the chicken and veggies to the side of the skillet and sprinkle the sauce with the xanthan gum. Whisk quickly to combine, then toss with the rest of the curry.
Sprinkle with chopped cilantro before serving.
Serve over cauliflower rice or eat as-is.
Serves 4.
Notes
https://www.shockinglydelicious.com/chicken-coconut-curry-keto-gluten-free/
Copyright Dorothy Reinhold | ShockinglyDelicious.com. All rights reserved.
If you like this recipe and want to save it, pin the image below to your Pinterest board.

Thanks for visiting…are you hungry for more? Follow Shockingly Delicious on…
FACEBOOK   |   PINTEREST   |   INSTAGRAM   |   TWITTER
…for all the latest recipes, ideas and updates!
I highly recommend "Easy Keto Dinners" for the modern kitchen. It's practical, easy to use, and to-the-point. The photos are beautiful, the recipes clear and easy to follow, and the book will be littered with bookmarks after your first pass through it. I see a year's worth of meals in here for us!
This post may contain affiliate/referral links. It is a way for this site to earn advertising fees (at no cost to you) by advertising or linking to certain products and/or services.