Print This Post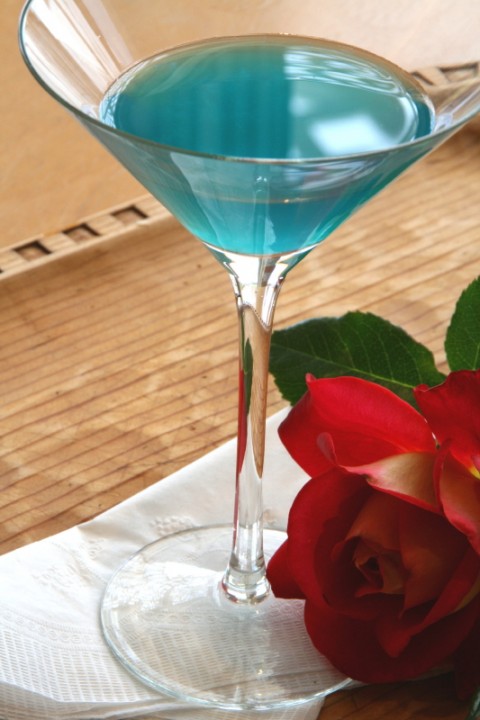 I'm a sucker for a blue drink. But my favorite liqueur is golden colored Licor 43 (Cuarenta y Tres), a  Spanish elixir that tastes of warm citrus and vanilla, among the 43 ingredients in it. Hence the name. It mixes with nearly anything, and very successfully rounds out a sophisticated yet approachable cocktail.
I named this one after the Malibu Lagoon, a 13-acre beautiful wetlands area where Malibu Creek meets the Pacific Ocean. The lagoon empties into the ocean at world famous Malibu Surfrider Beach, renowned as a surfing and recreational destination, with 1.5 million visitors every year.
If you live in or are visiting the West L.A. area, you owe it to yourself to devote a lazy day to the lagoon — strolling along the wooden boardwalks that give access to the weedy salt water marshes, observing the natural bird sanctuary where several hundred species stop each year during their annual migrations. Expect to see pelicans, egrets, herons and ducks, for sure.
During your lazy day, picnic on the beach and take a dip in the ocean. Wear water shoes, because during low tide you will want to scramble over the rocks in the tide pools to see anemones, crabs, sea cucumbers, and starfish. While spotting watery things, keep your eyes open for stars having their own day on the sand; the celebrity-laden Malibu Colony is at the north end of the beach.  A half-mile south is the Malibu Pier, which is also worth a stroll.
Before you leave, take a tour through the nearby Malibu Lagoon Museum and the historic Adamson House to see stunning examples of prized Malibu tiles. 23200 Pacific Coast Highway (at Cross Creek Road), Malibu, CA 90265.
Recipe: Blue Malibu Lagoon
Summary: Charming turquoise drink that mirrors the pretty Malibu Lagoon, this is flavored with Licor 43, which tastes of warm citrus and vanilla, for a sophisticated yet approachable cocktail.
Ingredients
1 ounce (2 tablespoons) white rum
1 ounce (2 tablespoons) Licor 43 (Cuarenta y Tres liqueur)
1/2 ounce (1 tablespoon) blue curacao
1/2 ounce (1 tablespoon) fresh lime juice
Instructions
Mix all ingredients in a cocktail shaker with crushed ice. Pour/strain into a martini glass.
Serves 1.
Variations
If you don't have Licor 43, you can successfully substitute Amaretto.
Preparation time: 3 minutes (if you dawdle)
Diet type: Vegan
Diet tags: Gluten free
Number of servings (yield): 1
My rating 5 stars:  ★★★★★