Print This Post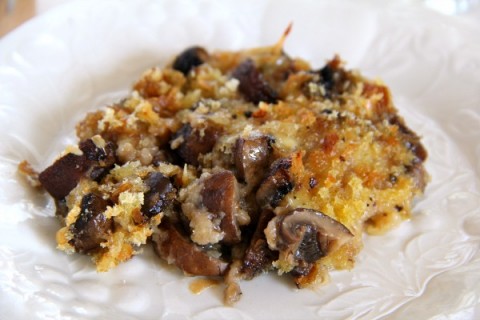 Amidst the chaos and clutter and cacophony of the joyous holiday season, I like to carve out little pockets of quiet. Sure, it's fun to run around doing stuff and decorating gingerbread houses and baking cookies, but it's also satisfying just to be quiet sometimes, sit with your family, and simply be present.
Family dinnertime is a natural time for this, and I feel so lucky that work and school schedules allow us to eat together every night. I know not everyone is so lucky!
One of our favorite holiday time dinners is cheese fondue. It's hard to be Bob Crachit when there's a big hot tub of melted cheese in the center of the table, and mushrooms, broccoli, apples and bread chunks to dip in.
So this year I'm bowing to the flavor of fondue, but changing up the presentation a bit, and making a sort of Cheese Fondue Casserole – everything in one dish. I'm still serving steamed broccoli and apple slices alongside it. We can't stray too far from the center, can we?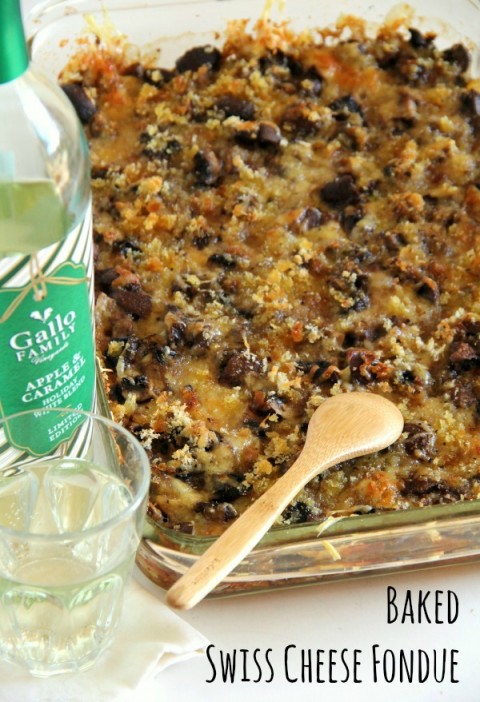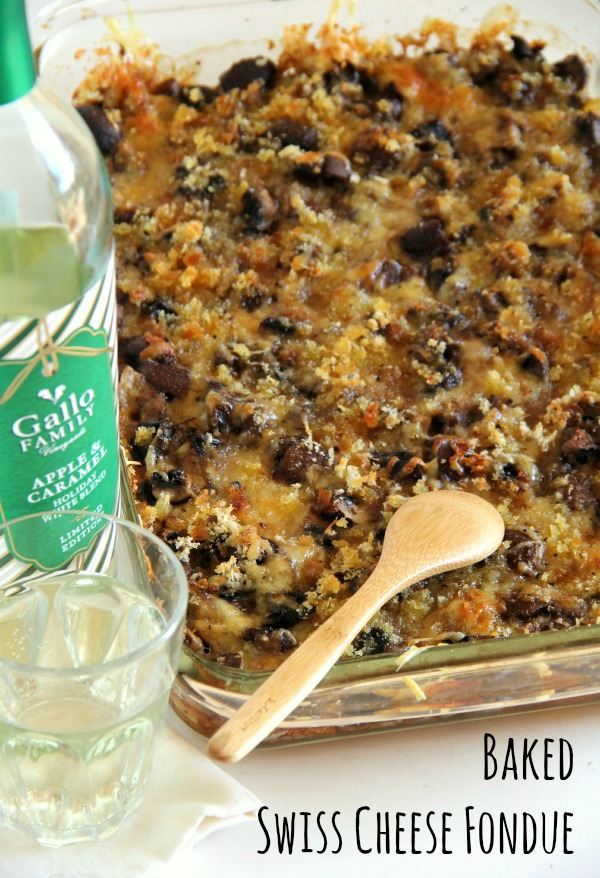 It calls for a little bit of white wine in the dish (so does a traditional cheese fondue), and I'm using a special limited edition Gallo Family Vineyards Apple & Caramel Holiday White Blend. When you uncork it, the first thing you'll notice is the burst of fresh apple fragrance! I'll offer that to the adults to drink with dinner, as well, along with Gallo's other limited edition seasonal wine — Mixed Berries & Chocolate Holiday Red Blend. This light red would go just as well with the rich mushrooms and cheese. Both wines are available until Dec. 31, and perfect for holiday entertaining since they are easy to like.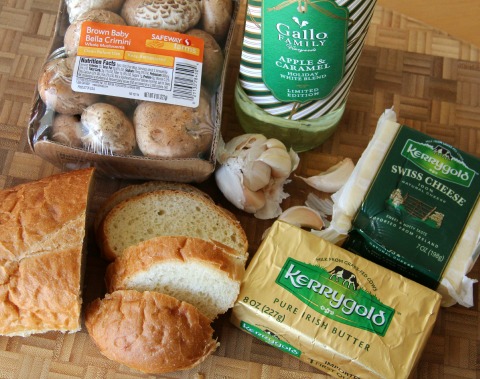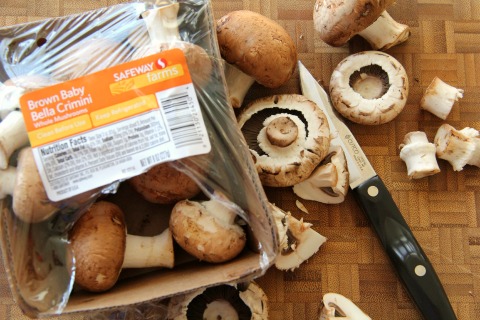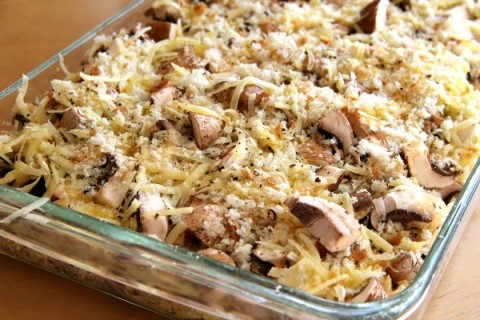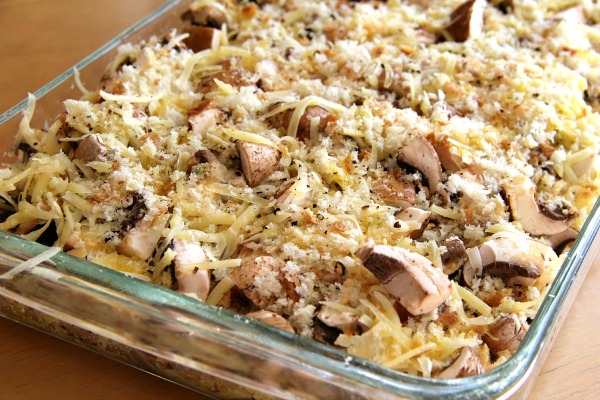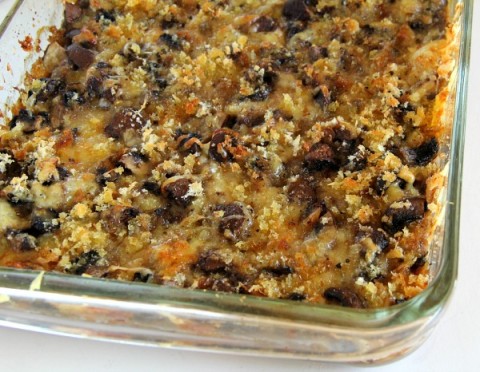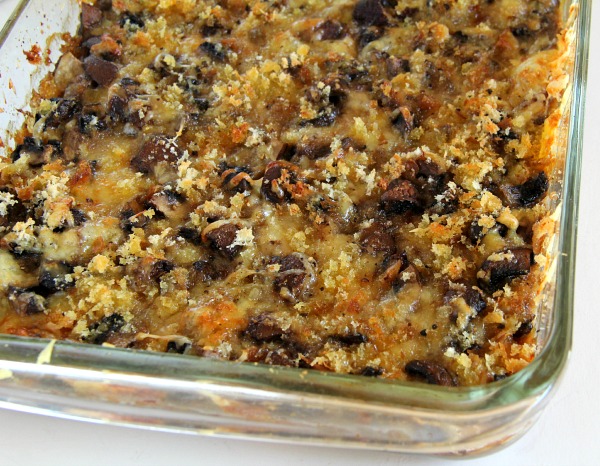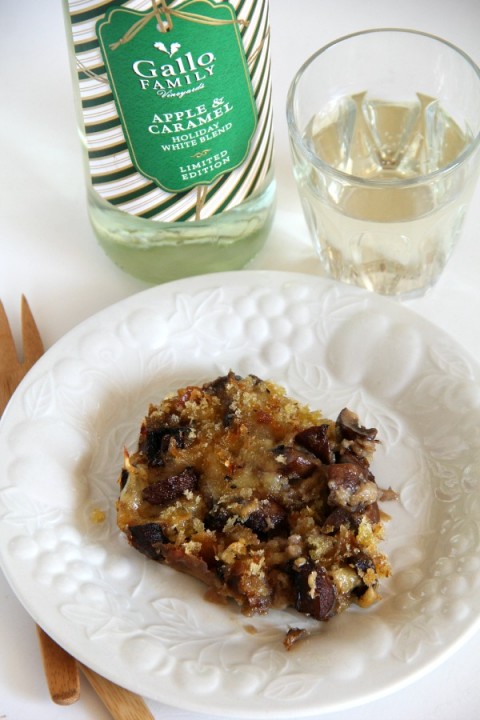 Let's pursue the fondue, without further ado.
Baked Swiss Cheese Fondue
Baked Swiss Cheese Fondue captures all the traditional fondue flavors in a baked casserole. It's wonderful as a main dish, or alongside beef or chicken.
Ingredients
2 pounds large fresh Crimini mushrooms, cleaned, stemmed and quartered (or leave whole if they are very small)
1 (7-ounce) package Swiss cheese, shredded
3 cups fresh bread crumbs
6 tablespoons (3 ounces) butter or margarine, melted
1/2 cup Gallo Family Vineyards Apple & Caramel Holiday White Blend (or white wine)
2 garlic cloves
Ground pepper to taste
Directions
Heat the oven to 350F degrees. Mist a 9- by 13-inch baking dish with nonstick spray (or butter the dish).
Place 1/3 of the mushrooms in the prepared dish, followed by 1/3 of cheese, 1/3 of the bread crumbs, 1/3 of the melted butter and 1/3 of the wine. Use a garlic press to press one clove and sprinkle that on, along with a few grindings of black pepper. Make 2 more layers in the same fashion (the final layer won't have garlic, unless you want to add another clove).
Bake uncovered for 40 minutes.
Remove and serve. Enjoy with a glass of wine, some steamed broccoli and fresh apple slices, and savor the time spent around the dinner table with family and friends.
Serves 4-6 as a main course, 8-10 as a side dish.
Notes
Recipe source: Dorothy Reinhold | Shockingly Delicious
Mushroom note: Do not use canned mushrooms for this dish. You won't like the result.
Sunday Supper: See this page for all the wonderful #SundaySupper dishes I have made since I joined this group, and links to all the other delicious dishes made by my fellow cooks.
https://www.shockinglydelicious.com/baked-swiss-cheese-fondue/
Copyright Dorothy Reinhold | ShockinglyDelicious.com. All rights reserved.