Print This Post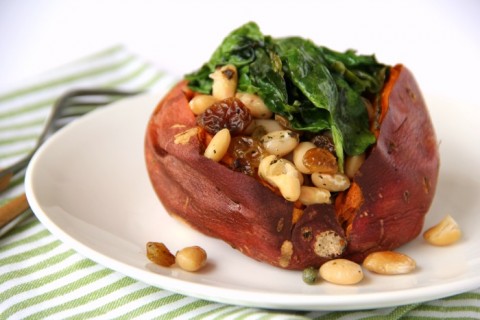 With 450+ cookbooks on my shelves, I might be called a hoarder collector, or maybe an obsessive, or maybe an enthusiast. But the truth is, most of us cook out of only a few books. But you just won't know which of those books are YOUR go-to books until you have them in your kitchen.
Some are there for inspiration, some are for pretty, some are for background on a subject, some are for specific events.
The newest book on my shelf is there to solve a problem: what to serve for dinner that only uses a single pan. "Sheet Pan Suppers: 120 Recipes for Simple, Surprising, Hands-Off Meals Straight from the Oven," by Molly Gilbert, does everything it promises, and more.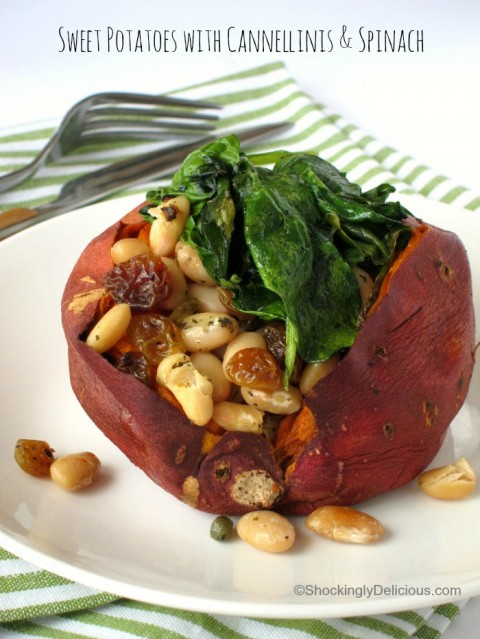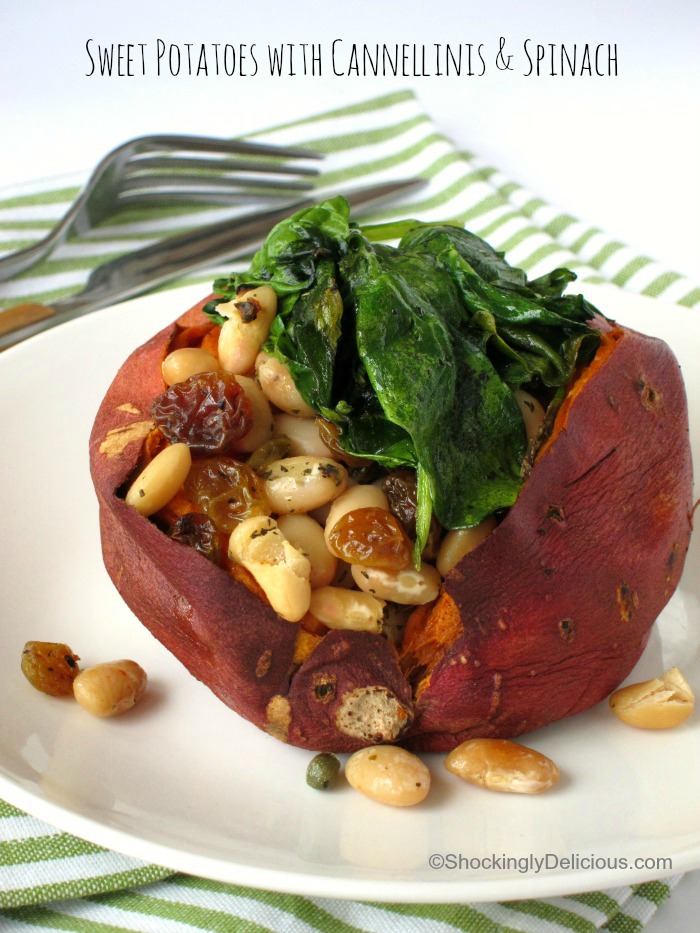 She took the idea of the one-pot meal (you know…soup, chili, stew and the like), and expanded it beyond its liquidy confines by using a sheet pan (aka a half sheet or rimmed baking sheet). Instead of all in one pot on the stove, dinner is all in one pan in the oven.
I plan to have the aroma of Caprese Turkey Burgers and Sweet Potato Wedge Fries wafting out of my kitchen next week. And there's an easy week's worth of winner-winner-chicken-dinner recipes in the book; I have my eye on Pesto Chicken Turnovers. For fish Fridays, I'm trying the Fancy Tuna Melts on naan, which, with capers, apples, fresh dill and marinated string cheese, are so much more than the name hints at. For brunch, I want to try her Big Dutch Baby with Meyer Lemon Sugar, using my backyard Meyers.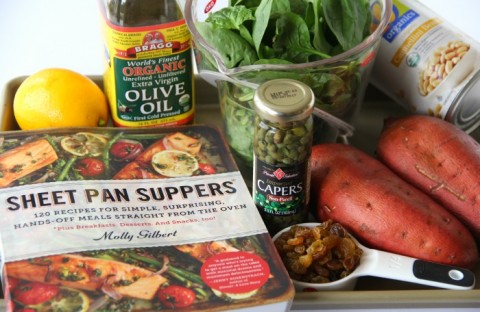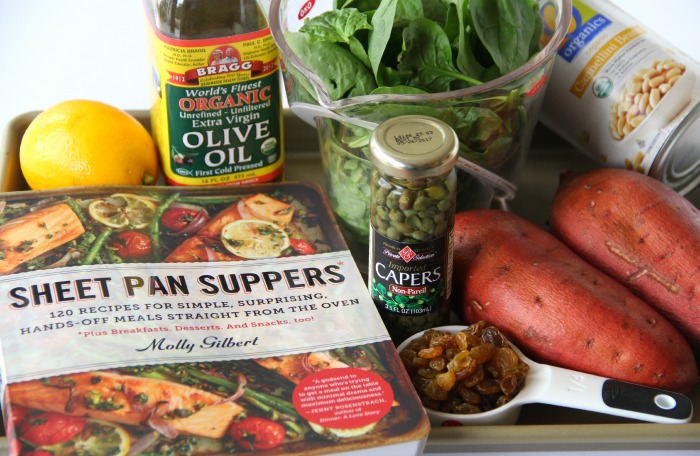 But my first dish from the book is today's meal — Baked Sweet Potatoes with Cannellinis and Baby Spinach. With sweet (potatoes and raisins), salty (capers), creamy (cannellini beans), tangy (lemon juice) and herbaceous (herbes de Provence, spinach), this is a satisfying meal on many levels. That it is also vegan is beside the point, but a definite plus.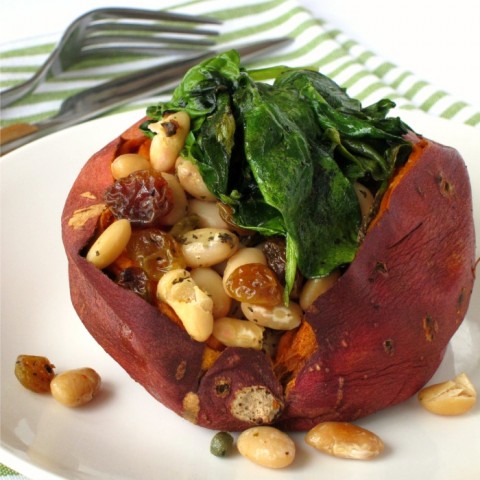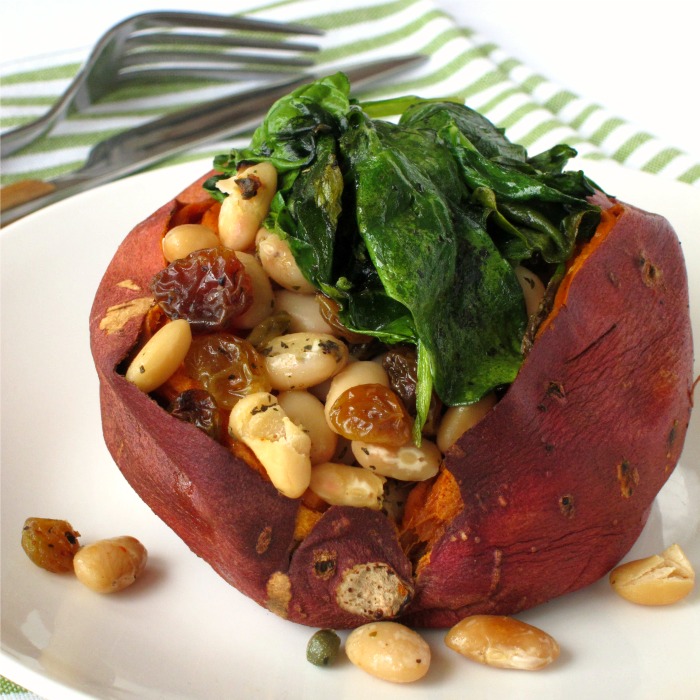 She suggests chocolate for dessert with this healthy meal. Who am I to disagree?
Baked Sweet Potatoes with Cannellinis and Baby Spinach
Baked sweet potatoes are stuffed with a briny mix of creamy cannellinis, raisins, capers and herbs, and topped with wilted spinach for a one-pan vegan dinner.
Ingredients
4 medium-size sweet potatoes, unpeeled, scrubbed and pricked all over with a fork
1 (15-ounce) can cannellini beans, rinsed and drained
1/4 cup capers, drained
1/4 cup golden raisins
1 tablespoon freshly squeezed lemon juice (I used Meyer lemon juice)
1/2 teaspoon herbes de Provence
1 teaspoon kosher salt (I used 1/2 teaspoon)
1/2 teaspoon freshly ground black pepper (I used 10 turns of the pepper mill)
Pinch of crushed red pepper flakes or to taste
1 tablespoon + 1 teaspoon extra virgin olive oil
4 cups packed fresh baby spinach
Directions
Heat oven to 400F degrees. Adjust rack to center position. Line a sheet pan with aluminum foil or parchment paper.
Place sweet potatoes on the prepared sheet pan and bake until soft enough to pierce easily with a paring knife, about 1 hour. Set aside on the pan to cool to the touch.
Meanwhile, in a medium bowl, stir together the beans, capers, raisins, lemon juice, herbs, salt, pepper, red pepper flakes and 1 teaspoon of the olive oil.
When the sweet potatoes are cool enough to handle, use a paring knife to split each one open lengthwise, taking care not to cut all the way through. (We're going to fill them like loaded baked potatoes.) Gently press the short ends of each potato together to expose the soft flesh and create a nice crater for the filling.
Use a spoon to distribute the bean mixture among the potatoes. Toss the spinach with the remaining tablespoon olive oil in the same bowl you used for the beans. (The bowl will have some delicious "dressing" still clinging to it.)
Stuff a big handful of spinach (about 1 cup) inside and on top of each bean-filled potato (they'll be overfilled and the spinach will overflow onto the baking sheet -- that's OK.)
Return the sheet pan to the oven and bake the potatoes until the spinach has wilted and everything is warmed through, 10 minutes. Serve the loaded potatoes hot from the oven.
Serves 4.
Notes
Recipe source: Recipe copyright © Molly Gilbert 2014. Used with permission from Workman Publishing Company.
Note from Shockingly Delicious: If you don't have herbs de Provence, you may successfully sub a no-salt Italian herb blend. If you are following a lower-salt diet regimen, you may decrease the kosher salt to 1/2 teaspoon.
https://www.shockinglydelicious.com/baked-sweet-potatoes-with-cannellinis-and-baby-spinach/
Copyright Dorothy Reinhold | ShockinglyDelicious.com. All rights reserved.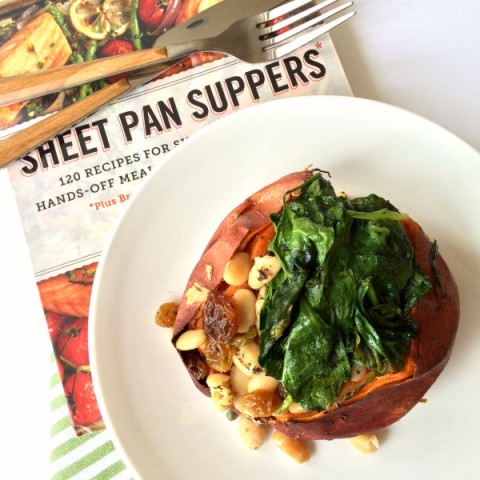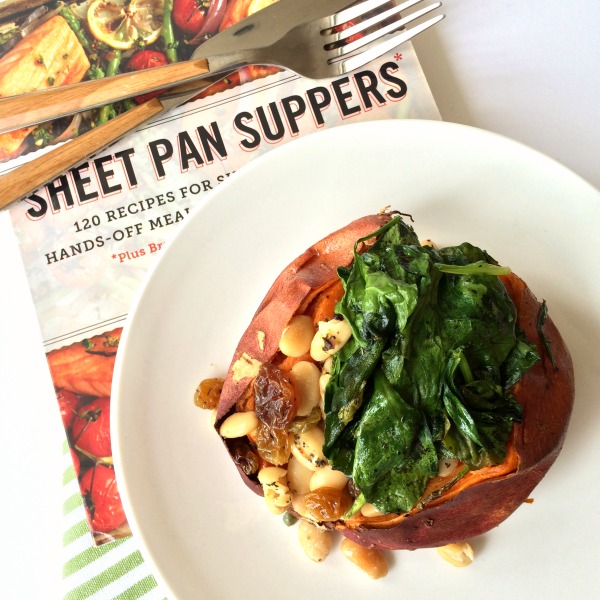 Meet the author, Molly Gilbert
Molly, a graduate of both Amherst College and the French Culinary Institute, is a cooking instructor and food blogger at Dunk and Crumble. She used to be a private chef, and is now a recipe tester in the kitchen of Saveur magazine. Way to make the rest of us look like pikers, Molly! You can catch up with her on her social media sites: Facebook – Twitter – Instagram – Pinterest, and read even more about her in this interview.
We have more sheet pan inspiration for you on our Sheet Pan Suppers Pinterest Board. And of course you can order your own copy of Sheet Pan Suppers. I promise this is one book that won't see much shelf time. It will always be open on your counter and in use.
This week's easy Weekday Supper recipes for sheet pan suppers are:
Monday – Hearty Ratatouille with Goat Cheese by Soni's Food
Tuesday – Lemon-herb Sole on Crispy Potato Rafts by kimchi MOM
Wednesday – Greens & Eggs & Ham by Cindy's Recipes and Writings
Thursday – Chicken Parmesan by Bobbi's Kozy Kitchen
Friday – Baked Sweet Potatoes with Cannellinis & Baby Spinach by Shockingly Delicious
There's a book giveaway at each of these sites, too, so go and enter there as well as on my site!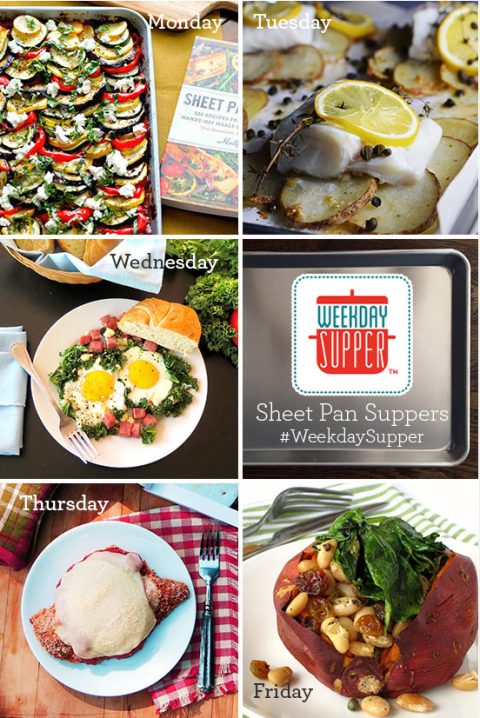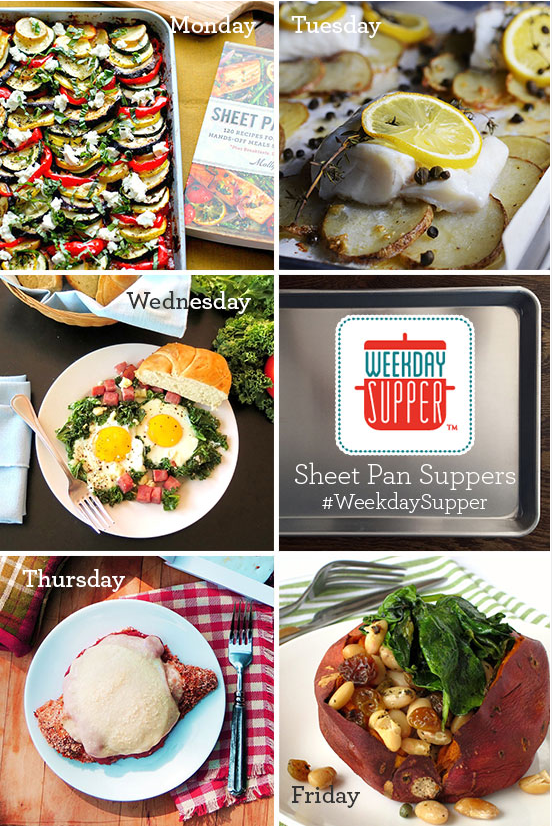 Giveaway!
Do you feel lucky? I do, because I get to give away a copy of this great cookbook to one of my readers. Simply leave a comment answering the question in the Rafflecopter widget below. A winner will be picked May 23. (Giveaway is for U.S. residents with a U.S. mailing address only.)
a Rafflecopter giveaway

Disclosure: This post is sponsored by Workman Publishing Company in conjunction with a social media campaign through Sunday Supper LLC. All opinions are my own.