Print This Post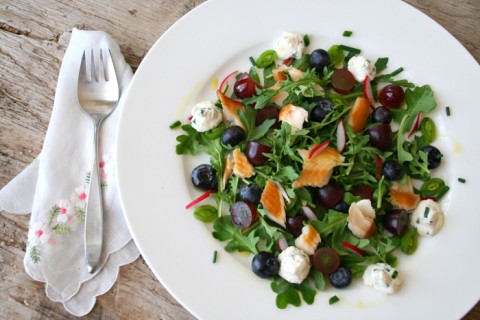 If I ask you what foods come from the country Chile, what would you say?
Uh…hmmm…wait, it'll come to you.
I thought so. I didn't know too much about what that country produces, either, until recently when I accepted a culinary challenge from Kitchen PLAY to create a dish using foods from Chile. As I discovered, foods from Chile pretty much covers nearly every delicious category, including so many healthful things. Just to name a few:
Fruits (apples, avocados, blueberries, cherries, clementines, grapes, lemons, raspberries, prunes, raisins)

Fish (trout, shellfish, salmon)

Pantry items (olive oil, tomato paste, walnuts, wine)
The challenge was to make something completely delicious out of Chilean foods, including some of the items in this basket: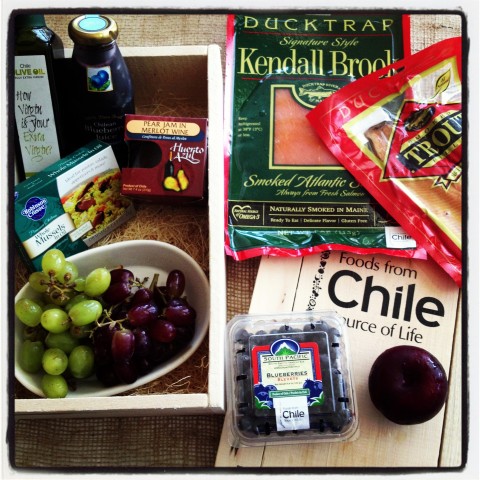 Not only that, but we had to take suggestions from our readers as to what to do with our foods! I was game.
I took my inspiration from Judy Lyness of the blog Two Broads Abroad, who had created a memorable Smoked Trout Arugula Salad with English Peas and Horseradish on her blog,  for an underground supper club that she had last year. She calls it a "zingy springtime dance in your mouth."
That's an understatement! This salad is one of those restaurant-worthy salads for which you would pay $25 a plate. That's IF you could get a reservation!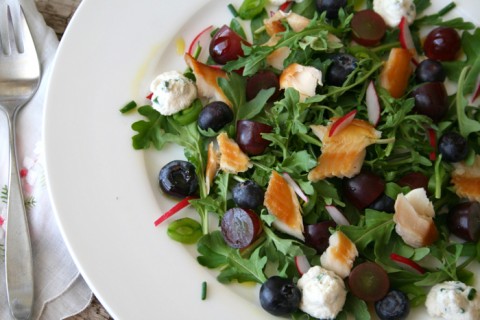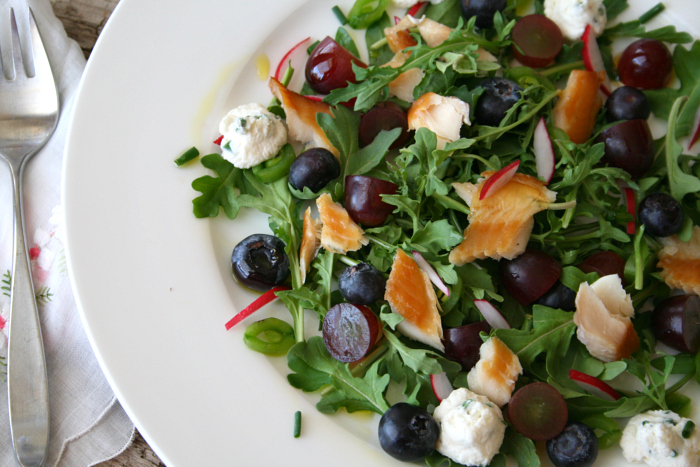 I accepted her challenge and changed up her salad just a bit, substituting grapes and blueberries for the English peas, mascarpone cheese for the whipping cream, and a couple of other updates. Her salad idea did me proud. And because she provided my winning inspiration, she gets a gift bag from the Chilean foods people. Thanks, Judy!
You're going to love this salad for the complex flavors – slightly bitter arugula, smoky fish, sweet fruit, herbed cheese, simple zippy dressing and drop-dead beauty.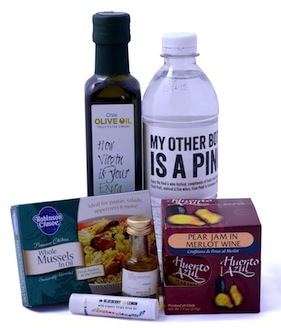 Please join us for a #CookChilean Twitter party on Tuesday, May 7 from 7-8 p.m. Eastern time. We'll talk about Chilean foods and hand out prizes (valued at $25) to randomly selected registrants who correctly answer treasure hunt questions about Foods From Chile. Follow the hashtag #CookChilean and register for the chat here.
CHEATER'S HINT: My treasure hunt fact was this: 77% of the imported trout in the U.S. is from Chile. Remember that and fling it out at the appropriate time in the Twitter chat and win that dang prize!
Recipe: Smoked Trout Arugula Salad with Grapes and Blueberries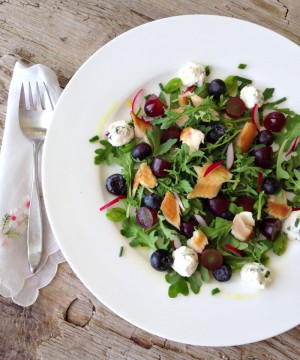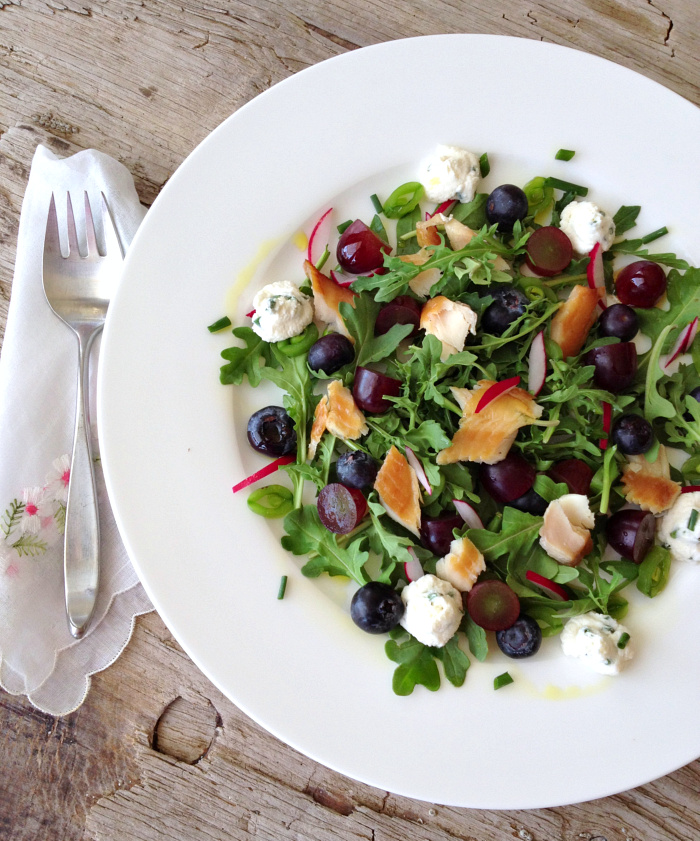 Summary: An extremely beautiful dinner salad with complex flavors from slightly bitter arugula, smoky trout, sweet fruit, herby cheese and lemony dressing. It's a flavor explosion!
Ingredients
6-8 ounces baby arugula
4-6 ounces sugar snap peas, thinly sliced on an angle
6 medium radishes (reds and purples if you can find purple), sliced paper thin or in tiny matchsticks
Drizzle of olive oil from Chile
2 Meyer lemons
1 (6-ounce) container blueberries from Chile
30 or so red grapes from Chile, halved
1 filet smoked trout from Chile, crumbled with your hands, any bones removed
Horseradish Cream
4 tablespoons mascarpone
2 tablespoons horseradish
Chopped chives
Pinch of salt
Grind of black pepper
Instructions
In a big salad bowl, place arugula, snap peas and radishes. Toss with a drizzle of olive oil and a couple of tablespoons of lemon juice, a pinch of kosher salt and a grind of fresh pepper. Remember, you want to dress the salad very lightly, not drown it.
Divide salad between dinner plates. Sprinkle with blueberries, grapes and portion trout onto the salads. Arrange it prettily!
In a separate small bowl, stir together mascarpone, horseradish, chives, salt and pepper. It will be the consistency of soft cream cheese. Scrape it into a small zipper-top plastic bag, zip it shut and snip off one corner. Pipe little rosettes of Horseradish Cream onto each plate in several spots. This looks and tastes fancy, and is why restaurants charge you the big bucks!
Finish each salad plate with a drizzle of Chilean olive oil, and serve!
Makes 4 dinner salads.
Source
Inspired by and adapted lightly from Judy Lyness and this recipe.
Preparation time: 25 minutes
Number of servings (yield): 4
Culinary tradition: USA (Nouveau)
My rating 5 stars:  ★★★★★