Print This Post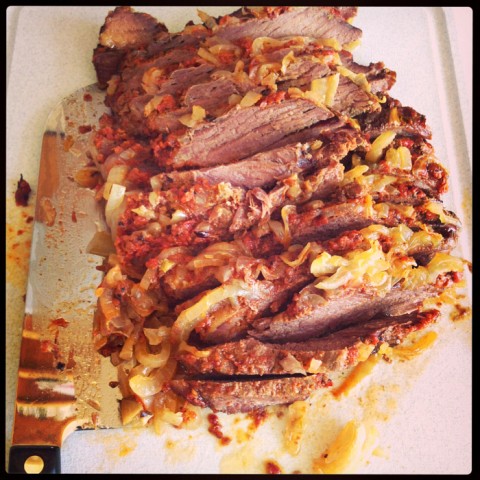 On a whim, I bought grass fed brisket.
On a whim, I bought a jar of roasted tomato harissa paste, the Tunisian hot chili sauce.
Since these purchases didn't occur in the same time period, I hadn't a clue that they would even fraternize.
But they not only got along famously, they shacked up and immediately set a wedding date!
Lucky for us! Passover? A nice Sunday dinner? You decide.
Recipe: Harissa Brisket
Summary: Meltingly tender from a long, slow cook, the brisket is lightly spicy and deeply oniony – perfect for a weekend dinner or Passover.
Ingredients
1 large organic onion
3 cloves garlic, minced or smashed
2-3 tablespoons olive oil
Pinch kosher salt
Grind of black pepper
2-pound piece of grass-fed brisket
4 tablespoons Lulu Roasted Tomato Harissa
Instructions
Heat oven to 300 degrees. Spray a lidded baking dish with nonstick spray and set aside.
Slice onion thinly. Place half the onion slices in the prepared baking dish.
In a small cup, mix garlic, olive oil, salt and pepper into a paste. Using your fingers or the back of a spoon, rub the paste on both sides of the brisket, using it all up. Place the brisket on top of the bed of onions.
Spread the Harissa paste on top of the brisket.
Sprinkle remaining onions over top. Dust with a pinch of kosher salt.
Put the lid on the dish and bake in the oven for 3 hours. Remove and allow meat to rest for 5-10 minutes.
Either slice and serve, with pan juices and onions, or if you like the pan juices thicker, pour pan juices and onions in a small saucepan and boil for 7-10 minutes or so until thickened slightly. (If you are making the brisket ahead of time, you may cool the sauce and remove the layer of fat once it has congealed, before reheating for serving.
Serves 6-8.
Harissa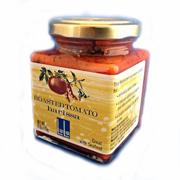 Lulu Roasted Tomato Harissa is a recent discovery for me, and has just a little kick but not so much it blows the top of your head off. It is made from roasted tomatoes, roasted red peppers, olive oil, carrots, red wine vinegar, salt, red pepper, coriander, sugar, garlic, beets, thyme and caraway. Exotic, yet accessible, and delicious!
Preparation time: 10 minutes
Cooking time: 3 hours
Diet tags: High protein
Number of servings (yield): 6
Culinary tradition: Middle Eastern