Print This Post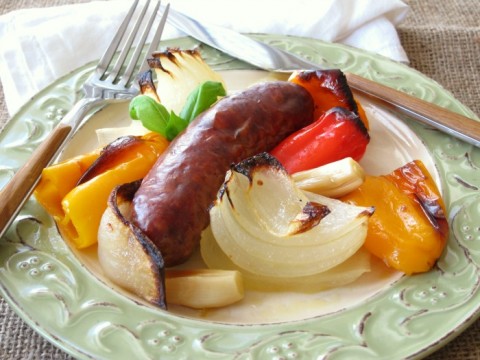 I am such a fan of things that make it easy.
1-pan dinners, for example. Whether a skillet dinner like Sesame Pork Stir-Fry Bowl, or supper made on a sheet pan like Sweet Potatoes with Beans and Baby Spinach, the fewer pans to wash, the better.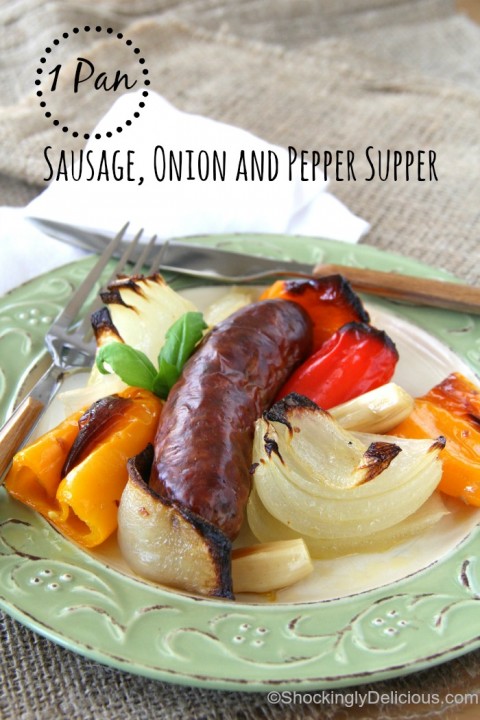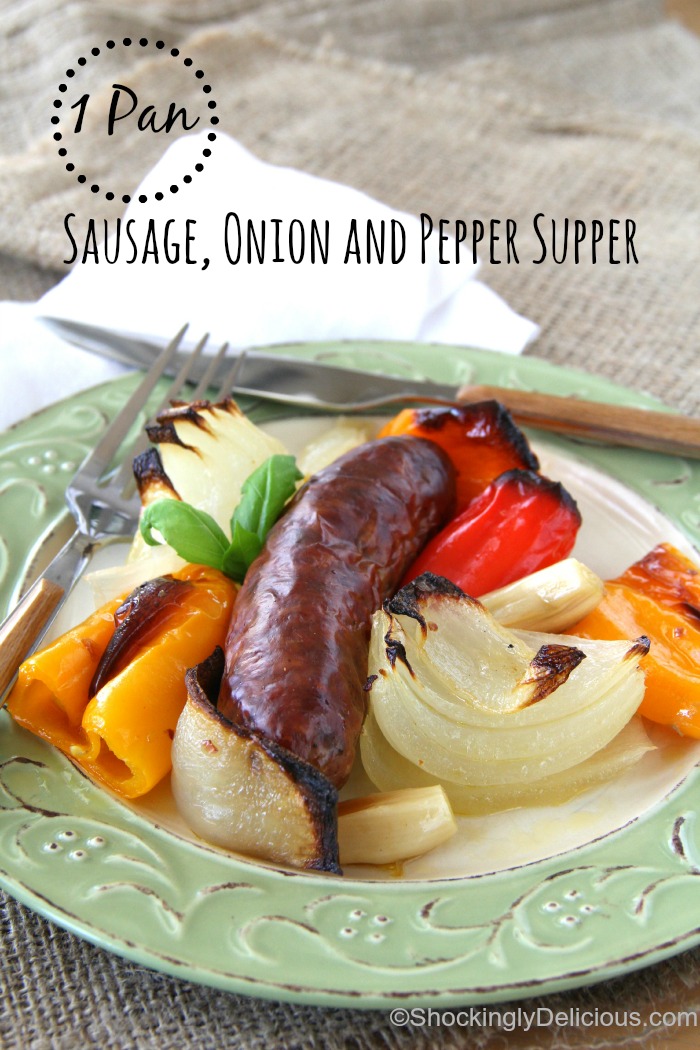 My latest dinner-made-easy is a slight riff on an idea from the book "Sheet Pan Suppers," by Molly Gilbert. It's a classic — sausage, onions and peppers, garlicked up and roasted all together in the oven for ease. Serve it in a roll, sandwich-like, or on greens, depending on your relationship to carbohydrates that day.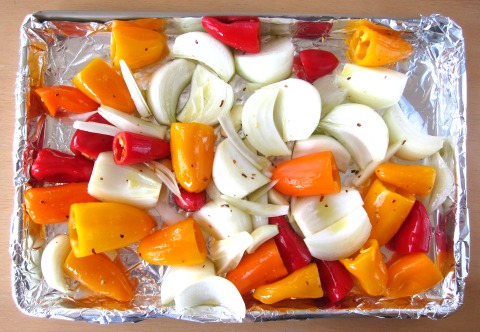 Line the pan with foil for easy cleanup. Toss everything with olive oil.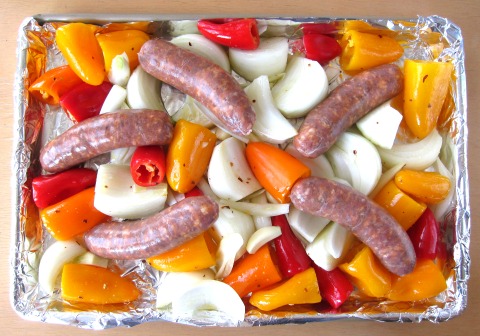 Lay the sausages on top and roast.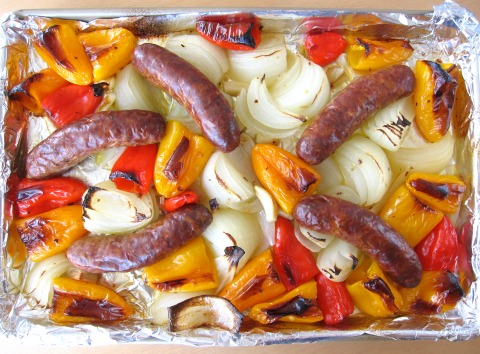 Out and done!
You just about have time to set the table, look at the mail and pour the wine before dinner is ready.
1-Pan Sausage, Onion and Pepper Supper
Garlicky peppers, onions and sausages are roasted until browned, then piled either in a bun or on greens, depending on how you feel about carbs that day.
Ingredients
2 large onions, sliced into 3/4-inch wedges
25 mini colored bell peppers, caps removed (or 3-4 regular sized bells)
8 cloves garlic, paper skin removed
Pinch kosher salt
Pinch red pepper flakes
1 pound mild Italian sausages (4-5 sausages)
3 tablespoons extra-virgin olive oil
Directions
Heat the oven to 450F degrees.
Line a sheet pan with parchment paper or use aluminum foil and mist the foil with cooking spray.
Add onions, peppers, garlic, salt, pepper flakes and sausages to the pan. Drizzle with olive oil and toss to coat everything. Spread vegetables out in a single layer, and lay the sausages on top.
Roast for about 45 minutes. Vegetables will be somewhat charred and sausages will be browned on outside.
Remove pan from oven and serve in buns or over wilted greens.
Serves 4.
Notes
Recipe source: Dorothy Reinhold | Shockingly Delicious, lightly adapted from "Sheet Pan Suppers," by Molly Gilbert.
https://www.shockinglydelicious.com/1-pan-sausage-onion-and-pepper-supper/
Copyright Dorothy Reinhold | ShockinglyDelicious.com. All rights reserved.
 #OXOGreenSaver
Another thing that has made it easy for me is a new gadget called the GreenSaver, from OXO, the folks who make well-designed kitchenware and housewares. The GreenSaver is a food storage system that prolongs the life of produce so you can save more and waste less. You know how you buy produce, stick it in the fridge and mere days or a week later sometimes it is slimy or half rotted?
The problem begins with gas. Fruits and vegetables naturally give off ethylene gas, but this gas speeds up the ripening process, causing produce to over-ripen and go bad. It's especially bad when produce touches the walls of containers, bags or crispers, where moisture can build up and cause rotting.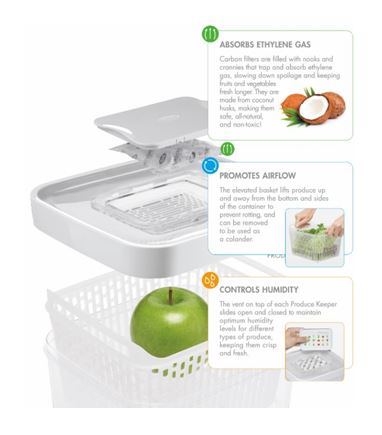 The GreenSaver has an activated carbon filter to absorb the gas, slowing down the aging process and keeping produce fresh longer. It also has a basket insert to keep produce away from the walls, promoting airflow.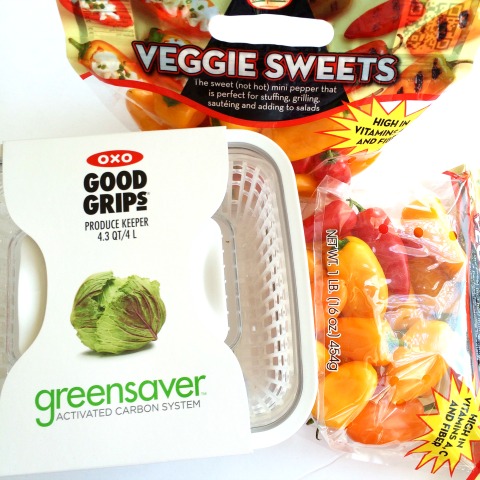 OXO sent a GreenSaver for me to try, and Melissa's Produce sent a couple of bags of delicious, crisp, fresh mini bell peppers to take this gadget through its paces.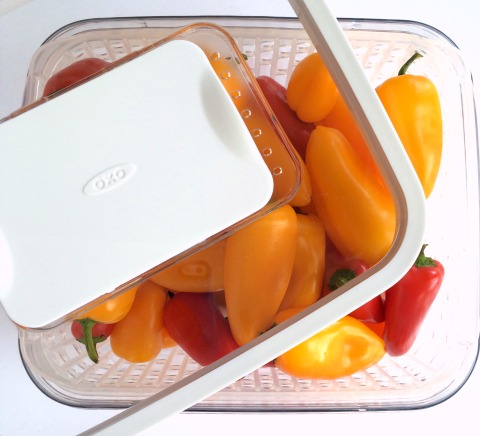 It was easy to assemble (simply insert the filter into the lid), and I must say that after a week in the GreenSaver in the fridge, those peppers looked every bit as new and crisp as when I put them in. Normally I would have seen wrinkling (moisture loss) and some soft spots on the peppers; they were ready to use in my Sausage, Onion and Pepper Supper.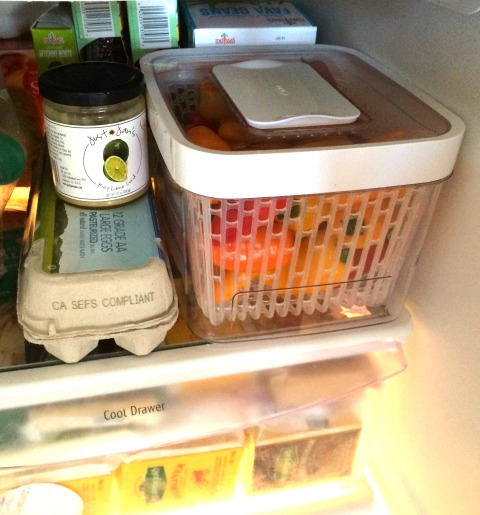 They come in several sizes. I got the 4.3 quart size to try. I plan to go buy several others.
We use a lot of produce in the ShockD kitchen. My new motto: No more waste!
Disclosure: OXO sent the GreenSaver and Melissa's Produce sent the peppers, for review.