Print This Post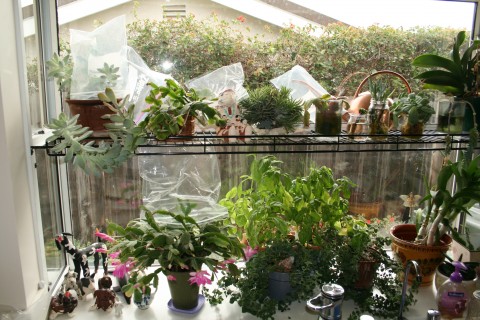 Well, ALMOST Wordless Wednesday: Please tell me I am not the biggest freakshow ever!
Although I try not to use them too often, when I do use a zipper-top plastic bag, I wash it and let it dry in my kitchen garden window. On a busy cooking day, or when I am using up a lot of leftovers, I might have 4-5 bags drying at any given time. I find that I can use a bag many, many times over if I simply wash it out after use and leave it to dry.
Puh-leeze, let there be someone else who does this. If you are in the club, please let me know so I don't feel so freakish!
Send me a JPEG of your plastic bags drying in your kitchen (or whevever you dry them), and I will post it, and make you an honorary member of the…
Plastic Bag Washing Club!

Kim from Rusticgardenbistro.com in Orange County, Calif. perches hers atop her stack of handwashables drying in the sink. That's a lotta pots and pans! Dinner must have been great!

Lori from Beachtrading.com in Long Beach, Calif. also favors the dish stacking method of drying. She just finished washing up after making a pot of Crock-Pot chili. I'm sensing a colander theme here.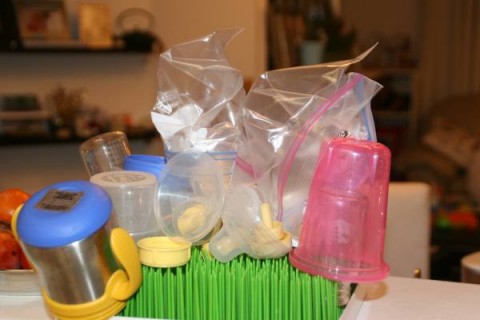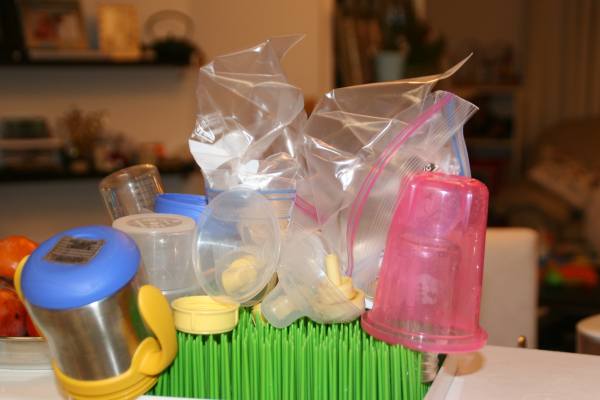 Rashmi at Yumkid.com is in the club! Little kids in the house…lotta sippy cups. (Where's your colander, girl?)
Kate from Katewoods in Australia has a little bucket full of tape and pens and "stuff" beside the sink, and drapes bags to dry them. She even saves plastic wrap (Glad Wrap).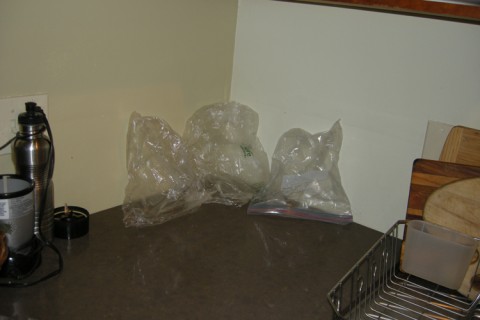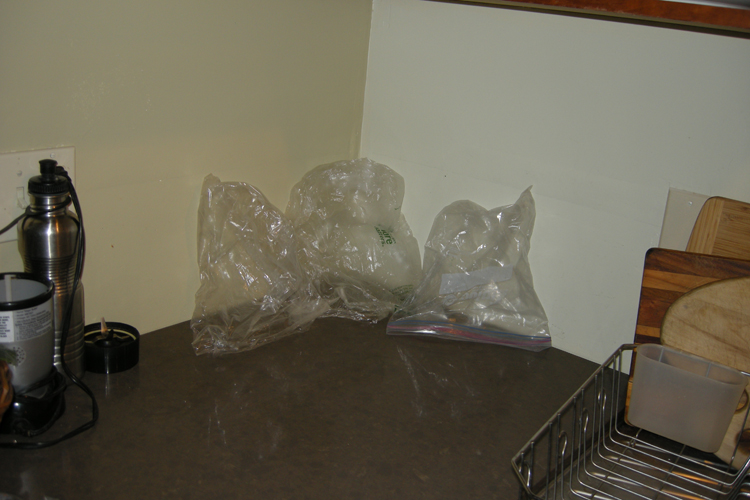 Betsy from BetsyLombard.com in Nevada City, Calif. simply dries them in the corner. Nuthin' fancy needed! But…look below for her extra tweak…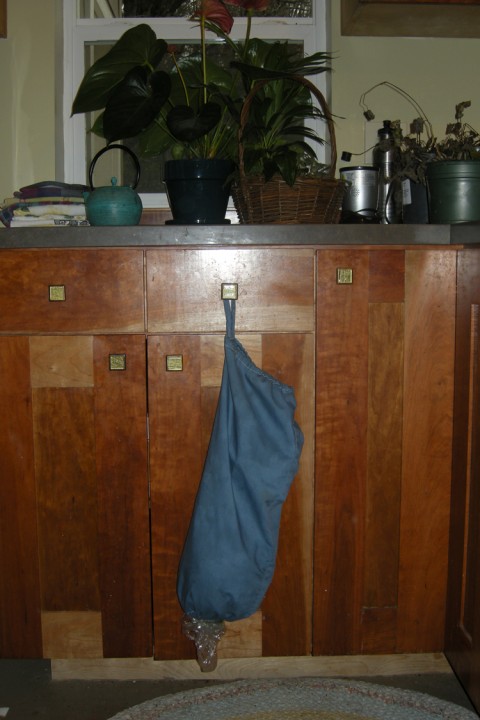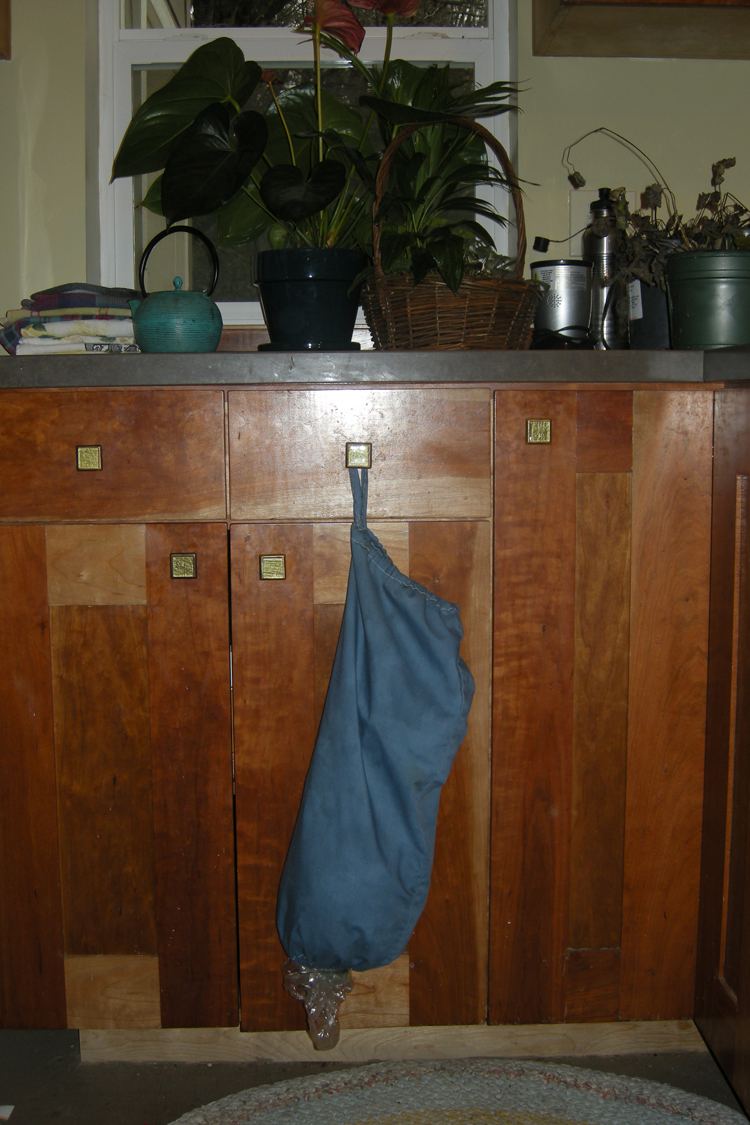 Now this, my friends, is a delux plastic bag holder, open at both ends with elastic at the top and the bottom, sort of like an air sock. Bags at the ready! Betsy's husband's Tennessee grandmother made it for her, and they call it…get this…a "pecker warmer." I'll wait for a second while you absorb that. Are you laughing? Because I am sophomoric, I will suggest an alternative alliterative name — how about "wienie warmer?"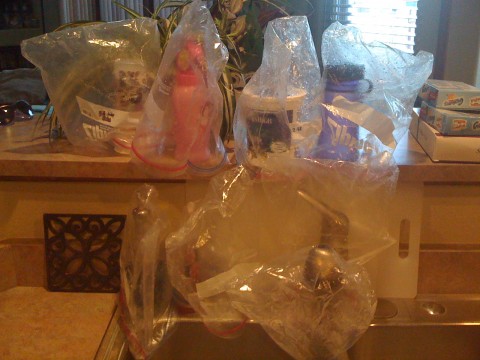 Cassy Cohen Muronaka
will wash out zipper-top bags on occasion, but ALWAYS washes out her FoodSaver vacuum sealer bags! "I love my vacuum sealer, and waved goodbye to frostburn the day I bought it," she says.
This post was featured on