Print This Post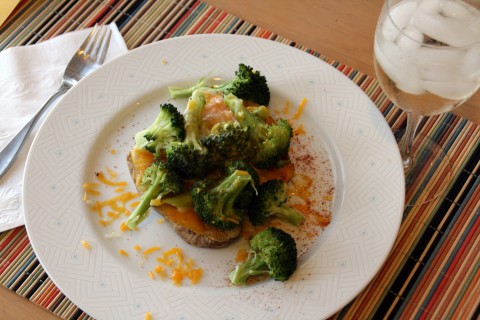 The subtitle on this is "Keeping it Real."
Permission to speak freely?
You simply can't put a fantabulous, fancy feast on the table every night. Life gets in the way.
So let's keep the conversation real, and admit what we do when we need dinner now. As in NOW.
5 easy steps to a weeknight dinner
1. Steam a head of cleaned broccoli florets in the microwave. Say, about 3 minutes. They will still be bright green.
2. Bake an Idaho Russet potato in the microwave (7 minutes per pound; weigh it to determine timing).
3. When done, split potato open and drizzle with extra virgin olive oil, sprinkle with seasoned salt, pile on some steamed broccoli (lots!), sprinkle with some grated extra sharp Cheddar cheese, and pop it all back in the microwave for 30 seconds more until cheese starts to melt. It should look rustic!
4. Set the table. Don't forget a knife.
5. Don't forget  the wine.
Amen.