Print This Post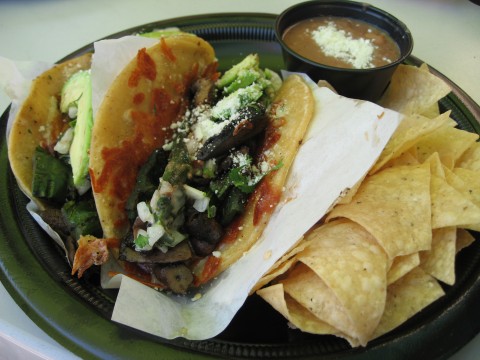 The Egyptians have nothing on my husband, the Professor. If he senses an injustice, he aims to right it.
So it was when Rubio's Fresh Mexican Grill discontinued his favorite menu item a few months ago — the Portobello and Poblano Taco. The Professor and my son often go gallivanting around doing various sports on a Saturday or Sunday, and they derive culinary joy from stopping at sundry fast food joints to sample the latest menu creation. Apparently this taco was shockingly delicious.
He came home dejected, plopped down at the computer, and fired off a complaint. It was one of those contact forms you fill out online, so he didn't get a copy of it, but it went something like this:
"I was terribly disappointed to discover you have discontinued your terrific Portobello and Poblano taco.  Even the guy taking my order said he and his boss were disappointed, too. I have told so many people about these tacos. I wish you would return them to the menu. If you don't, can you at least send me the recipe?"
I give him huge husband points for asking for the recipe!
He got a pleasant corporate note back from Joe Ortiz, addressed to "valued guest." (I should say so, for a guy who tells all his mountain biking buddies about these tacos, and hounds them until they try them! Have you seen how much those guys can eat? But I digress…)
—–Original Message—–
From: Joe Ortiz [mailto:jortiz@rubios.com]
Sent: Monday, January 31, 2011 8:05 AM
To: (my darling husband)
Subject: Rubios – Contact ID:2498063
Dear Valued Guest,
Thank you for taking time to contact Rubio's Fresh Mexican Grill®.  Here at Rubio's, we value your comments because they help us improve.
I am sorry for any disappointment you felt when your favorite item was not available. Our objective is to feature a variety of products and promotions throughout the year, often taking advantage of seasonal ingredients and specialties. We constantly look for opportunities to enhance our menu. Sometimes, that means permanent menu changes. Other times, it means limited-time product promotions. Please send me you name and address so I may send you a comp card so you can try some of our other great menu items.
I hope you will understand and continue to visit us to discover the unique Beach Mex flavors of Rubio's.  To receive information on specials and future items or promotions, visit our website at www.rubios.com and join our 'Beach Club'.  Thank you again for your feedback.
Joe Ortiz
District Manager
Rubios Restaurants
Nice try Joe. The Professor did send you his name and address, but no coupons or comp cards arrived. But we know you're busy, and we don't hold a grudge, so you get a pass on that one.
However, apparently his professorial passion for these tacos floated up through the bureaucratic layers at Rubio's, until it landed squarely at the top, in the C-level offices.
Have you ever gotten a note from the Chief Operating Officer of a company? Nah, me either, but he did! (They still can't figure out his name ["valued guest"], but again, we are not grudge-holders.) Yellow highlighting is mine!
—–Original Message—–
From: Tina Long [mailto:tlong@rubios.com]
Sent: Wednesday, February 16, 2011 1:59 PM
To: (my darling husband)
Subject: Rubio's Fresh Mexican Grill – Contact ID:2498063
Dear Valued Guest,
I read with interest your comments regarding our decision to remove the Portobello Poblano Grilled Gourmet Taco from our menu. Upon reflection and due in no small part to your passionate plea, we have decided to return this option to our menu on March 9, 2011.
We appreciate that you took the time to share your feedback with us as it helps to ensure we do the right thing for our guests. Your passion for our brand is what makes you one of our most important guests. I would like to send you a token of my appreciation for your loyalty to Rubio's Fresh Mexican Grill. Please reply back with your mailing address.
We look forward to serving you again soon.
All the best!
Tina Long on behalf of,
Marc Simon
Chief Operating Officer
Rubio's Restaurants, Inc.
He won! They've returned the Portobello Poblano Grilled Gourmet Taco back to the Rubio's menu!
Yahoo for whining, bitching and moaning when something doesn't suit you! Hooray for speaking up!
Now that they're back, have you ever tried one? You should. They're shockingly delicious, if we do say so ourselves!
A description, from the menu:
"Corn tortillas topped with toasted cheese, habanero citrus salsa, grilled Portobello mushrooms and Poblano peppers, cilantro/onion, cotija cheese, creamy chipotle picante sauce and sliced avocado.
Yum. You could sooooo make that at home. Go ahead.
You're welcome.