Print This Post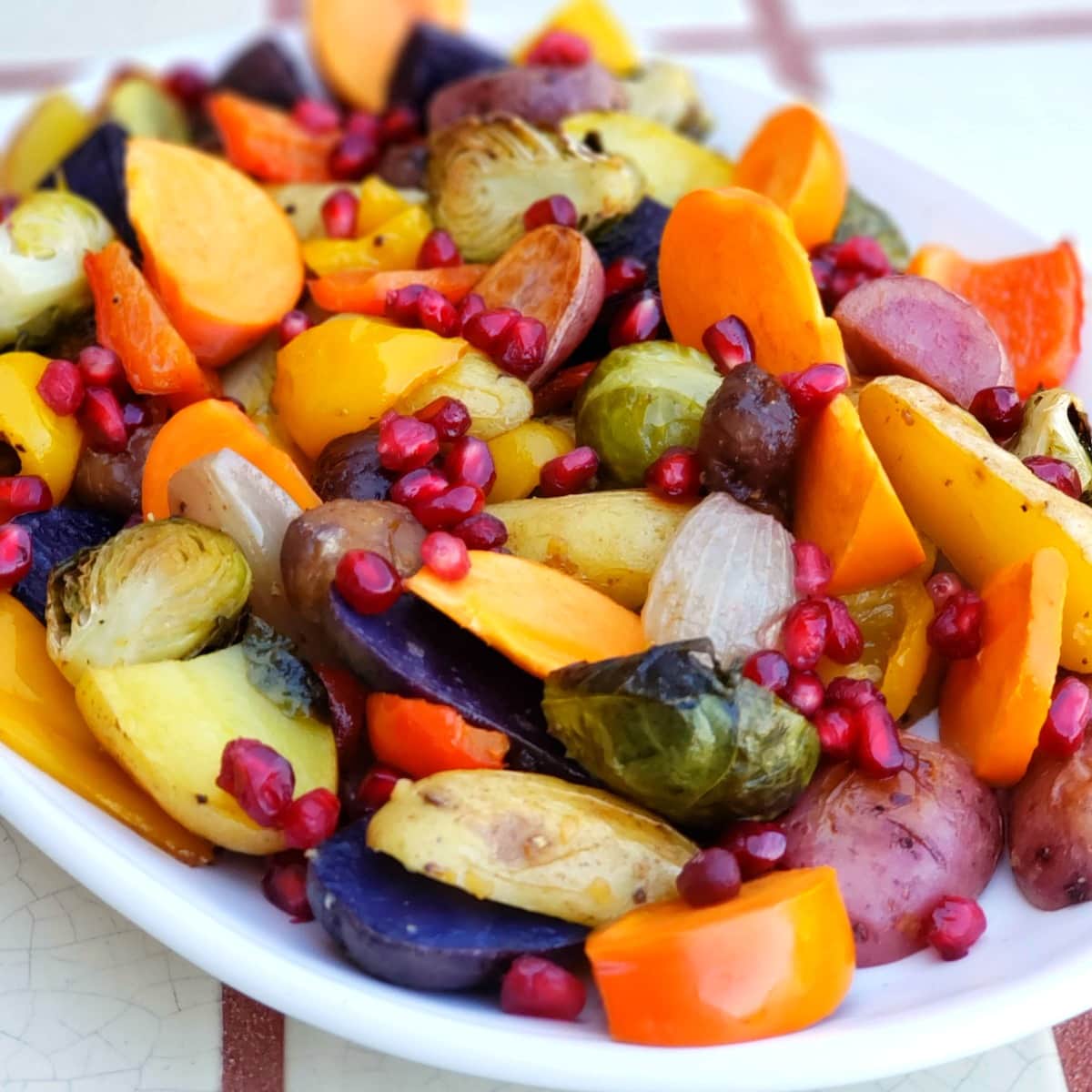 Roasted Rainbow Vegetables take the simplest, most delicious, seasonal vegetables and roast them quickly to perfection, for a colorful, healthy side dish or vegan main dish.
I'm all about the side dishes at holiday time. In fact I'm so devoted to them that I could fill up my plate and forget the main dish. Are you the same?
I wanted to dress up an otherwise beige plate (turkey, dressing, gravy, mashed potatoes…do you see an unintended beige theme happening here?), so I thought about the opposite. What if we had a side dish with a rainbow of colors? We do eat with our eyes first, after all.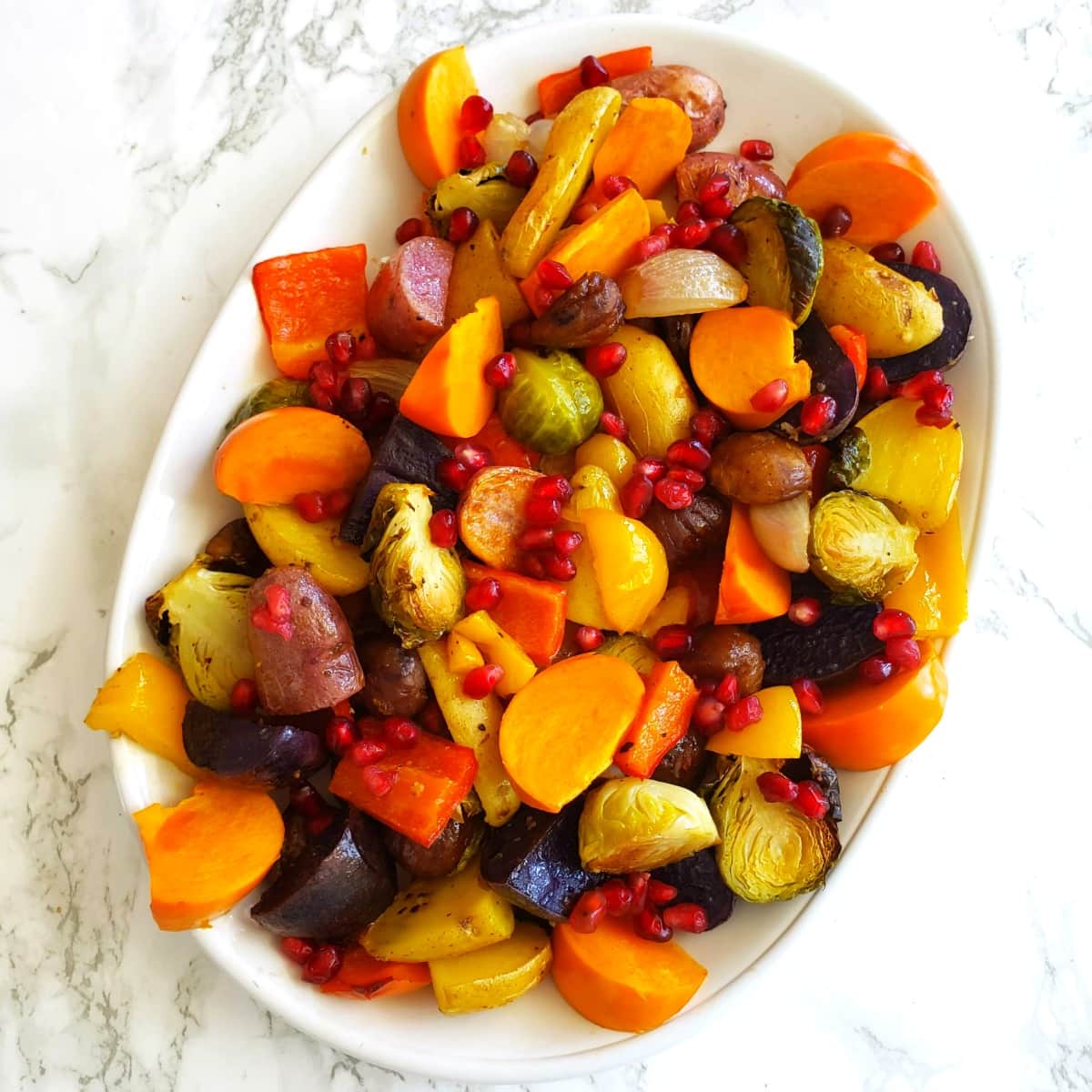 It's not hard to do with the plethora of fruits and vegetables available in the fall.
What vegetables to choose to make Roasted Rainbow Vegetables
Here's what I came up with:
Red: Red bell pepper
Orange: Fuyu persimmon
Yellow: Yellow bell pepper
Green: Brussels sprouts
Blue / Purple: Potatoes (I used Melissa's Produce Fingerling Potato Medley, which has a mix of purple, red and yellow potatoes)
Pink: Potatoes (one of the varieties in the Fingerling Potato Medley is Amarosa, which has red skin and pinkish flesh)
Brown: Chestnuts (I used half a box of Melissa's Produce peeled and steamed chestnuts)
Wait…pink and brown aren't an official named part of the rainbow. Just go with me though. We have LOTS of colors going on. All are welcome. The truth is, you can mix and match your favorite vegetables to make a dish that suits you exactly!
How to make Roasted Rainbow Vegetables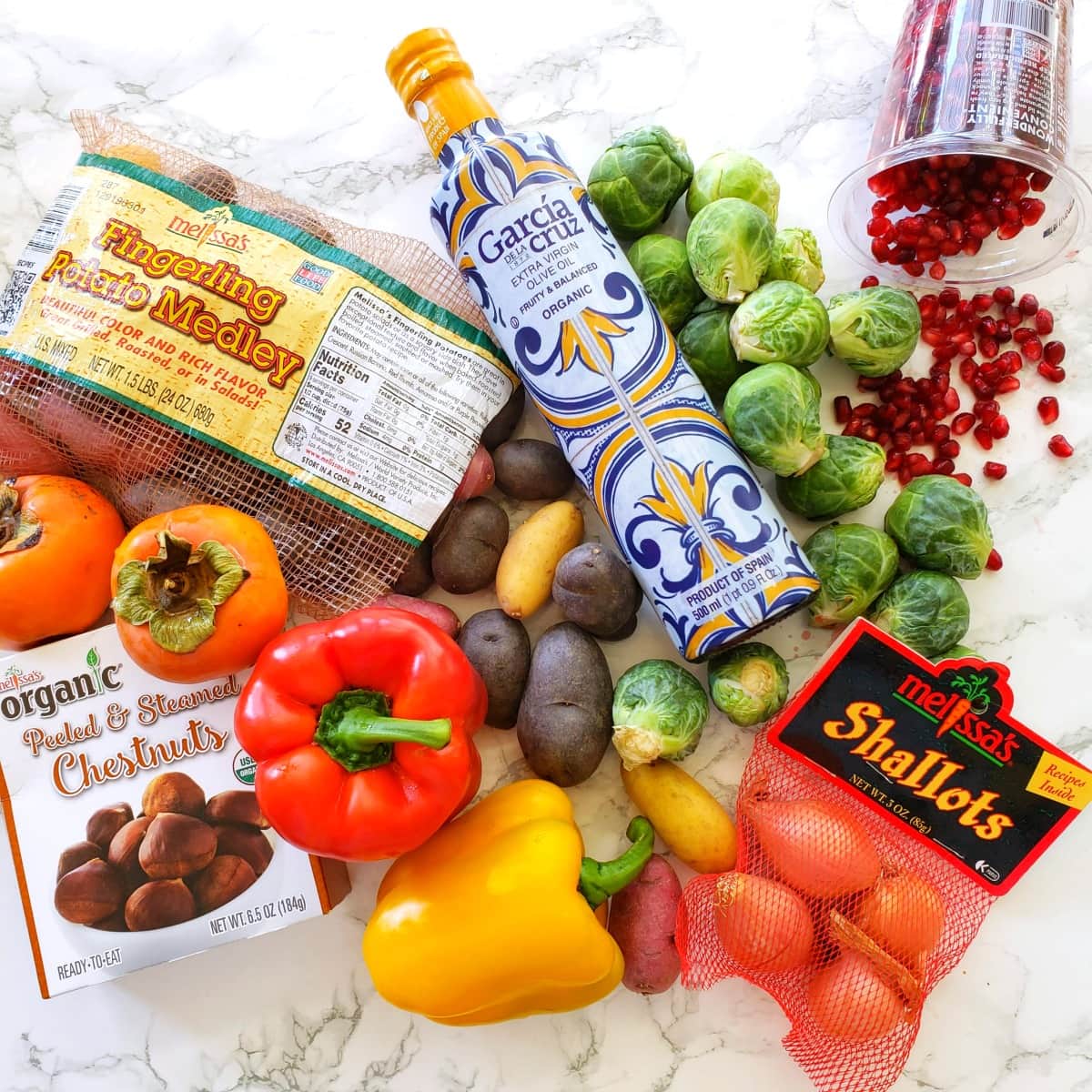 Gather all your ingredients, to make sure you have a variety of colors.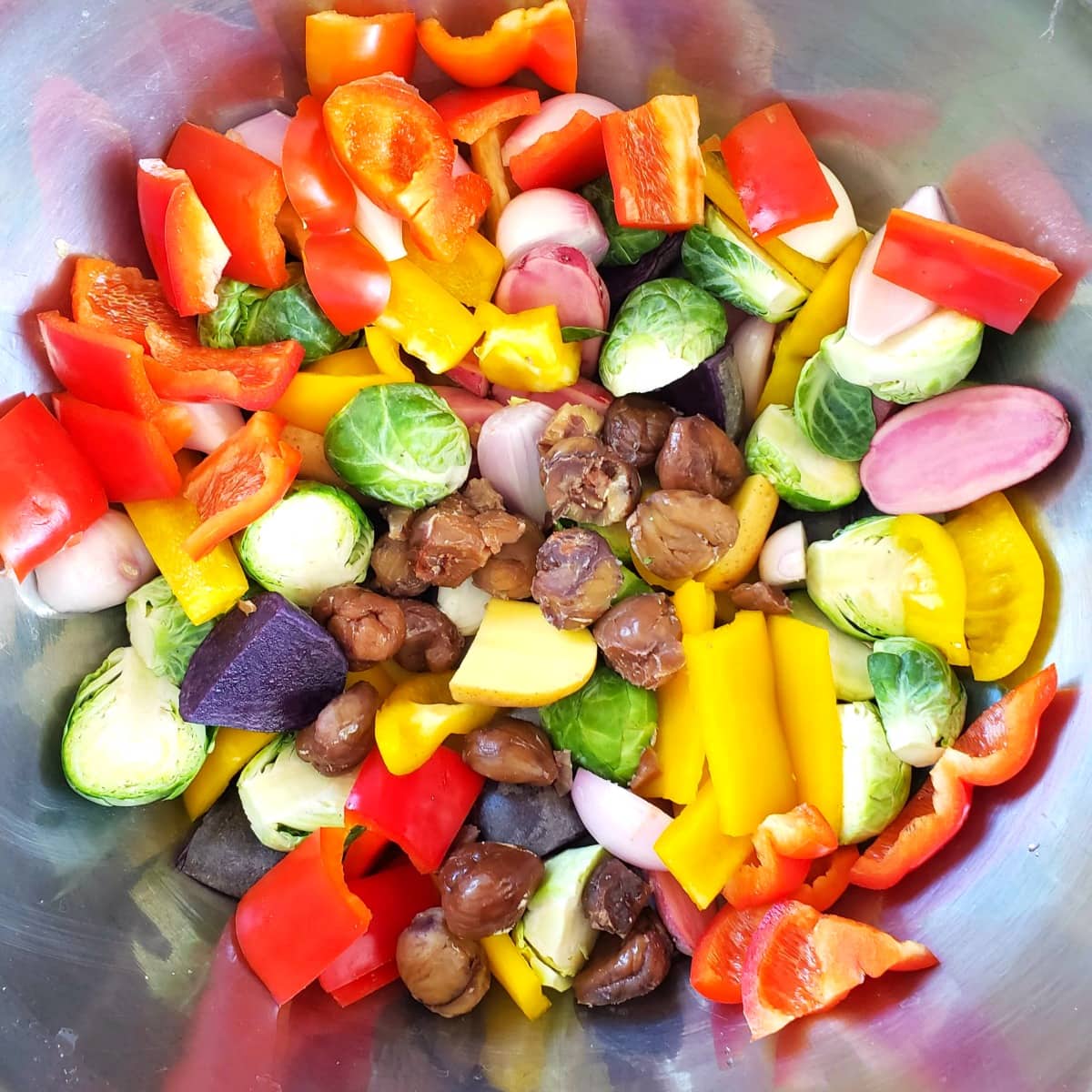 Add all your prepared vegetables to a large mixing bowl. Make sure to cut the vegetables in roughly the same size, so they all cook relatively quickly. You can cut them in different shapes (rings for the peppers, for example), but have the pieces roughly the same size mass. The brown items are the roasted chestnuts, which have a nutty, barely sweet flavor.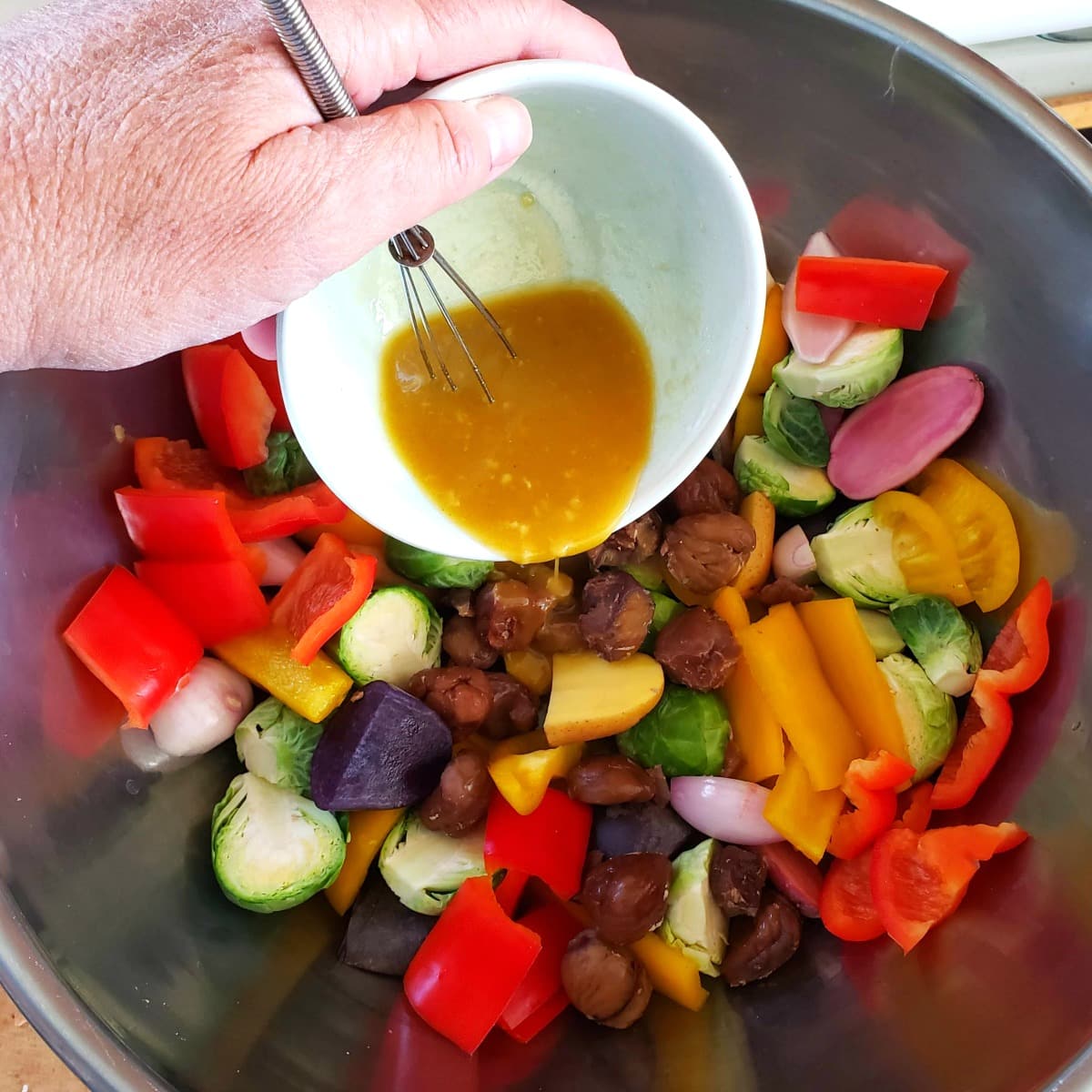 Whisk together the dressing, and pour on. You can add more seasoning (think Italian herb blend, or another dried herb blend of your choice, or red pepper flakes), or simply let the veggies shine through. The mustard has salt in it, so be careful not to add too much of a spice blend that is salt-heavy.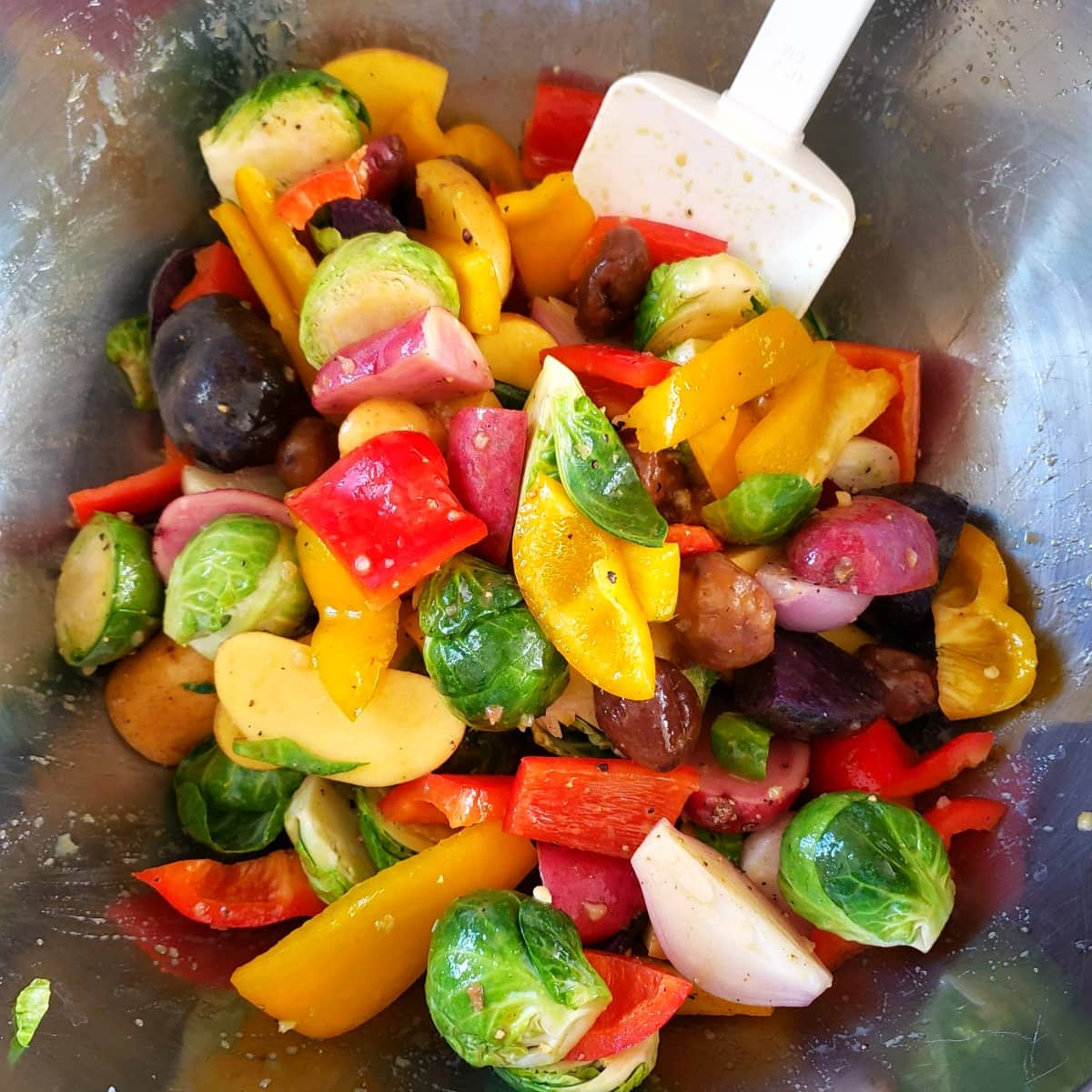 Stir gently to coat all the vegetables.
Pour them onto a foil-lined baking sheet (a slightly rimmed sheet works well). Foil helps make cleanup very easy.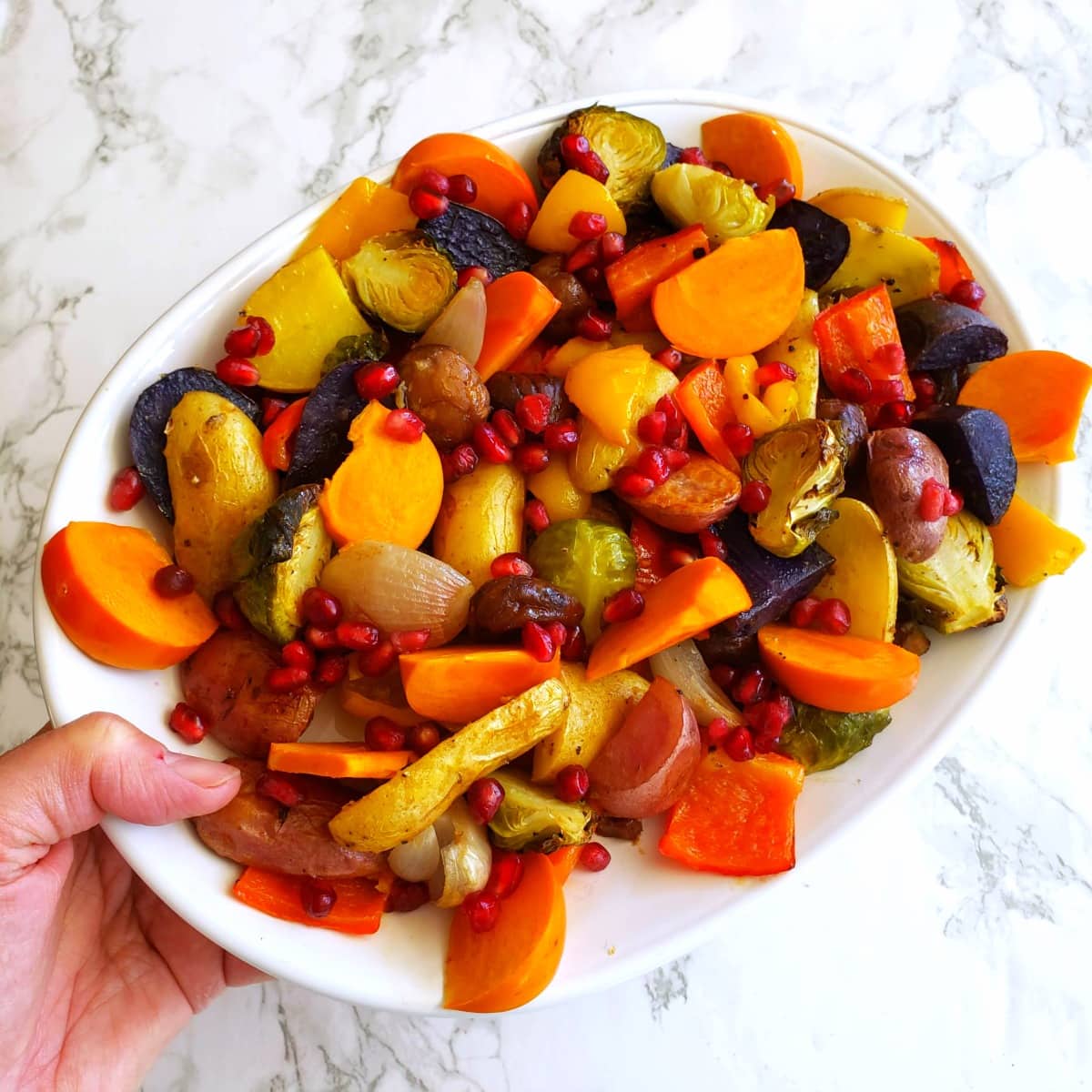 Roast for half an hour, remove from the oven, decorate with persimmons and pomegranate arils (you might call these the seeds), and serve. Or allow it to cool to room temperature and serve then. It tastes great either way! You could even roast it a day ahead, and garnish at serving time. Life many leftovers, it might even taste better. We shall see.
Substitutions for making Roasted Rainbow Vegetables
You can substitute many different things:
Red: Red beets (roast) instead of red pepper
Red: Red radishes (roast or use raw as garnish) instead of red pepper
Orange: Delicata squash (do not peel it, roast) instead of persimmon
Orange: Carrots (roast) instead of persimmon
Orange: Peel and chunk up some orange sweet potatoes (roast)
Yellow: Golden beets (roast) instead of yellow pepper
Green: Leave out the Brussels sprouts and serve the roasted vegetables on raw mixed salad greens
Green: Omit the Brussels sprouts and use broccoli florets (roast)
Green: Use chopped zucchini (roast)
Green: Try green beans (roast)
Blue / purple: Japanese eggplant (roast) instead of potatoes
Purple: Use purple onion (roast)
Brown / white: Apple (roast or use raw as garnish) instead of chestnuts
White: Cauliflower florets (roast)
Should I call this the ROYGBIV vegetable side dish? You know, ROYGBIV, the acronym for the sequence of hues that make up a rainbow — red, orange yellow, green blue, indigo and violet?
Or perhaps I should call it spuds 'n' sprouts, after the potatoes and Brussels sprouts that make up the backbone of this dish?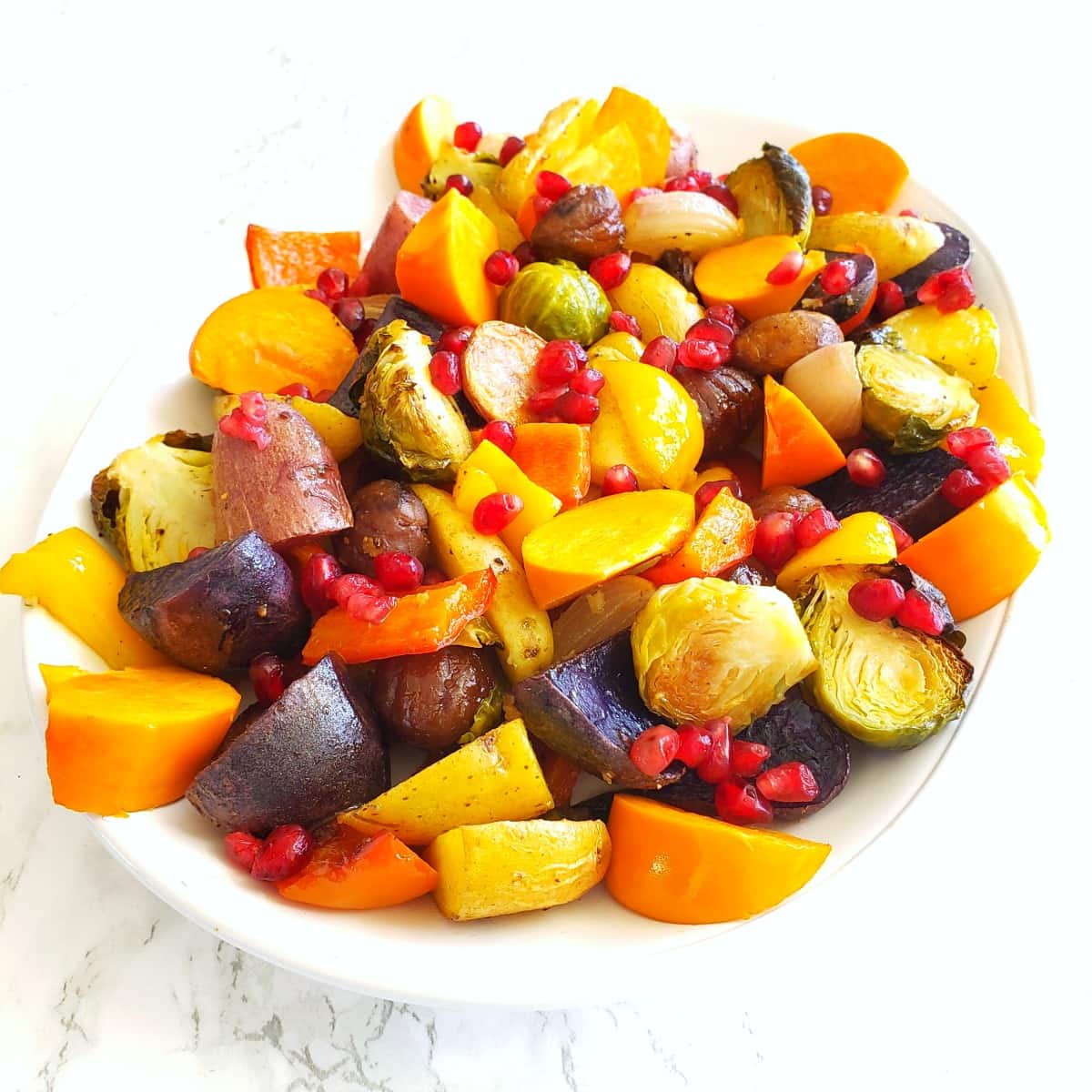 Why don't we just call it shockingly delicious Roasted Rainbow Vegetables?
Let's get it in the oven, so we can dig in!
Roasted Rainbow Vegetables
Ingredients
1 pound fingerling potatoes, washed, dried and sliced in half vertically
8 ounces Brussels sprouts (about 11-12 sprouts), end trimmed off and sliced in half vertically
3 ounces peeled and steamed chestnuts
2 colored bell peppers (ideally 1 red, 1 yellow)
3-4 ounces shallots, paper skin peeled off, halved or quartered
.

Dressing

2 tablespoons extra virgin olive oil (I used Garcia de la Cruz Extra Virgin Olive Oil from Spain)
1 tablespoon maple syrup
1 teaspoon Dijon mustard
1 large garlic clove, finely minced or pressed
1 pinch kosher salt
Freshly ground pepper
.

Garnishes at serving time:

pomegranate arils (seeds), sliced Fuyu persimmons
Directions
Heat oven to 375F degrees. Line a baking sheet with foil (to make cleanup far easier) and set aside.
In a large mixing bowl, add the potatoes, sprouts, chestnuts, bell peppers and shallots. In a small bowl or cup, mix the dressing (olive oil, maple syrup, mustard, garlic, salt, pepper), stir well, and pour over the vegetables in the mixing bowl. Mix gently but well, to coat all vegetables.
Pour the vegetables onto the prepared baking sheet in a single layer, and roast for about 30 minutes. Remove from oven, check to make sure the vegetables are tender (poke them with a fork or sharp tip of a knife) and remove pan from oven.
Use a spatula to transfer vegetables to a serving platter, and garnish with sliced persimmon and pomegranate arils.
Serve warm or at room temperature; it's good either way!
Serves 6.
Notes
Recipe source: Dorothy Reinhold | Shockingly Delicious
https://www.shockinglydelicious.com/roasted-rainbow-vegetables/
Copyright Dorothy Reinhold | ShockinglyDelicious.com. All rights reserved.
Pin the image below for Roasted Rainbow Vegetables to your Pinterest board to save this recipe
Looking for more roasted vegetables?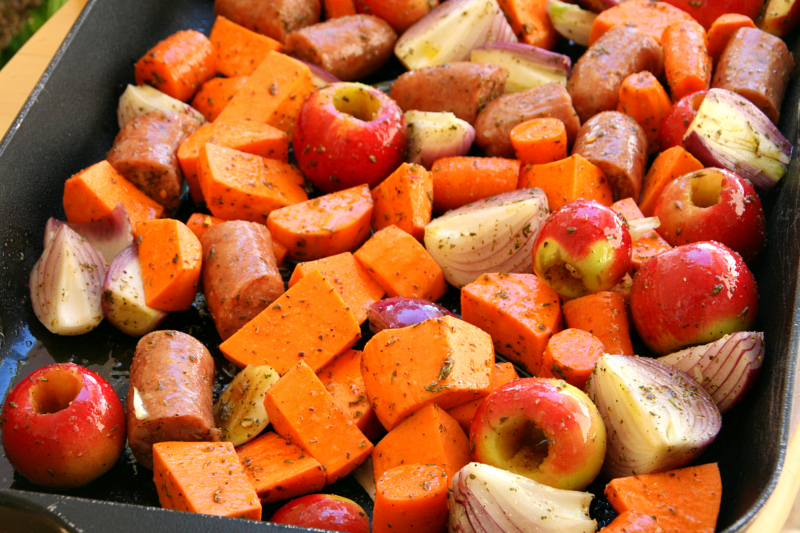 How about Roasted Roots and Fruits with Sausage
Disclosure: Potatoes, shallots and chestnuts were sent by Melissa's Produce, and olive oil was sent by Garcia de la Cruz, for recipe development.
Thanks for visiting…are you hungry for more? Follow Shockingly Delicious on…
FACEBOOK | PINTEREST | INSTAGRAM | TWITTER
…for all the latest recipes, ideas and updates!
This post may contain affiliate/referral links. It is a way for this site to earn advertising fees (at no cost to you) by advertising or linking to certain products and/or services that I approve and prefer.