Print This Post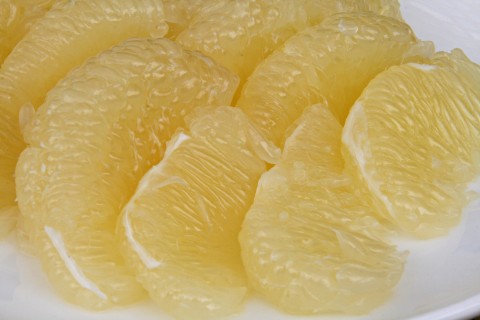 Meet the latest rock star in the produce department – Melogold Grapefruit, a large, sometimes greenish yellow-skinned citrus that could be president of the grapefruit class. Big and handsome? Sweet?  Good for you? Plays well with other fruits? Check, check, check and check!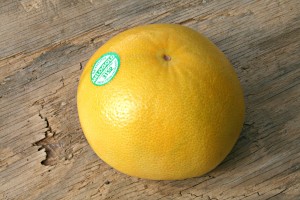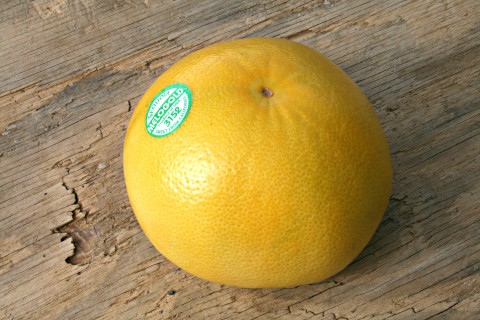 A cross between a pummelo and a white grapefruit, this one has skin much thicker than a regular grapefruit, is nearly seedless, and extremely juicy and sweet. How sweet? So sweet you won't need to add any sugar, even if you are a sugar-sprinkling grapefruit eater. (I'm not, but my husband is, and even he conceded that this baby needed no additional sweetener.)
My man-cub, 9, ate some and said, 'Wow, that is the most grapefruity grapefruit ever! It's SWEET!" This is a boy who, while eating his breakfast cereal, hugs the sugar bowl as if it were his best friend, so that's a measure of how sweet this fruit is.
Developed in the 1980s at that citrus incubator UC Riverside, Melogolds are grown in California's Central Valleyand are officially a cousin to an Oro Blanco, another sweet hybrid grapefruit.  They have a short season – January/February/March, so get them when you see them.
They got their name from mellow flavor (low acid) = Melo, and gold for the deeper color of the rind than Oroblanco, so Melogold. The fruit is pale yellow, and you can either eat it on its own, or toss into a fruit salad.
With the history and accolades out of the way, we settled down to peel and eat one. Honestly, it's so large that 2-4 normal people can share one, depending on appetites. At my abnormal house, each kid ate an entire 1 ¼-pound fruit. (I'm not complaining.)
Here's a brief tutorial on how to peel and prepare them for a lovely looking presentation.
I also ran across a super easy recipe for a Grapefruit Gelato, a sweet, tangy, custardy dessert that I figured would highlight the great flavor of Melogolds. While honestly this sweet wasn't universally loved at my house, I think it is terrific and fun, and since my vote counts triple, I'm sharing it with you today!  If you adore grapefruit, trust me, you'll like this. And the two at my house who didn't love it initially have been caught sneaking tastes of it after dinner, so there.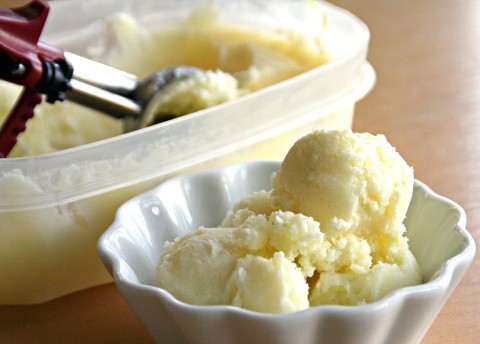 Recipe: No-Churn Grapefruit Gelato
Summary: This creamy, sweet-tart, dense, frozen dessert is enough like gelato that we're appropriating the name. It takes 4 ingredients and 5 minutes to stir together and a night to freeze. Call me for dessert!
Ingredients
Instructions
Whisk all ingredients together and pour it into a lidded container. Freeze for at least 8 hours, or better yet, overnight.
To serve, small scoops go well with fresh berries or fruit, plain cookies or even a sprinkling of granola on top.
Serves 8-10.
Quick notes
Source: Adapted from a recipe by Donna Kelly and Anne Tegtmeier at the charming blog Apron Strings.
Preparation time: 5 minutes
Freezing time: 12 hours
Number of servings (yield): 8-10
Culinary tradition: USA (Nouveau)
Disclosure: Melissa's Produce  provided samples of the citrus mentioned in this article. There was no expectation or requirement of endorsement. My opinions, as always, are my own.