Print This Post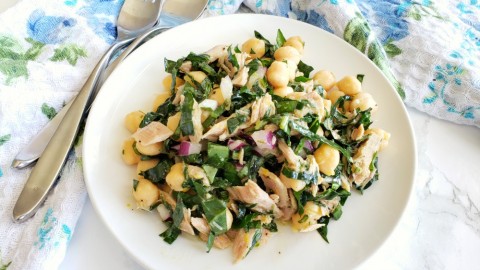 Light, lemony, packed with protein and nutritious kale, this is a main-dish salad that satisfies for dinner or lunch the next day, if there are any leftovers.
I first put this on the blog in 2012, when there were kale salads everywhere we turned. It was as if the world discovered kale that year. Hey wait, was kale the Time Magazine cover subject that year? Nah, but it probably should have been.
Over the years, I have grown lots of varieties on kale in my Southern California back yard vegetable garden. Back in 2012 it was Redbor; this year it is dinosaur kale (aka lacinato, or Cavolo Nero, or black, or Tuscan. So many names for such a delicious, tender variety.).
And so I've been perfecting this beguiling salad each year — a few changes here and there each time, until Lemony Garbanzo Kale Salad with Tuna is the best it can be!
As a main dish salad packed with protein and green goodness, it takes a star turn at dinner. Leftovers make an encore for lunch the next day, for whoever gets up early enough to snag them for the lunch tote. 
My daughter, who I have nicknamed Krazy for Kale, is addicted to this. "Mom, always, ALWAYS have this in the refrigerator," she intoned one night as she was packing her lunch with it for the next day.
Of all the addictions in the world, to have your teenager besotted with kale salad ranks right up there as most coveted. EVER!
How to make Lemony Garbanzo Kale Salad with Tuna
Of course, it's easy. You put it all in a big bowl and toss!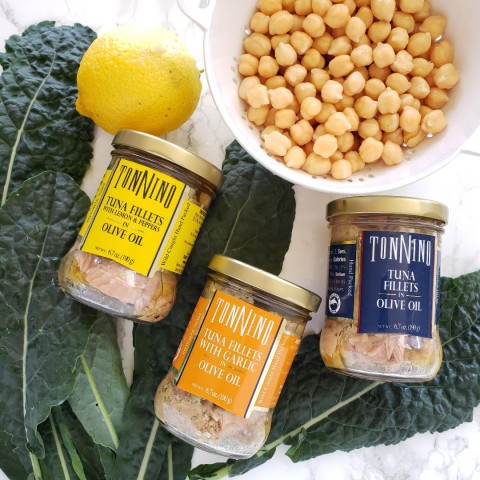 1. Assemble your ingredients. For this salad, a very high quality tuna is in order. I have made it with canned tuna (the kind that is almost mush when you open the can) and while it is OK, it is not ideal. These days I prefer tuna fillets that have been packed into jars. And we're using the oil for dressing, so choose a variety packed in olive oil.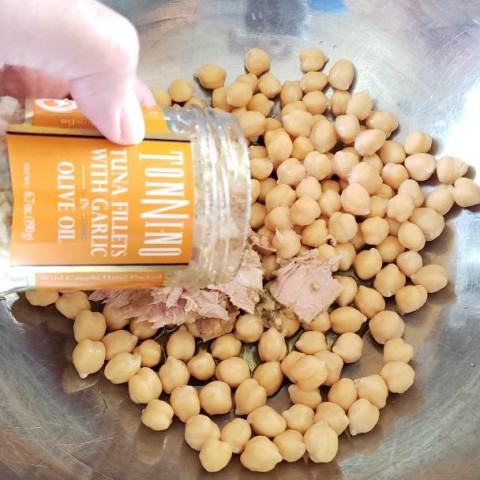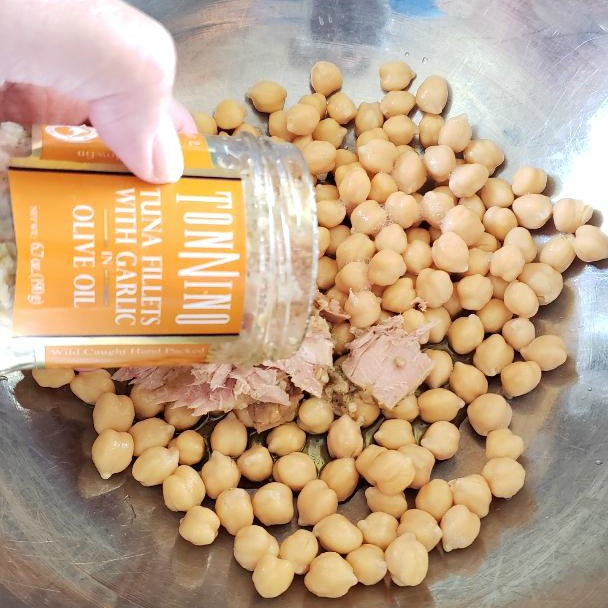 2. Put the drained garbanzos (I used a canned, low-sodium version, but suit yourself) and tuna with oil right into the bowl.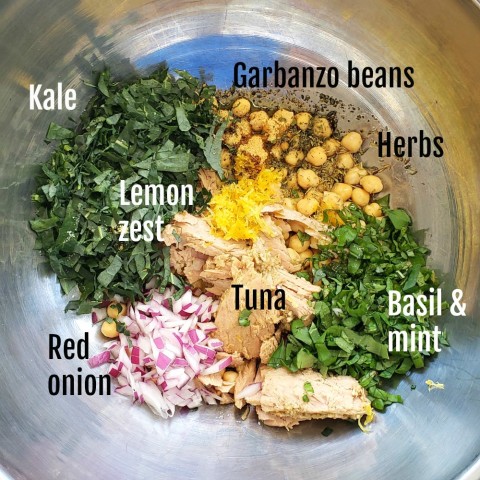 3. Toss in all the other ingredients.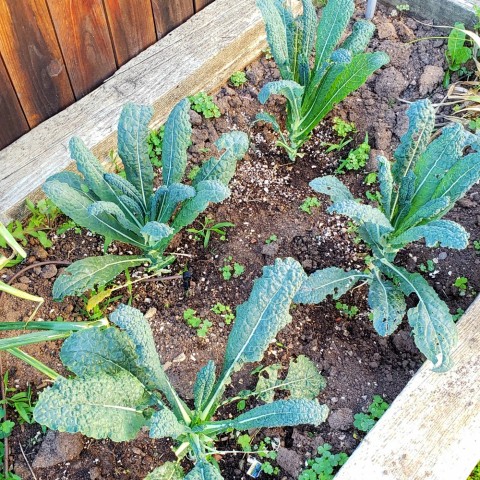 4. You don't have to grow your own kale for this recipe, but I'm here to tell you kale can be easy to grow! Above is Tuscan kale from my veggie garden this year. Ignore the weeds…they don't take up too much space! Below the recipe you can see a picture of a prior year, when I grew Redbor kale in the front parkway. I'm proud of my green thumb, and encourage you all to grow kale, as well. But use whatever kale variety you have in your garden, or from the market. It's all good.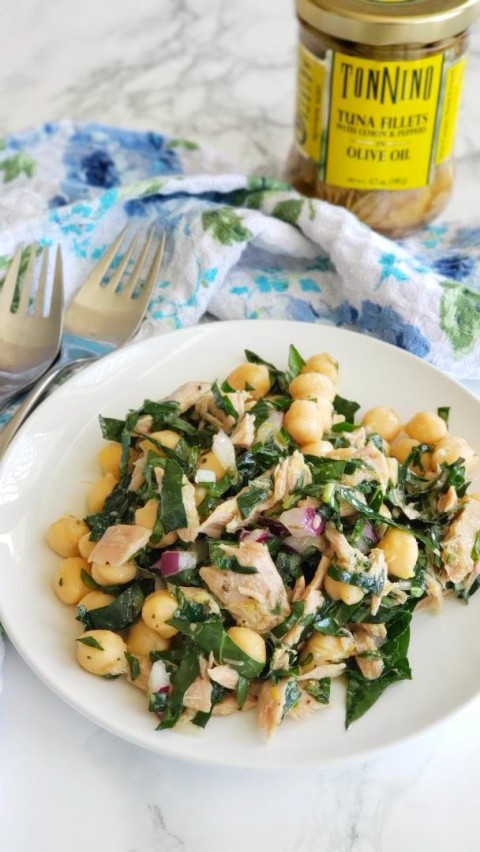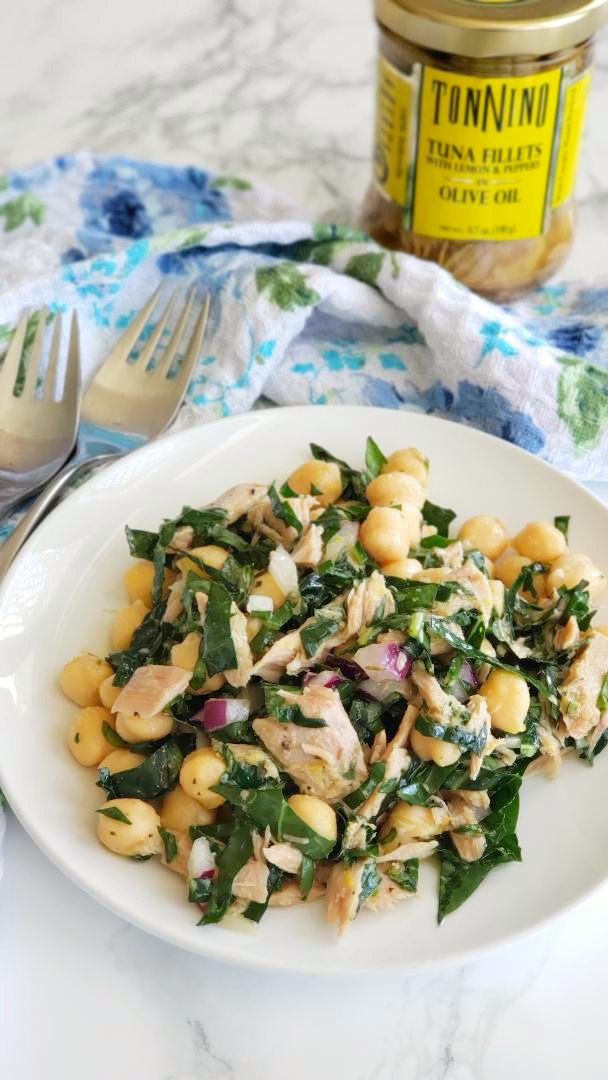 Lemony Garbanzo Kale Salad with Tuna
Light, lemony, packed with protein and nutritious kale, this is a main-dish salad that satisfies for dinner or lunch the next day, if you have leftovers.
Ingredients
1 (15- or 16-ounce) can garbanzo beans, rinsed and drained
1 (6-ounce) jar tuna in olive oil (I used Tonnino Tuna Fillets with Garlic in Olive Oil; you will use the oil, so don't drain it)
3 tablespoons red onion, sliced paper thin and chopped
3-7 large leaves kale (I used dinosaur kale here, but have also used Redbor kale; stem removed and leaves cut in a chiffonade)
1 large garlic clove, pressed
1 lemon (you will use 1 teaspoon zest and 2 tablespoons juice from it)
2 tablespoons olive oil
2-3 tablespoons fresh basil cut in a chiffonade
2-3 tablespoons fresh mint cut in a chiffonade
Freshly ground pepper

A pinch of EACH of the following:

--Ground ginger
--Dry mustard
--Dried oregano
--Dried thyme
--Kosher salt (taste salad before adding)
Directions
In a large bowl, add garbanzos, tuna with its oil (the oil will be part of the dressing), onion, kale, garlic, 1 teaspoon lemon zest, 2 tablespoons lemon juice, olive oil, basil, mint, pepper and all dried spices. Stir and toss to mix well. Taste and add salt if needed. (The tuna and garbanzos will likely have salt in them, so taste before adding more.)
Allow to rest for at least half an hour before serving (better for 1-2 hours, so herbs can marry).
If you wish to serve immediately, you can massage the oil and lemon juice into the cut kale leaves for a minute or so to soften them (if they are tough), then add all the rest of the ingredients and stir to combine. You can soften the kale either by hand massaging it (for instant consumption), or by letting time do the trick.
Serves 2-3 (lunch or main dish for dinner).
Notes
Timing: This salad holds up very well in the refrigerator for several days. In fact, I recommend making it at least 2-4 hours before you want to eat it, so all the flavors mix and mingle!
Variations: Try making a wrap out of it the next day for lunch. Wrap in tortilla or soft lavash.
https://www.shockinglydelicious.com/lemony-garbanzo-kale-salad-with-tuna-for-sundaysupper/
Copyright Dorothy Reinhold | ShockinglyDelicious.com. All rights reserved.

Pin the image below to save this recipe to your Pinterest board.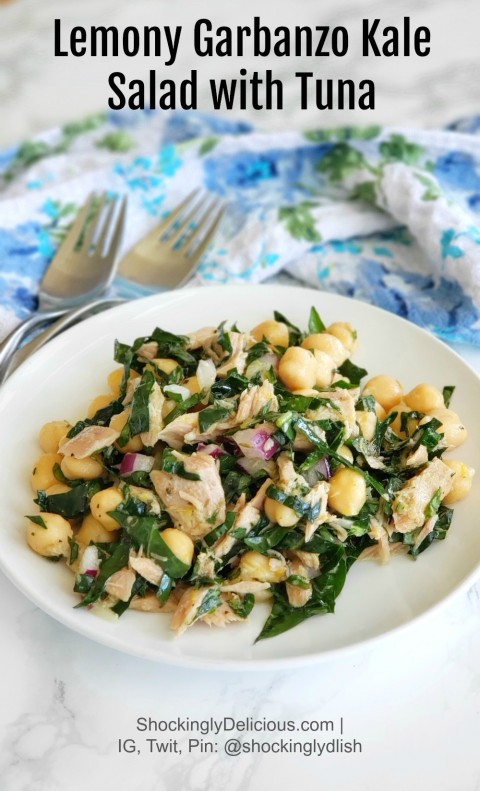 Just for fun, here are some images from the original recipe post July 15, 2012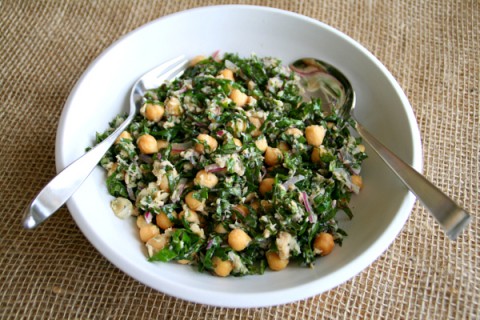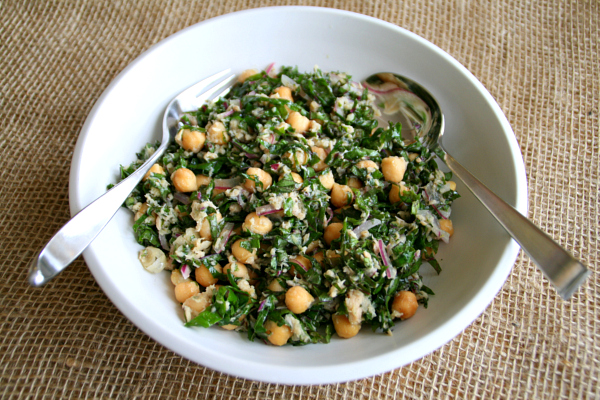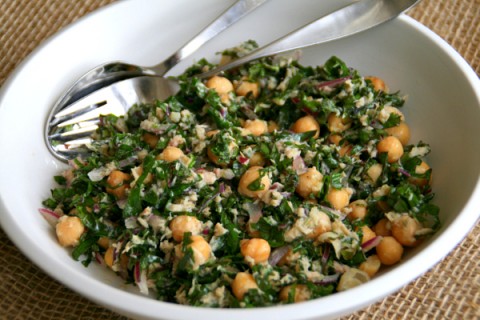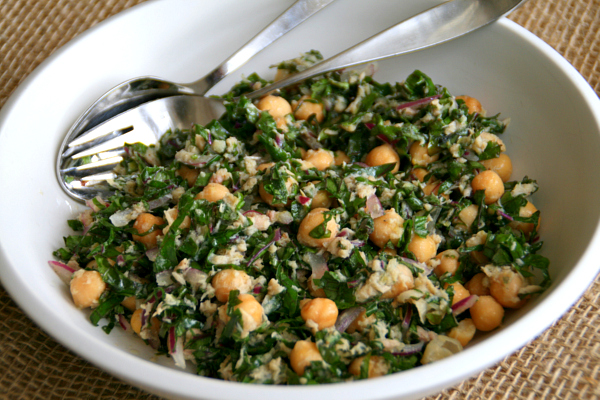 And here's my Redbor kale growing in my front parkway. They eventually looked like small trees! How pretty is that purple?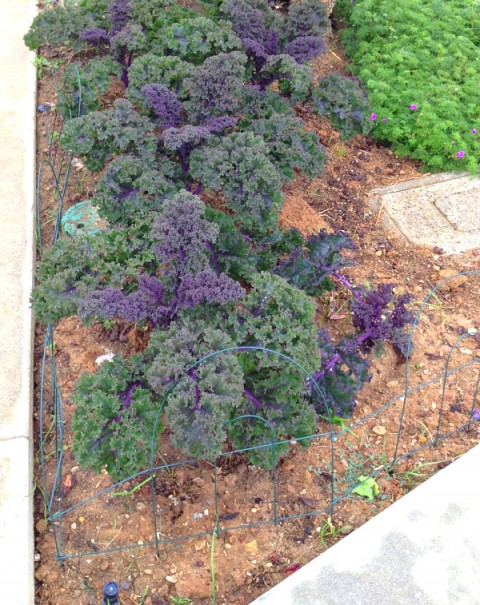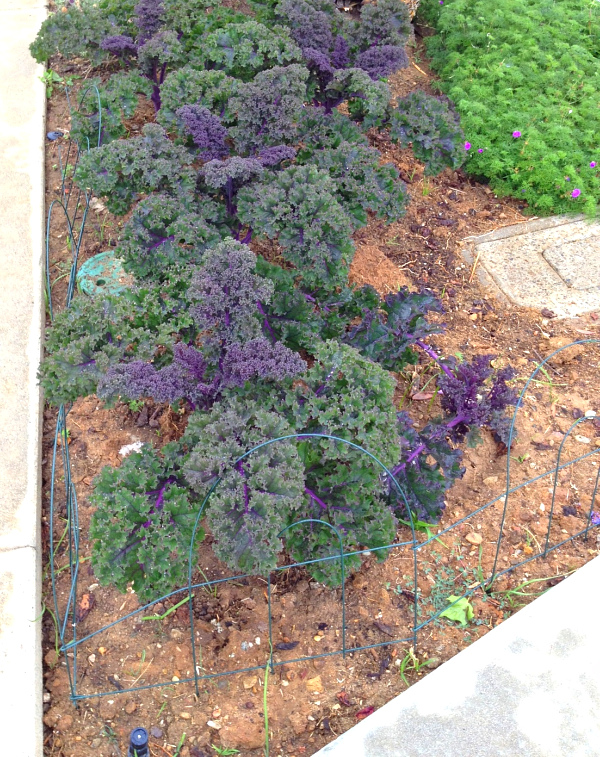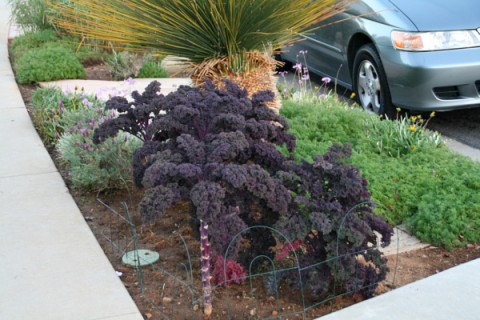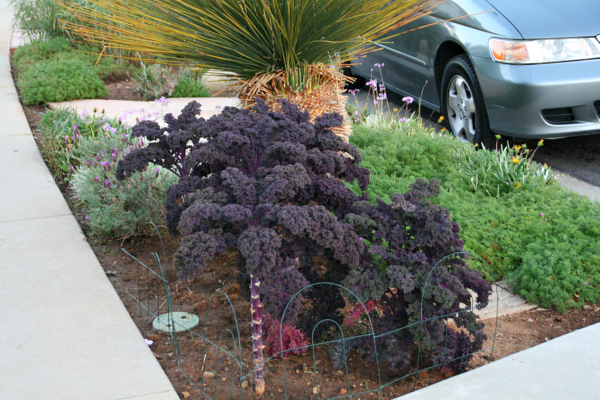 What do you put in YOUR kale salad? Tell me in the comments below.
Thanks for visiting…are you hungry for more? Follow Shockingly Delicious on…
FACEBOOK   |   PINTEREST   |   INSTAGRAM   |   TWITTER
…for all the latest recipes, ideas and updates!
This post may contain affiliate/referral links. It is a way for this site to earn advertising fees (at no cost to you) by advertising or linking to certain products and/or services that I approve and prefer.
This was originally published on ShockinglyDelicious.com July 15, 2012 and has been refreshed, updated, and republished today. 
Disclosure: Tuna was sent for recipe creation by Cedar Bay Grilling Company/Tonnino Tuna. You can follow them on Facebook and Instagram if you like! And pick up the tuna at Whole Foods, or other fine stores.