Print This Post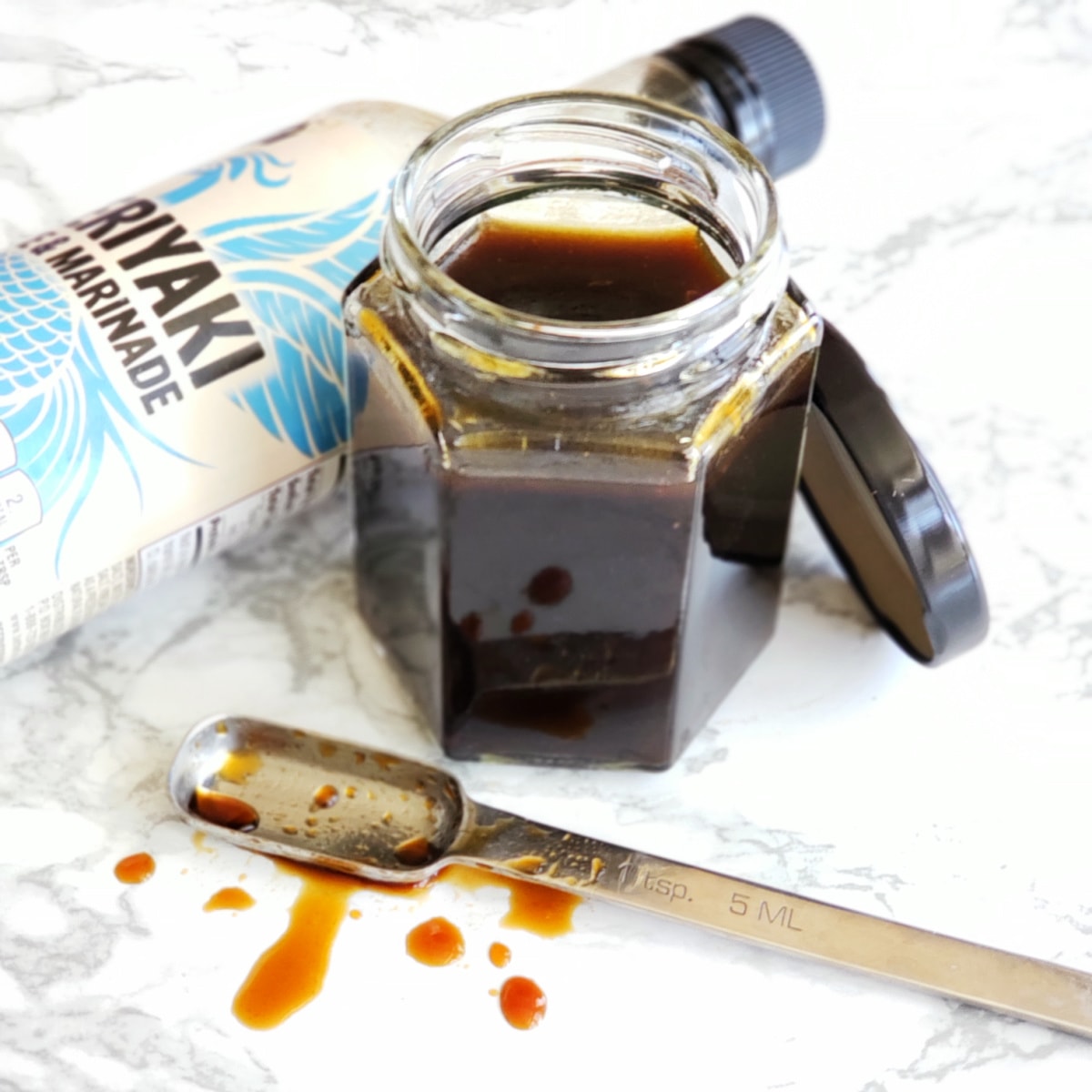 Homemade Teriyaki Sauce is 5 minutes away with a few pantry and fridge staples, and a quick simmer on the stove. Bright with garlic and ginger, this one sings!
There was a hot minute when we were going through what seemed like gallons of teriyaki sauce. My teenage son the bottomless pit had taken to eating bowl after bowl of rice, sprinkled with teriyaki sauce, whenever he got hungry. Which seemed like 24 hours a day, to me.
So after the eleventy-millionth time of running out of store-bought sauce, I decided to make my own. I looked at the ingredients on the label, and what….soy sauce, sugar, wine, vinegar, onion powder, garlic powder…I have those things. What I don't have is sodium benzoate (a commercial preservative), and I won't be needing to get any of that anytime soon.
I'm glad I made my own, because I like it even better than the commercially made kind. My fresh garlic and ginger make it ever so slightly textured, and I can sweeten it with whatever my choice of liquid sweetener is. Often I decant it into the same bottle with the commercial label on it, so no one is the wiser. Shhhh.
We all have our tricks, don't we?
How to make Homemade Teriyaki Sauce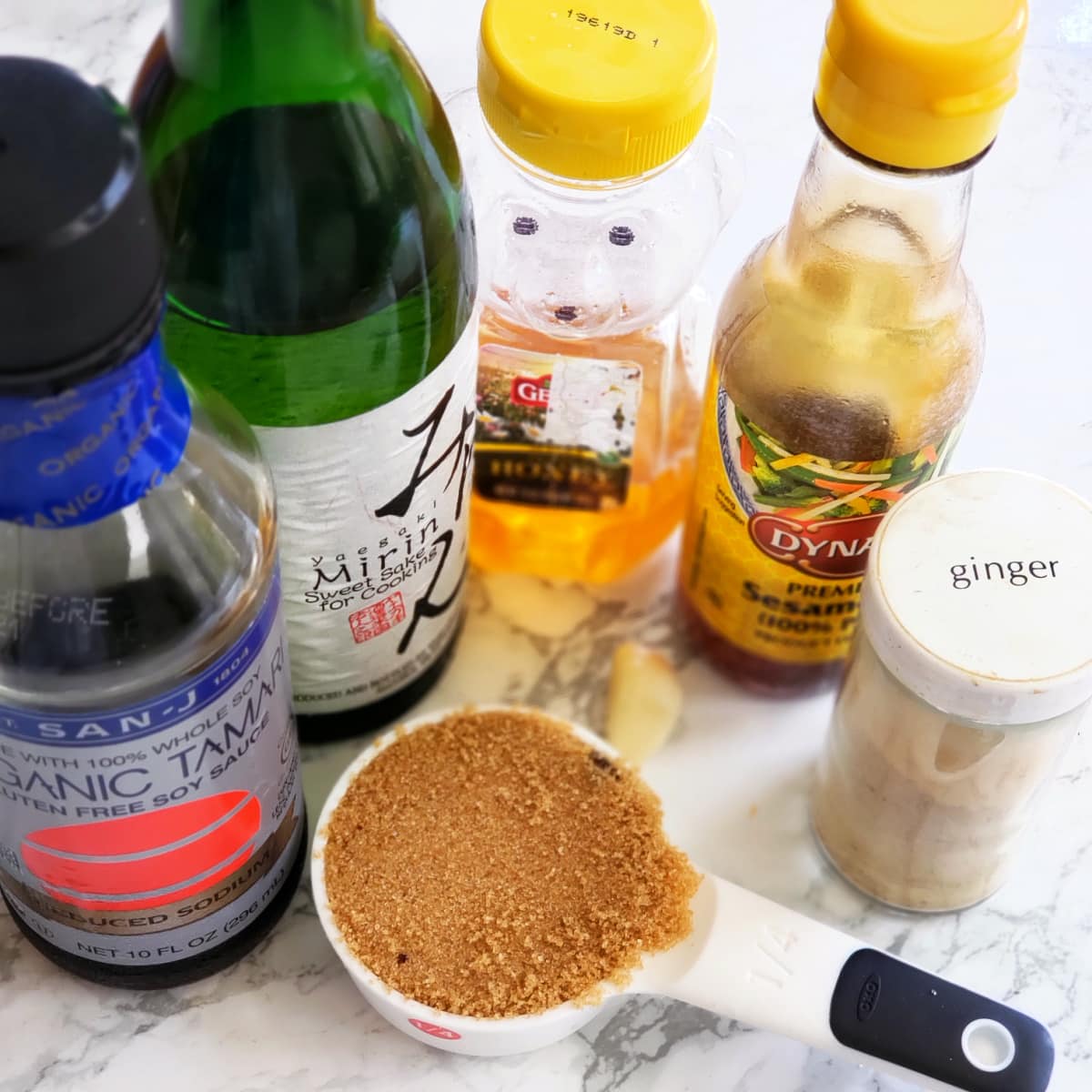 It's easy. First, assemble your ingredients so you know you have everything. I usually use fresh ginger, but I was out, so I will sub ground ginger in a pinch.
We're using:
Tamari sauce. I favor a lower-sodium version (there is still plenty of salt!), and I like tamari over soy because there is no wheat in it, so gluten-free eaters are safe.
Brown sugar. You can use either light or dark, it won't matter. Use what you have. And if you don't have brown sugar, use granulated.

Fresh ginger. As I mentioned in the photo above, I was out of it, so I subbed 1/2 tsp. ground ginger instead. My motto is "Use what you have," but if you have fresh, use it. Grate it with your microplane.
Fresh garlic. Again, if I happened to be out, I would use garlic powder, but fresh is superior for this. Grate it with your microplane.
Liquid sweetener like honey or agave or maple syrup or whatever you like. The commercial version of teriyaki uses high fructose corn syrup. We don't need no stinkin' HFCS.
Sesame oil. I buy the version that says "toasted" because I like that toasty flavor.
Mirin, which is a Japanese lightly sweet rice wine that lends acidity. I keep this on hand in my fridge, and use it in stir-fries or many Asian-ish dishes as a very light sweetener and taste brightener. If you don't want to buy Mirin, you could use the equivalent amount (3 tablespoons) of dry sherry, sweet marsala, dry white wine or rice vinegar, with 1 1/2 tsp. of sugar to counteract the sourness. But really, Mirin is something you need to have.
Tips for Homemade Teriyaki Sauce
TEND IT: Use a small pot on the stove, and do not walk away. This will come to a boil very quickly, and the last thing you want is to have it boil over and you have to clean sticky teriyaki sauce off your stove for days. Trust me on this one. Just stand there for the 5 minutes this will take.
SIMMER: Bring it to a boil, turn down the heat and simmer on low for 3-5-ish minutes. The only trick of this is to get it simmering, but do not cook it so long that it greatly evaporates and begins to caramelize like candy. You just want it to simmer for 3-ish, 4-ish minutes so the garlic and ginger get the raw sting off, the alcohol evaporates from the mirin, and the sugar dissolves, and then you'll be good to go.
COOL IT: Take the pot off the heat and let it sit and cool for a bit. IF YOU HAVE simmered it too long and you think it is thick like a paste, don't worry, just add a teaspoon or more of water back in and stir it to loosen. You know what teriyaki is supposed to be like, so make it as loose as that, and next time don't simmer that long or on such a high heat. I don't want to scare you about this step; it is easy, but there was one time I screwed up and thought higher heat might be better, and I kind of made a thick paste out of it. Ooops. You don't have to make my same mistake.
JAR IT: Pour it into a squeaky clean jar with a lid and label it. Two weeks from now, you don't want to be pulling that jar of brown stuff out of the fridge and asking, "What the heck is this?" Just label it now! Or pour it into your existing teriyaki bottle, if you're lazy like me.
CUTE BOTTLES? In case you don't have any bottles at home, I have linked a few good-looking bottles at the bottom of this post. They're available from Amazon. But I'm all in favor of using a clear jar or bottle, so don't think you have to buy something new to contain your teriyaki sauce.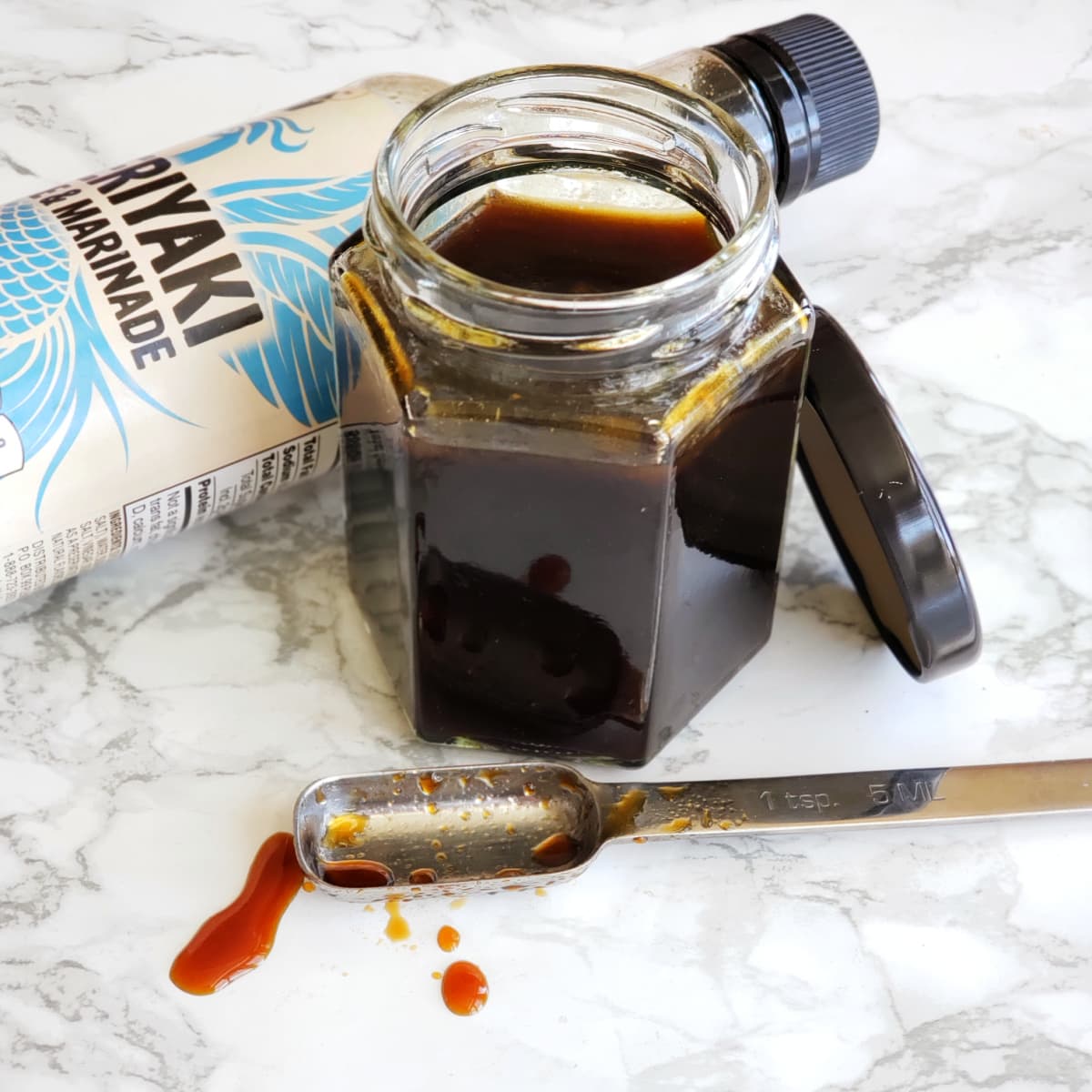 Let's make Homemade Teriyaki Sauce!
Homemade Teriyaki Sauce is 5 minutes away with a few pantry and fridge staples, and a quick simmer on the stove. Bright with garlic and ginger, this one sings!
Ingredients
1/2 cup reduced-sodium tamari (or lower-sodium soy sauce)
1/4 cup brown sugar (dark or light, doesn't matter)
1 1/2 teaspoons freshly grated ginger (or 1/2 teaspoon dried ginger, if you're out of fresh)
1 fat fresh garlic clove, grated
1 tablespoon honey (or agave or maple syrup...use what you have)
1 teaspoon toasted sesame oil
3 tablespoons mirin (Japanese rice wine; see post for substitutes)
Directions
In a small sauce pot, add all ingredients and stir. Bring to boil and reduce heat until it is simmering. Simmer for 3-5 minutes. (Do not simmer so long it gets caramelized like candy.)
Remove from heat, allow to cool, and pour into a jar. Label the jar so you remember what this is! Store in refrigerator.
Makes about 3/4 cup or so.
Notes
Recipe source: Dorothy Reinhold | Shockingly Delicious
https://www.shockinglydelicious.com/homemade-teriyaki-sauce/
Copyright Dorothy Reinhold | ShockinglyDelicious.com. All rights reserved.
Pin the image below for Homemade Teriyaki Sauce to your Pinterest board to save this recipe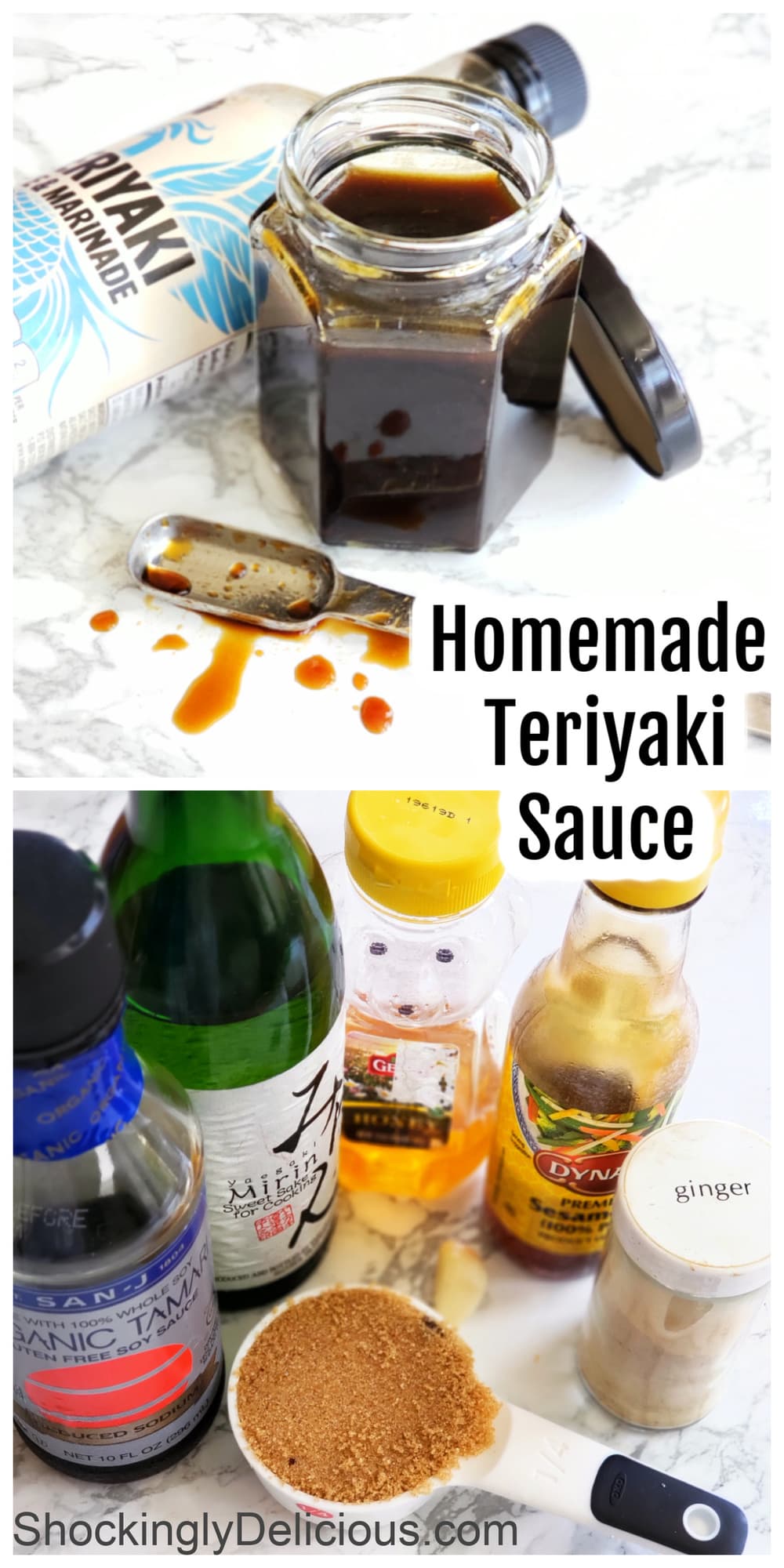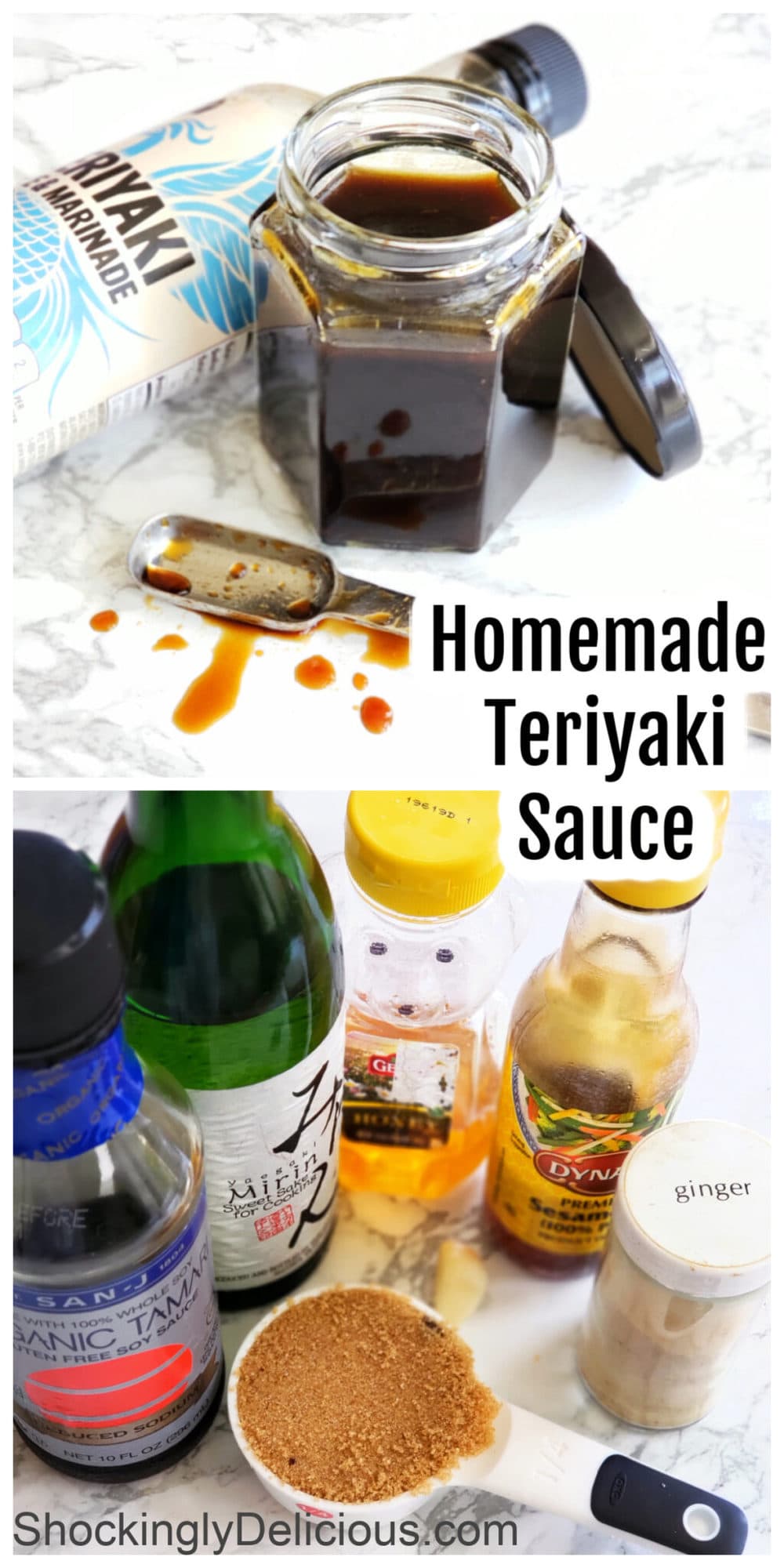 Thanks for visiting…are you hungry for more? Follow Shockingly Delicious on…
FACEBOOK | PINTEREST | INSTAGRAM | TWITTER
…for all the latest recipes, ideas and updates!
This post may contain affiliate/referral links. It is a way for this site to earn advertising fees (at no cost to you) by advertising or linking to certain products and/or services that I approve and prefer. Thank you for using my affiliate link to shop, so I can continue to bring you shockingly delicious recipes!