Print This Post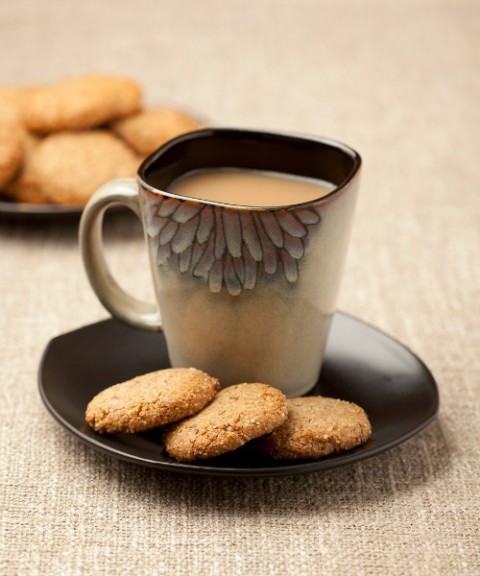 Dessert time, and especially fall/winter, with all the attendant holidays and feasting, can be an especially difficult time for those with food allergies and dietary restrictions.
All those delectable baked goods hiding gluten, dairy, eggs and especially refined sugar, can be poison to people who must avoid those ingredients.
What if you could find recipes that solved the allergy problem for you, and allowed you to enjoy desserts that had a lower glycemic index than regular desserts. What if you could be confident that your party and potluck offerings would be suitable for everyone?
The new cookbook "Naturally Sweet & Gluten-Free," by Ricki Heller (Sellers Publishing, 2013) has 100 answers for you, in the form of delicious, sweet, relatively guilt-free treats that let you have your cake and your health, too. In addition to being free of gluten, eggs and dairy, many of these recipes also avoid corn, soy and nuts. Sweeteners used are Stevia, coconut sugar and coconut nectar, and agave nectar.
But don't misunderstand. This isn't a book of oddities and exotics. Rather, it's a sort of sugar-free baker's bible, featuring Chocolate Pecan Pie, Butterscotch-Chocolate Chip Cookies, Lemon Blueberry Scones, gooey Cinnamon Buns, "Notella" chocolate hazelnut butter, and the like. These recipes will satisfy anyone, not just those following gluten-free or vegan diets.
Let's fire up the oven and make something, shall we? I've chosen these Almond Cookies, which are sort of like a vegan version of Amaretti. Then stay tuned below the recipe for a giveaway of the cookbook!
Recipe: Easiest Almond Cookies
Summary: Soft, chewy, nutty and just sweet enough, these are deeply almondy delights.
Ingredients
2 cups (12 ounces or 340 g) natural raw skin-on almonds, preferably organic
1⁄4 cup (25 g) finely ground flax seeds (from about 2 tablespoons or 30 ml whole seeds)
1⁄2 teaspoon (2.5 ml) baking soda
1⁄4 teaspoon (1 ml) fine sea salt
1⁄4 cup (60 ml) agave nectar
2 tablespoons (30 ml) sunflower or other light-tasting oil, preferably organic
1 teaspoon (5 ml) pure vanilla extract
1 teaspoon (5 ml) pure almond extract
1 tablespoon (15 ml) water, if necessary
Instructions
Preheat the oven to 350 degrees F (180 C). Line 2 cookie sheets with parchment paper, or spray with nonstick spray.
In the bowl of a food processor, whir the almonds, flax, baking soda, and salt until you have a very fine meal (it should be the consistency of a coarse cornmeal or fine breadcrumbs, with no large pieces of almond visible). Watch that you don't blend so long as to obtain almond butter, however!
Add the agave nectar, oil, and extracts, and process again just until the mixture holds together and leaves the sides of the bowl. It should look like a moist dough. If the mixture is too dry, add the water and pulse quickly to blend.
Using a small ice-cream scoop or tablespoon (15 ml), scoop the dough and roll into balls; place them about 2 inches (5 cm) apart on the prepared cookie sheets. Wet your palms (or use a silicone spatula) and press down to flatten each ball to about 1⁄4 inch (6 mm) thick.
Bake for 8 to 10 minutes, rotating the sheets about halfway through baking, until the edges are barely golden brown and the cookies are dry in the center (the tops will still be light). Allow to cool completely before removing from the cookie sheets; the cookies firm up as they cool.
Makes 15.
Source
"Naturally Sweet & Gluten-Free," by Ricki Heller. Recipe and photo reprinted with permission from the publisher.
Preparation time: 10 minutes
Cooking time: 10 minutes
Diet type: Vegan
Diet tags: Gluten free
Number of servings (yield): 15
Culinary tradition: USA (General)
Cookbook Giveaway!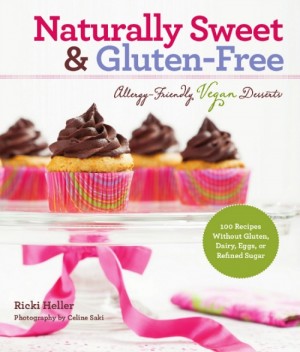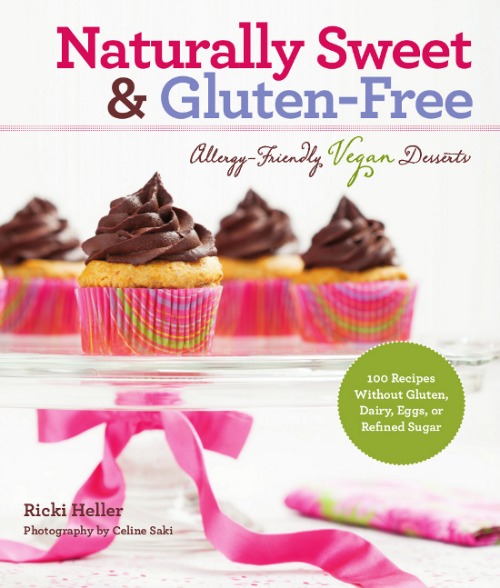 UPDATE 10-123-13: Deb E. of North Hollywood, Calif. is the winner! Thank you all for playing along, and I'm always on the lookout for good giveaways for my readers, so stay tuned! Sellers Publishing, is giving away a copy of this book to one lucky reader of Shockingly Delicious. To enter, simply do any or all of the following: 
Leave a comment on this post telling me what your favorite baked good is.
Like Shockingly Delicious on Facebook and leave a comment telling me you did.
Follow Shockingly Delicious on Twitter and leave a comment telling me you did and what your Twitter handle is.
Put me (Dorothy Reinhold) in your Google+ circles and leave a comment telling me you did and what your Google+ name is. You can find me on Google+ here.
Follow Shockingly Delicious on Instagram and leave a comment telling me you did.
Follow my boards on Pinterest and leave a comment telling me you did.
To participate in the giveaway you may do any of these, and each is considered a separate entry, so leave a separate comment for each one you do.
This giveaway is for one winner of this cookbook from the publisher.
Open to those with mailing addresses in the USA only.
Deadline: Submissions will close at noon Pacific Time on Saturday, Oct. 12, 2013.
Winner will be notified via email within 24 hours of the close of the giveaway, and given 48 hours to respond. If I do not receive a response in 48 hours, I'll need to draw a new winner.
There is more legal fine print here.
Ready, set, GO!
Disclosure: I received a copy of the book for review, and the publisher will send a copy of the book to my winner.