Print This Post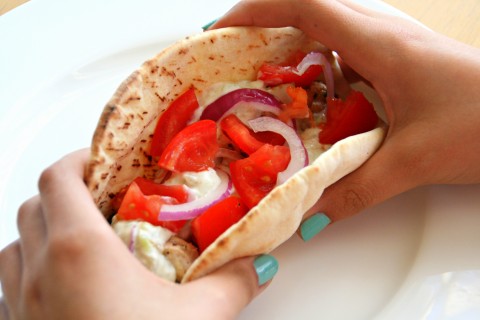 We all can use a new chicken recipe, can't we? This one is bound to go into frequent rotation at your house, as it has at mine. It's easy, it's packed with galicky, lemony, punchy flavor, and I've never met a gyros sandwich I didn't want to devour.
A gyros (say it yee-ros, and roll the r!) made from chicken is just genius! A blop of garlicky Tzatziki sauce, some chopped fresh summer tomatoes and red onion slices, all on a pita….call me for dinner!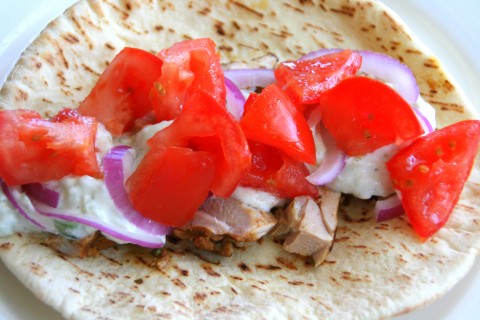 I discovered the recipe at the blog Lynsey Lou's. Lynsey is a passionate home cook who's like many of us – she loves to entertain, research new recipes, read cookbooks, find the latest new thing in the culinary world, and most of all, she loves to talk about food to anyone who is interested.
"I love cooking but when I cook for others it's such an amazing experience. It's awesome to see the joy on their face when they sink their teeth into something I've made," she writes.
Doesn't she sound like a good friend to have? I'd like her to move next door to me.
She's been blogging since 2008, which means she has tons of recipes on her site. I have bookmarked her Pumpkin Snickerdoodles, Roasted Strawberry Lemon Ice Cream, Irish Coffee Blondies and Sweet and Salty Cookies with the M&M's I love the most – pretzel!
But in the end, what I most need is a good new-to-me chicken recipe, so I settled on the intriguing Chicken Gyros.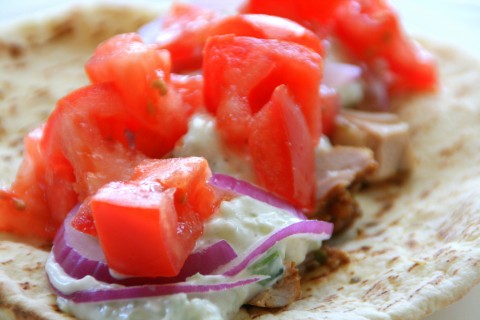 There's nothing better than a good sandwich for an informal summer dinner, is there?
Recipe: Chicken Gyros
Summary: Garlicky, oregano-laced, lemony chicken chunks are piled on a pita, sauced with a classic yogurt Tzatziki, and garnished with chopped fresh tomatoes and half moons of red onion slivers. Opa!
Ingredients
For the Tzatziki sauce (need to make 1-24 hours ahead):
1 cucumber (or 1/2 hothouse cucumber), peeled and seeded
8 ounces Greek yogurt
2-3 cloves garlic, pressed through a garlic press (or finely minced)
1 teaspoon white wine vinegar
1/2 teaspoon dried dill (you may omit if you don't have this)
¼ teaspoon ground coriander
Pinch of kosher salt
Grind of fresh black pepper
Squeeze of fresh lemon juice
1 tablespoon extra-virgin olive oil (I used Calolea Meyer Lemon Olive Oil)
For the chicken (marinate 1 hour):
4 cloves garlic, pressed through a garlic press or finely minced
2 tablespoons Meyer lemon juice (or regular lemon juice)
2 teaspoons red wine vinegar (I used white balsamic vinegar)
2 tablespoons extra-virgin olive oil
1 tablespoon Greek yogurt
1 tablespoon dried oregano
Salt and pepper
1 1/4 pounds boneless, skinless chicken thighs (you could use breasts)
For final assembly:
4 pita breads
4 fresh tomatoes, seeded and diced
Red onion, thinly sliced
Instructions
Make the Tzatziki sauce: Shred the cucumber and then wrap shreds in paper towels. Squeeze to remove liquid, and discard paper towels. Put cucumber, yogurt, garlic, vinegar, dill, coriander, salt and pepper to taste, lemon juice and olive oil in a bowl. Mix well and refrigerate for at least 1 hour before serving to allow the flavors to combine. I like to make the sauce a day ahead of time.
Marinate the chicken: In a medium bowl, whisk together garlic, lemon juice, vinegar, olive oil, yogurt, oregano, and salt and pepper to taste. Add the chicken and make sure the marinade coats each piece. Cover the bowl and refrigerate for an hour to marinate.
Cook the chicken: Remove from refrigerator, discard marinade and cook as you like, either in a skillet or under the broiler (7 minutes per side). When chicken is cooked, transfer to a cutting board and let rest for 5 minutes; cut chicken into strips or chunks.
Assembly: Heat the pitas (or not, as you wish). Top pitas with chicken, sauce, diced tomatoes and onions. Serve immediately.
Serves 4.
Recipe source
I adapted this just slightly from Lynsey Lou's. She got it from a June 19, 2009 post on Loves To Eat, who got it from a June 2, 2009 post on Annie's Eats, who got it from a March 9 2009 post on Elly Says Opa, who must have gotten it straight from God's lips to her ears.
Preparation time: 30 minutes, + 1 hour for marinating
Cooking time: 15 minutes
Number of servings (yield): 4
Culinary tradition: Greek
My rating 5 stars: ★★★★★