Print This Post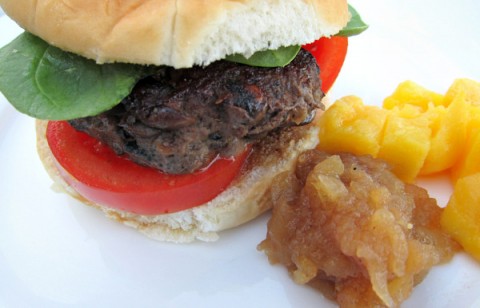 Don't you hate it when the topping falls off the hamburger? What if you put the sautéed mushrooms and onions INSIDE the burger instead of piling them on top after it is cooked?
Kitchen epiphanies can happen anytime, and this one struck as I was throwing the sliced mushrooms into the skillet for what I hoped would be a classic burger topping. After they were cooked down and the onions getting caramelized, I thought, "Who said I couldn't just mix them into the raw meat?"
Ring a ding ding!
The most perfect onion mushroom hamburger!
Recipe: Best Onion Mushroom Burgers
Summary: Why not stuff the sautéed mushrooms and onions inside the burger so they don't slide off? This creates the best, most flavorful hamburger that won't even need condiments!
Ingredients
1 tablespoon olive oil
1 pound sliced mushrooms
1/2 cup finely diced red onion (or yellow onion)
2 garlic cloves, crushed
Kosher salt (big pinch ~1/2 teaspoon)
Black pepper (a few grinds)
Big pinch Italian herb blend, or finely minced fresh rosemary
1 pound ground beef (10% or 15% fat preferred), or use ground bison
1 tablespoons bacon grease (or use olive oil)
4 or 5 King's Hawaiian Sweet Sandwich Buns
2 tomatoes, sliced
Fresh spinach or lettuce leaves
Instructions
In a large skillet over medium heat, add oil and sauté mushrooms and onions. Stir several times; they will take about 10 minutes total to cook. Add garlic, salt, pepper and herbs during last 2 minutes of cooking time.
Remove pan from heat and scrape vegetable mixture onto a cutting board. Using a large knife, chop mushroom-onion mixture finely; it will be steaming hot. Scrape it into a mixing bowl. Add ground beef to mixing bowl and mix gently but thoroughly (I use the KitchenAid mixer for this, on low). Form mixture into 4 or 5 patties.
In same skillet, heat bacon grease. When hot, add patties. Fry until done, about 3-4 minutes on each side.
Assemble burgers on bun with tomato slices and spinach leaves on each burger, topped by the bun lid. You may find, as we do, that you won't need any extra condiments because these patties are packed with flavor.
Serves 4-5.
Quick notes
You may use whatever bun you like. If left to my own devices, I favor an onion bun, but these King's Hawaiian Sandwich Buns are also great with so many burgers, and very kid-friendly. The mushroom-onion mixture "stretches" the meat to make an extra patty. If you have hearty eaters, make 4 large patties.
Preparation time: 20 minutes
Cooking time: 8 minutes
Number of servings (yield): 4-5
Culinary tradition: USA (General)
My rating 5 stars:  ★★★★★