Esquites: Warm, tangy, sweet, spicy Mexican-inspired corn salad is a Mexican street snack usually sold in a cup. Holy moly it's good! 
My family is raving about this recipe for ESQUITES, a warm, tangy, sweet, spicy Mexican-inspired corn salad we had with dinner the other night! Both husband and son asked if I would make it again the next day, and again today. They demand it on repeat.
One of the joys of spring-summer is fresh corn, and in Southern California, we often indulge in Mexican street corn. You can find it grilled on the cob (called Elote), or when it is removed from the cob it is Esquites (or troles or trolelotes, or vasito de elotes, depending on what part of Mexico you are in).
Any way you say it, the creamy, tangy, spicy mix-ins are key — salty cheese, mayo, lime juice, chili powder…it all combines in a sum far greater than the parts. This adaptation of Elote toasts the corn kernels in a hot skillet, and mixes it with some grated cotija cheese (or substitute with feta), tangy lime juice and a little mayonnaise for creaminess. Don't forget the jalapeno and cilantro, too!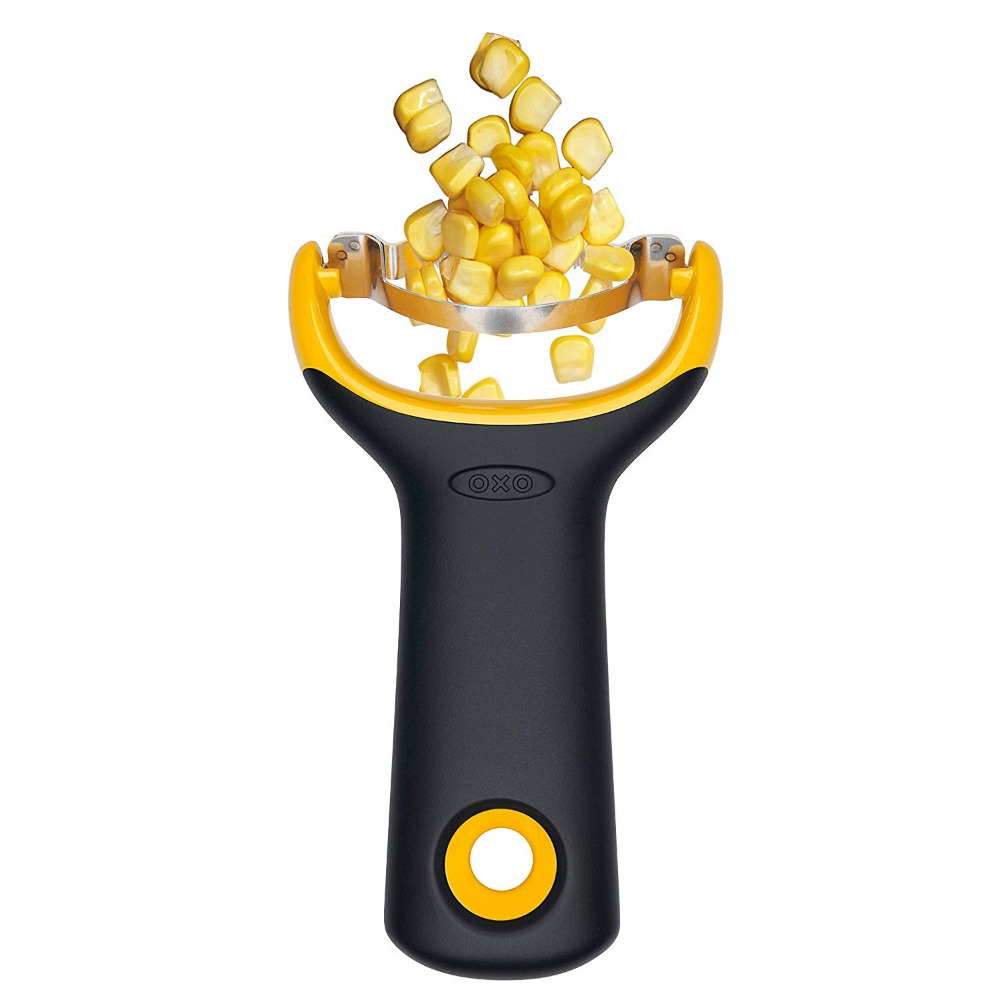 I was inspired by OXO's new Corn Prep Peeler [1], which makes quick work of removing the kernels from the cob with a specially designed serrated blade. This thing is the bomb dot com! You grab the ear in one hand, the peeler in the other, and draw the peeler down the ear of corn to remove a strip of kernels. See the short video ⇓
It works on either raw or cooked corn cobs, so suit yourself! For this recipe, shuck the corn, pick off the silk, and zip this peeler down the cob. The kernels pop right off onto your cutting board! Pro tip: corn kernels skitter, so it's good to do this over a wide bowl, so you don't have to clean up the floor. Ask me how I know that. 
Get that peeler [2] and make this Esquites corn salad, which should take you through the summer nicely, from graduation and swim parties to picnics and potlucks. Everyone will ask for the recipe (trust me), so bookmark this page and you'll be all set to share it once the requests come in.
How to make Esquites Mexican Corn Salad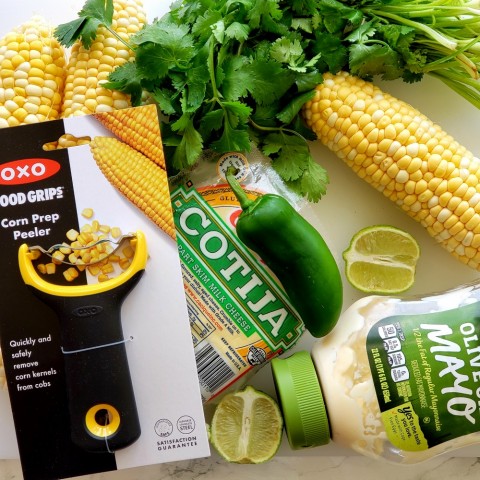 Assemble all your ingredients. You'll need 4 ears of fresh corn, a couple of limes, some mayo, cotija cheese, cilantro, jalapeno, chili powder, cumin, garlic, scallion and hot sauce (if you like).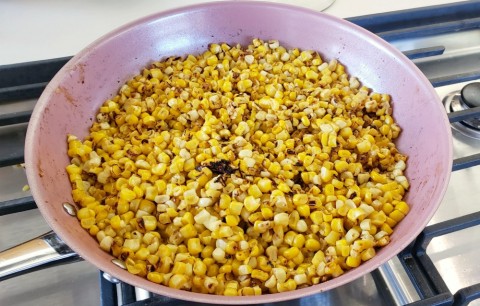 You're going to toast/char the corn in a skillet on the stove, like above. I'm showing off the Tuxton Concentrix 2-Piece Nonstick Frypan Set [3]to make this skillet recipe easy.  Isn't this blush pink color fabulous? I think pans can and should be both useful AND beautiful!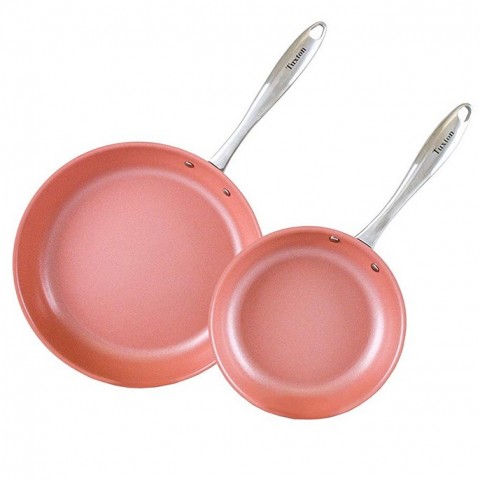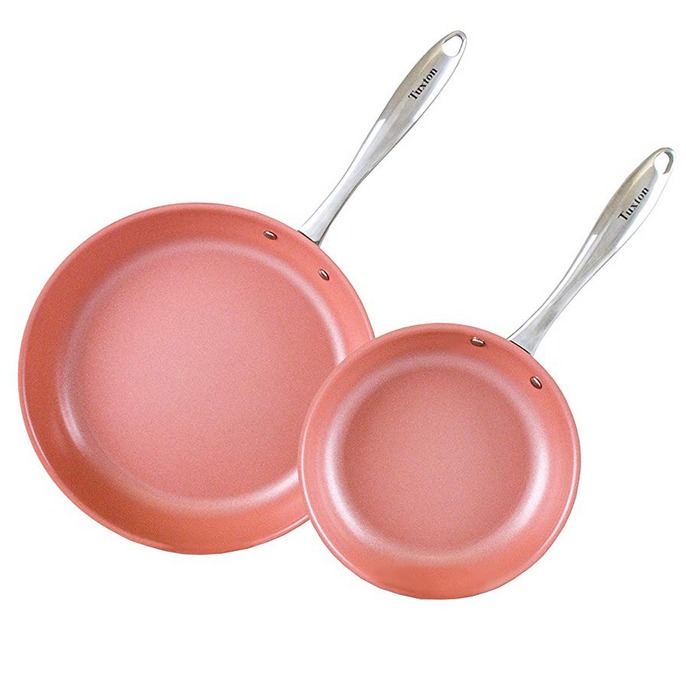 The set comes with 8-inch and 11-inch frypans that have a core of aluminum for even heat, a stainless steel body and a ceramic coating for the smoothest, slipperiest nonstick finish I've cooked with. In fact, it is so slick I have done a fried egg in the small skillet with no added fat whatsoever! It comes in a bunch of  cool colors in addition to the blush pink [3] — cayenne red [4], cobalt blue [5], saffron yellow [6], cilantro green [7], and of course black.
Who needs this frypan set?
I think it's a perfect set for someone like my daughter, who is setting up her first apartment after graduation from college. Or even college students who have a kitchen in their communal living space, or how about newlyweds learning to cook together. Cooking is way more fun with colorful cookware!
Another benefit of the Tuxton Frypan Set [3] is it works with electric, gas, halogen, induction and ceramic stoves, so whatever you have in your kitchen, it will work. Should you be making something that goes from stovetop to oven (like a frittata), it is oven-safe to 500F degrees. I found it very easy to clean, and it will go in the dishwasher if that's the way you roll.
Now let's get this delicious salad on the table, shall we?
Skillet Esquites (Mexican Street Corn Salad)
Esquites: Warm, tangy, sweet, spicy Mexican-inspired corn salad is a Mexican street snack usually sold in a cup. Holy moly it's good!
Ingredients
4 ears of corn, husked and silk removed
1 tablespoon olive oil, vegetable oil or butter (whatever you like to use in a skillet)
2 limes (divided use)
2 tablespoons mayonnaise (or you can use Mexican crema)
1/4 cup crumbled cotija cheese or queso fresco (or Feta if you can't find the Mexican cheese), with a bit more for garnish
1/3 cup chopped cilantro leaves, plus a few leaves saved for garnish
1 jalapeno pepper, seeded, stemmed and finely minced (use 1/2 a pepper if it is super hot to you)
1/2 teaspoon ground ancho pepper or chili powder (or use some red chili flakes if you don't have chili powder)
1/4 teaspoon ground cumin
1 garlic clove, pressed or finely minced
1 scallion, finely chopped (optional)
.

Garnish:

cilantro leaves, crumbled cotija cheese,
Directions
Shave kernels off of the corn. To do this, you can use a tool like I show above in the article, or simply stand the cob vertically in a large bowl or on a sheet pan (to catch the kernels which will skitter off), and, using a sharp knife, slice downward, as close to the base of the kernels as possible without cutting into the cob itself. Rotate the ear a bit and repeat the downward cut until all the kernels have been removed. Repeat on all ears of corn.
Heat a large non-stick skillet (or use a cast iron skillet if you like), over medium heat, and add the oil when hot. Add the corn kernels, and cook, without stirring, until they are browned and toasted on one side, perhaps 3-4 minutes. Stir and toast again, another 3-4 minutes, until the kernels take on a toasty brown color. A few of the kernels might pop (like popcorn), or even pop out of the pan. Consider this entertainment!
Scrape toasted kernels into a large mixing bowl, and add 2 tablespoons water, to loosen them up a bit. Add the juice of 1 lime, mayonnaise, cotija, cilantro, jalapeno, chili powder, cumin, garlic and scallion (if using). Stir well to combine and taste. Add a pinch of sea salt if necessary; I have never needed to add salt because I find the cotija cheese salty enough.
Scrape into a serving bowl and garnish with a bit more cotija cheese, cilantro leaves, and lime wedges (cut from the remaining lime).
Serves 4-6, depending on appetites and how many other dishes you are serving with it.
Notes
Recipe source: Adapted from many recipes on the Internet, as well as a verbal recipe from a street corn vendor in Santa Monica, Calif.
https://www.shockinglydelicious.com/esquites-mexican-street-corn-salad/
[9]
Copyright Dorothy Reinhold | ShockinglyDelicious.com. All rights reserved.
What else to do with Esquites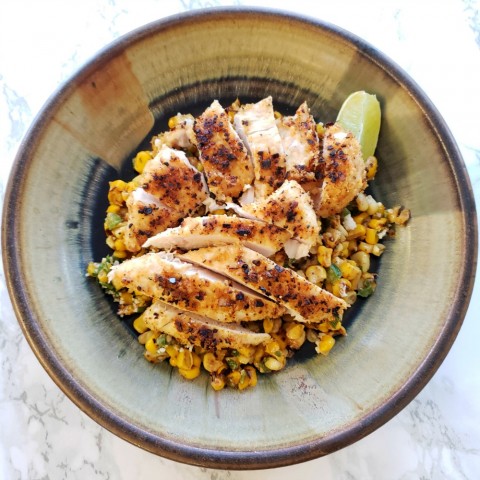 With grilled chicken breast on top, it makes a nice dinner, as shown above!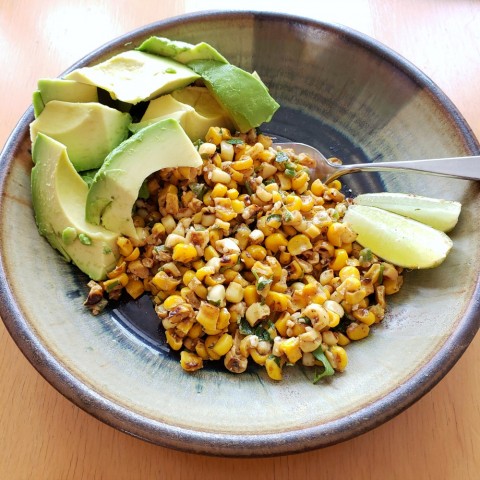 With rustic cut chunks of ripe avocado, lunch is served!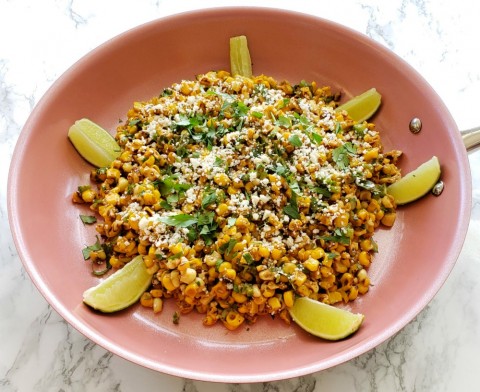 To serve as a side dish, you can put it in a serving bowl, or do as I did here and serve it right from the skillet [3]! I simply wiped it out with a paper towel and put the finished salad right back in there. When your frying pan is as pretty as this one, it's a natural.
Pin the image below to your Pinterest board so you can save this recipe.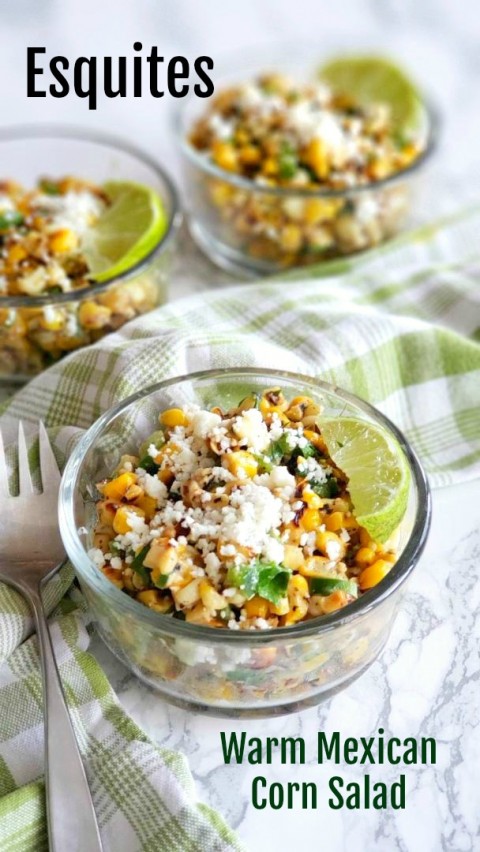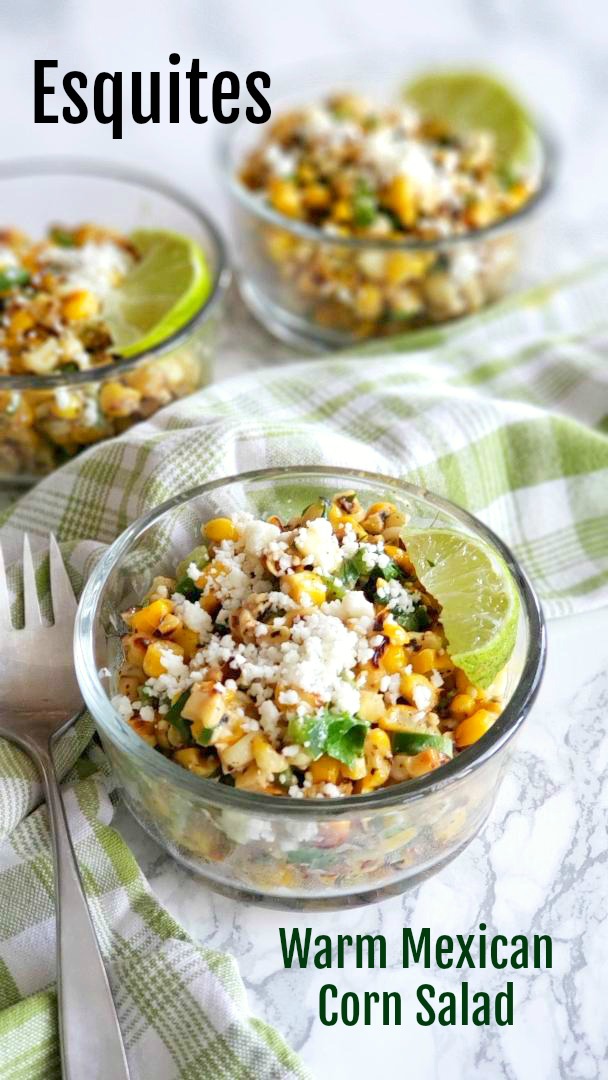 Do you put other ingredients in your esquites? Tell me what they are in the comments below!
Thanks for visiting…are you hungry for more? Follow Shockingly Delicious on…
FACEBOOK [10] | PINTEREST [11] | INSTAGRAM [12] | TWITTER [13]
…for all the latest recipes, ideas and updates!
This post contains affiliate/referral links. It is a way for this site to earn advertising fees (at no cost to you) by advertising or linking to certain products and/or services that I approve and prefer.