Recipe: Banana Butterfinger Bundt Cake
Summary: The best classic, simple, rustic banana cake with no butter (sour cream instead!). Let the bananas get black skinned for supreme, deep banana flavor, and stir in Butterfinger candy for delight.
Ingredients
3/4 cup sugar
1/2 cup vegetable oil (can use half grapeseed or canola and half mildest flavored olive oil)
2 eggs
1 cup mashed ripe bananas [1] (about 3 medium)

*see banana hint below

1/3 cup Daisy Light Sour Cream (regular version is fine, or can even use Greek yogurt)
2 teaspoons vanilla extract
1/4 teaspoon salt
2 tablespoons ground flax (optional)
1 teaspoon baking soda
7 Fun-Size Butterfinger candy bars (divided use)
1 1/2 cups all-purpose flour

Garnish

: Powdered sugar for the top after baking
Instructions
Heat oven to 350F degrees. Mist an 8-cup Bundt pan with nonstick spray and sprinkle with flour; tap out excess flour and set pan aside.
In large bowl, beat together sugar and oil. Add eggs, banana, sour cream, vanilla and salt and blend well. [2]Stir in flax (if using), and baking soda. Chop 6 of the candy bars into small pieces. Lightly spoon flour into measuring cup and level off. Add flour and candy pieces to the wet mixture and stir gently, just until dry ingredients are moistened. Do not overstir or cake will be tough. Pour into prepared pan.
Bake 50-55 minutes, or until toothpick inserted in center comes out clean. Remove from oven and cool 10 minutes in pan. Run a plastic spatula lightly around the inside edge of the pan, then invert pan onto a cooling rack. Cake should come right out of the pan. Finish cooling cake on the rack. [3]
When completely cool, store at room temperature in a covered container.
When ready to serve, dust top with powdered sugar, crush remaining candy bar and sprinkle it on top of cake.
Makes 1 cake (12 slices).
*Banana hint
Speaking of ripe bananas, you will have your best banana bread if you use dead black bananas. They should be entirely black, and maybe with a couple of little fruit flies lazily circling them. (I am not kidding about the flies.) I have a little tutorial on perfect bananas here [1]. When bananas are super duper ripe, you can slit the top and just squirt them out of their skin like toothpaste, into a 1-cup measuring cup. (How's THAT for an image?) If they are slightly less ripe, peel bananas and put them in a wide, flat bowl. Mash with a potato masher, and scrape the banana mash into the measuring cup to make sure it measures 1 cup. Bananas differ greatly in size, so it is worth measuring the mash to make sure you get the amount right.
Bundt cakes I have baked for #Bundtamonth:
Preparation time: 10 minutes
Cooking time: 50 minutes
Diet type: Vegetarian
Number of servings (yield): 12
Culinary tradition: USA (Traditional)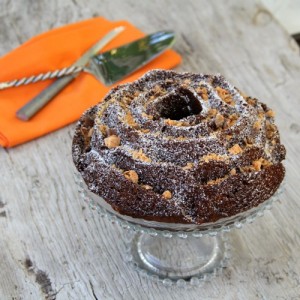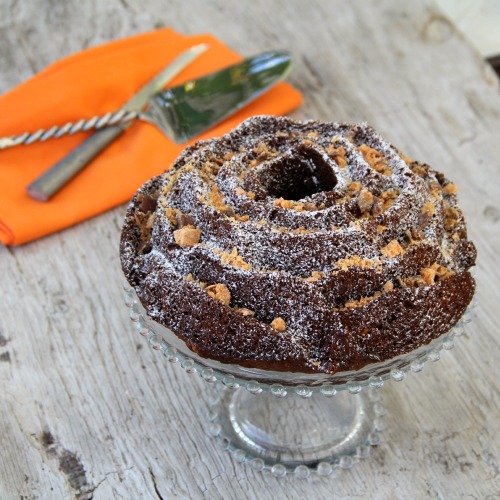 [7]I made this cake as part of the #BundtaMonth October baking party, hosted by Lora from Cake Duchess [8] and Anuradha from Baker Street [9]. This month our #Bundtamonth party bakers are:
Would YOU like to bake along with #BundtaMonth this month? Here's how:
1. Simple rule: Use candy (any kind) and bake us a Bundt for October
2. Post it by Oct. 31, 2013.
3.  Use the #BundtAMonth hashtag in your title. (Ex: title should read #BundtAMonth: Chocolate Candy Bundt)
4. Add your entry to the Linky tool below.
5. Link back to our announcement posts.
Follow Bundt-a-Month on Facebook [38] where we feature all our gorgeous bundt cakes. Or head over to our Pinterest board [39] for inspiration and choose from more than 575 Bundt cake recipes.
Here are the Bundt cakes for October. Want to add yours?