Recipe: Tuna, Tomato, Cucumber Salad
Summary: Garden fresh tomatoes and cucumbers, along with canned tuna in olive oil, make this an easy late-summer supper salad.
Ingredients
1 cup cherry tomatoes (or more, to your liking)
[1]2 Persian cucumbers (or 1 large cucumber)
1 (5-ounce) can Bumble Bee® Prime Fillet® Solid Light Tuna – Tonno in Olive Oil (or your favorite oil-packed tuna)
1 Meyer lemon
A grind or two of black peppercorns
Baby arugula or your favorite salad greens
Instructions
[2]Wash, dry and remove stems from tomatoes. Cut in half and add tomatoes to a mixing bowl. Wash, dry, peel (if you like) and seed cucumbers. Chop and add to the tomatoes.
Add tuna and its oil to the mixing bowl, squeeze a bit of lemon juice over all, a grind or two of black pepper, and mix gently so the tuna remains in large-ish chunks. You don't want it mashed as it would be for a tuna salad sandwich. Taste for seasoning, add more lemon juice, even a splash more olive oil if you feel you need it, and a pinch of salt if the tuna isn't salty enough for you. Your choice, to your taste.
Place arugula or other salad greens in wide, flat bowls, top with tuna-tomato-cuke mixture and serve.
Serves 2. May easily be doubled.
[3]The Bee Squad

[4]I am a member of the Bee Squad for Bumble Bee tuna. Canned tuna makes an excellent protein for quick meals because it is already cooked and ready to deploy. Disclosure: Bumble Bee sent the tuna for recipe testing.
Source
Dorothy Reinhold/Shockingly Delicious
Preparation time: 10 minutes
Diet type: Pescatarian
Diet tags: Low calorie, Reduced carbohydrate
Number of servings (yield): 2
Culinary tradition: USA (General)
My rating 5 stars:  ★★★★★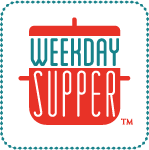 [5]Throughout the week, you can find the #SundaySupper team sharing #WeekdaySupper meals as well. Getting families back to the dinner table is our mission, and I hope we inspire you to try some of our delicious recipes. You can find them on our Pinterest Boards [6] as well. Please join us there and try something!
This week's easy Weekday Supper recipes are: