Recipe: Roasted Roots and Fruits with Sausage
Summary: A soul-warming meal that roasts root vegetables with apples, for Roots and Fruits! Add sausage for a one-dish dinner.
Ingredients
[1]4 sausages, each cut into thirds (I used our favorite Aidells Mango Smoked Chicken Sausage)
4 medium red onions, peeled and cut into quarters or eighths, depending on size
12 organic Crimson Gold apples, washed and cored, skin left on
4 organic baby garnet yams, peeled and cut into large chunks (about 1-1 ¼ pounds total)
2 large organic carrots, scrubbed and cut into large chunks
3 tablespoons olive oil
2 tablespoons real maple syrup
2 teaspoons fresh rosemary, finely minced
1 teaspoon Penzey's Mural of Flavor (or substitute dried oregano or another favorite spice)
¼ teaspoon kosher salt
A few grinds of black pepper
A few shakes of red pepper flakes
Instructions
Heat oven to 350F degrees.
[2]Add all ingredients to a large bowl. Gently mix all ingredients (you don't want to break up the onion chunks) and transfer to a large roasting pan.
Roast for 45 minutes, and then check for doneness by poking a fork tine into the potatoes and carrots.
Remove from oven and serve alone, or over a bed of wilted spinach or shredded greens.
Serves 4.
Seasoning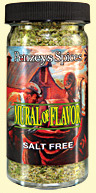 [3]Mural of Flavor [4] is a no-salt Penzey's Spices blend to which I have become quite attached. Mural of Flavor blends more than a dozen spices and herbs — shallots, onion, garlic, thyme, rosemary, basil, coriander, lemon peel, citric acid, black pepper, chives, green peppercorns, dill weed and orange peel. It might sound like a mish-mash, but it's delicious on so many things, including roast chicken, scrambled eggs, in rice, etc.
Crimson Gold Apples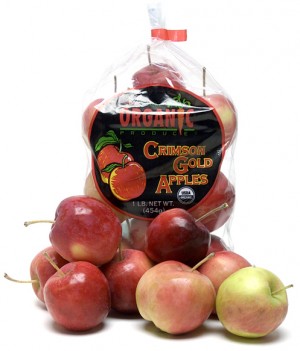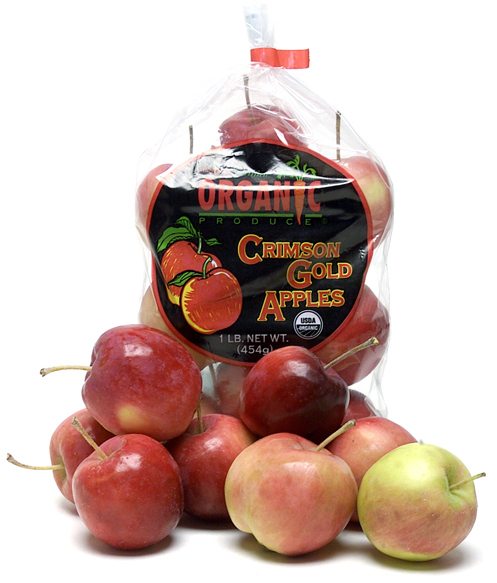 [5]These are tiny, sweet apples in season right now through early January. You can find them at better markets, in 1-pound bags for about $3.49-$3.99. They have a fabulous sweet flavor balanced by a natural tang. You can read more about these special apples on my tour of the Cuyama Orchards here [6]. If you can't find them, feel free to substitute 4-5 Fuji apples, and you can wash, core and slice them into 4ths or 6ths.
Variations
This recipe is endlessly adaptable. If you have parsnips, add them. Use a mix of regular and sweet potatoes. If you don't like rosemary, substitute sage, thyme, oregano or another herb that you favor. If you like more apples and fewer carrots, go in that direction.
Preparation time: 15 minutes
Cooking time: 45 minutes
Number of servings (yield): 4
Culinary tradition: USA (General)
My rating 5 stars:  ★★★★★

Our #SundaySupper team is making "soul warming" dishes today — everything from stews, soups and main courses to hot drinks and desserts. Choose something from the list below and warm up your family around the table tonight! (Or here's a  list of all of the #SundaySupper dishes I have cooked this year [7]. You could also try something from there!)
Main Entrees: 
Chili/Stews:
Soups:
Desserts/Beverages:
Join on us on Twitter throughout the day during #SundaySupper.  We will meet at 4 p.m. PST for our weekly #SundaySupper live chat. Follow the #SundaySupper [60] hashtag or you can follow us through TweetChat [61].
Melissa's Produce [62] sent the organic baby garnet yams and I picked the Crimson Gold apples at Cuyama Orchards on a farm trip with Melissa's Produce. I was not compensated for this post.