Pumpkin Cheddar Biscuits: These savory biscuits have a wonderful color and subtle flavor from pumpkin, and a bit of pumpkin pie spice to amp it up further. Cheddar cheese in the dough turns these extra savory.
(I received product samples from sponsor companies to aid in the creation of the #PumpkinWeek recipes. All opinions are mine alone.)
Sure, we love pumpkin pie, muffins, cake and scones. And if anyone wants to make me pumpkin donut holes, I'd be much obliged.
But as wonderful as pumpkin is in sweet recipes, it is every bit as good in savory ones.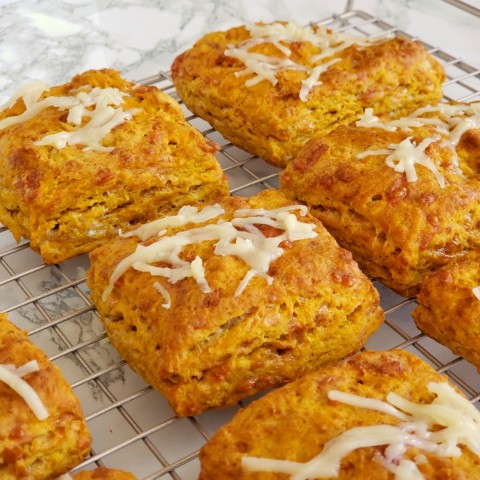 Who doesn't love a good biscuit? Today's I bring you my new favorite version, a pumpkin biscuit that is savory, not sweet. Don't be fooled when you see that it has pumpkin pie spice in it. That just gives a leg up to the pumpkin. The biscuits are full of high-quality cheddar cheese, which really cranks up the umami.
What do you eat Pumpkin Cheddar Biscuits with?
They're perfect with a bowl of soup.
Split them open and top with a fried or scrambled egg for breakfast, as shown above. Oh yeah.
Split one open and lay on some sliced cheddar cheese, for a little cheesetastic mini sandwich, as shown above. Close your eyes while you eat this…it is SO good!
How to make Pumpkin Cheddar Biscuits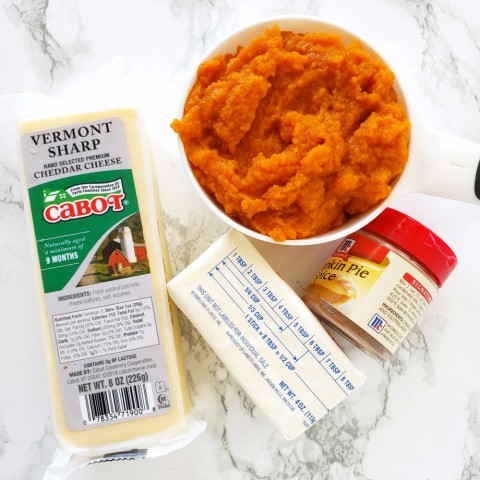 Assemble your ingredients. This is a good habit to get into no matter what you're making, so you are sure you have what you need.
Mix the dough, and pat it out onto a floured board. You can use your hands to pat it.
Cut into shapes. I made squares, because I am lazy and I like the way they look! But of course you can make rounds, using a cutter, a mason jar edge, or the lip of a drinking glass. If you cut rounds, you'll have scraps left over, so you'll need to re-pat and do a second cutting. See where my lazy factors in?
When they're done, remove from oven and immediately sprinkle tops with shredded cheddar, which will melt slightly from the residual heat, and make the tops look pretty. Put them on a wire rack to cool slightly, or serve them up right now.
Pumpkin Cheddar Biscuits: These savory biscuits have a wonderful color and subtle flavor from pumpkin, and a bit of pumpkin pie spice to amp it up further. Cheddar cheese in the dough turns these extra savory.
Ingredients
2 cups (241g) unbleached all-purpose flour
1 tablespoon baking powder
1/4 teaspoon salt
1 teaspoon pumpkin pie spice
1/2 cup (8 tablespoons, 113g) cold unsalted butter
3/4 cup (85g) grated sharp cheddar cheese (I used Cabot Vermont Cheddar)
1 cup (227g) pumpkin purée
1-2 tablespoons (14g to 28g) milk (I only needed 1 tablespoon)
Garnish: A few more shreds of cheddar cheese
Directions
Position a rack in the top third of your oven, and heat the oven to 425°F. Lightly grease a baking sheet, or line it with parchment or a silicone mat.
Weigh the flour; or measure it by gently spooning it into a cup, then sweeping off any excess. In a large bowl, whisk together the flour, baking powder, salt and pumpkin pie spice.
Work in the cold butter just until the mixture is unevenly crumbly (I used a pastry blender for this, but you could cut the butter in with 2 butter knives if you like). The butter pieces should be the size of dimes or peas; do not let the butter get so warm it melts into the flour and creates a smooth pasty dough. A rough dough with flecks of butter visible will give you fluffy biscuits.
Toss the cheddar cheese with the flour mixture, then add the pumpkin. Stir until the dough is just evenly moistened and holds together, adding milk a tablespoon at a time if necessary. (I only needed 1 tablespoon of milk to bring my dough together.)
Turn the dough out onto a lightly floured work surface, and flatten it into a 3/4" disk. (I used my hands to pat it into a square because I didn't want to use a cutter.)
Cut the biscuits with a 3" round cutter and space them on the prepared pan. This recipe makes 8-10 biscuits. (If you don't want to use a cutter, pat the dough into a square and cut it into 9 pieces.
Brush the tops of the biscuits with milk or melted butter, if desired. (I did not bother with this and it worked out just fine.) Bake them for 18-20 minutes, until they're golden brown. Remove from oven and slide them onto a rack. Immediately top with extra cheese shreds if you like; the hot biscuits will melt the cheese shreds on top perfectly.
Serve warm, as is or with butter.
Makes 8-10 biscuits.
Notes
Recipe source: Just slightly adapted from King Arthur Flour.
Other ideas: These are great as an accompaniment to soup, but they also make a great side dish for your morning eggs. And try splitting one and putting more cheese inside, for a little pumpkin-cheese sandwich.
https://www.shockinglydelicious.com/pumpkin-cheddar-biscuits/
[2]
Copyright Dorothy Reinhold | ShockinglyDelicious.com. All rights reserved.

Pin the image below ⇓ to your Pinterest board to save this recipe.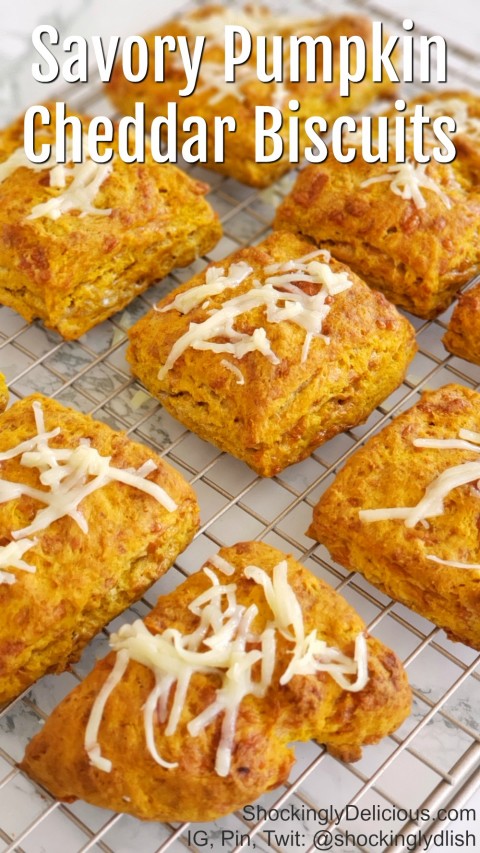 Thank you to #PumpkinWeek Sponsors: Dixie Crystals, Sweets & Treats, Torani, and Cabot Creamery Co-operative for providing the prizes free of charge. These companies also provided the bloggers with samples and product to use for #PumpkinWeek recipes. All opinions are my own.