Recipe: Pasta with Black Olive and Sun-Dried Tomato Tapenade
Summary: Some of the finest flavors in European cuisine are expressed in this simple tapenade, perfectly balanced with sweet tomatoes and onion, rich olives, and earthy garlic.
Ingredients
[1]15 sun-dried tomatoes (I used Melissa's Dried Tomatoes)
½ cup water (I used ¼ cup water and ¼ cup red wine)
1 tablespoon extra-virgin olive oil (I used 2 tablespoons)
1 medium red onion, diced
1 teaspoon sea salt
1 clove garlic, sliced
1 (6-ounce) can (170g) pitted black ripe olives
12 ounces spaghetti or other favorite pasta shape
Garnishes: fresh chopped basil or Italian parsley, for color, and toasted pine nuts if you have them
Instructions
In a small bowl, soak the sun-dried tomatoes in the water and wine for about 1 hour, or until softened.
While the tomatoes are soaking, heat the olive oil in a 10- to 12-inch skillet. Add the onion and half the sea salt and sauté over medium-high heat until the onions are evenly browned and translucent, about 10 minutes. Add the garlic and sauté for another 1-2 minutes.
Once the tomatoes have soaked, combine tomatoes and their liquid with the sautéed onions and black olives in a food processor. Add the additional salt and pulse until all ingredients are combined and the olives and tomatoes are very finely chopped and pasty. [I had to add an extra tablespoon or 3 of water to get it to whirl well. Feel free to do that.]
Heat a large pot of salted water to boiling, add pasta and cook until al dente (toothsome, or "firm to the bite.") Remove from heat, drain (scoop out a cup of cooking water and reserve it), and return pasta to pot. Stir in enough tapenade to flavor and season the pasta, adding a splash of reserved cooking water as needed to loosen it so it coats the pasta.
Portion the pasta into wide, shallow bowls, or onto dinner plates, and garnish with basil or Italian parsley and toasted pine nuts if you like.
Store the tapenade in the refrigerator in a lidded container. Will keep for a week or two.
Serves 4.
[2]Source
Adapted from "Great Gluten-Free Vegan Eats from Around the World: Fantastic, Allergy-Free Ethnic Recipes," by Allyson Kramer (2013 Fair Winds Press).
Timing for Weekday Supper
 To make this an easier weekday supper, make the tapenade a day or two before and store in the refrigerator. Then, when it comes time for dinner, simply cook the pasta and stir the tapenade into the hot pasta. Voila! Fantastic dinner is served!
Preparation time (including soaking): 1 hour
Cooking time: 15 minutes
Diet type: Vegan, vegetarian
Diet tags: Gluten free
Number of servings (yield): 4
Culinary tradition: French
My rating 5 stars:  ★★★★★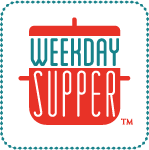 [3]Throughout the week, you can find the #SundaySupper team sharing #WeekdaySupper meals as well. Getting families back to the dinner table is our mission, and I hope we inspire you to try some of our delicious recipes. You can find them on our Pinterest Boards [4] as well. Please join us there and try something!
This week's easy Weekday Supper recipes are:
Disclosure: Fair Winds press sent the book and Melissa's Produce sent the sundried tomatoes for review.