Meyer Lemon Posset is a creamy, light, lemon-flavored dessert, sort of a cross between a pudding and mousse. Made from nothing more than cream, sugar, and lemon juice, it is impossibly light!
This post is sponsored in conjunction with #SpringSweetsWeek. I received product samples from sponsor companies to help in the creation of the #SpringSweetsWeek recipes. All opinions are mine alone.
A posset is such a fantastic dessert, on several counts.
It uses a tiny number of ingredients
It tastes light and lemony tart, yet perfectly sweet
It thickens like magic. Even when you think it can't possibly work, it does!
This is my second posset on the blog; 2 years ago at this time I made an orange posset [1]. Both of them are wildly good, and I recommend either or both. For instance, if you were making desserts for a celebration or event, I recommend making them both and letting people choose.
How to Make Meyer Lemon Posset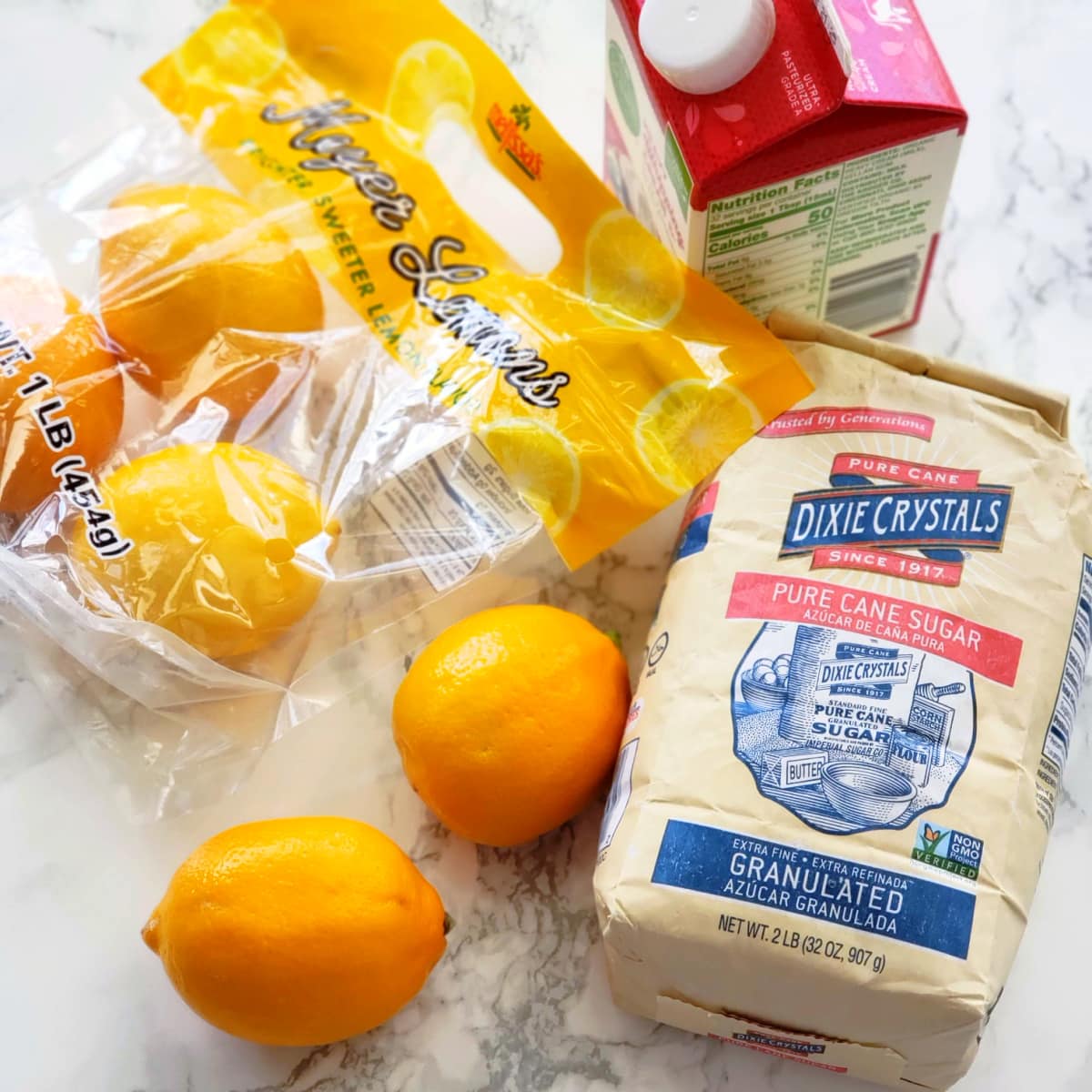 First, gather your ingredients. For this Meyer Lemon Posset, you'll need…
heavy cream (whipping cream)
granulated sugar (I am using Dixie Crystals, a sponsor of this recipe)
Meyer lemons, both juice and zest (I am using Meyers from Melissa's Produce, a sponsor of this recipe)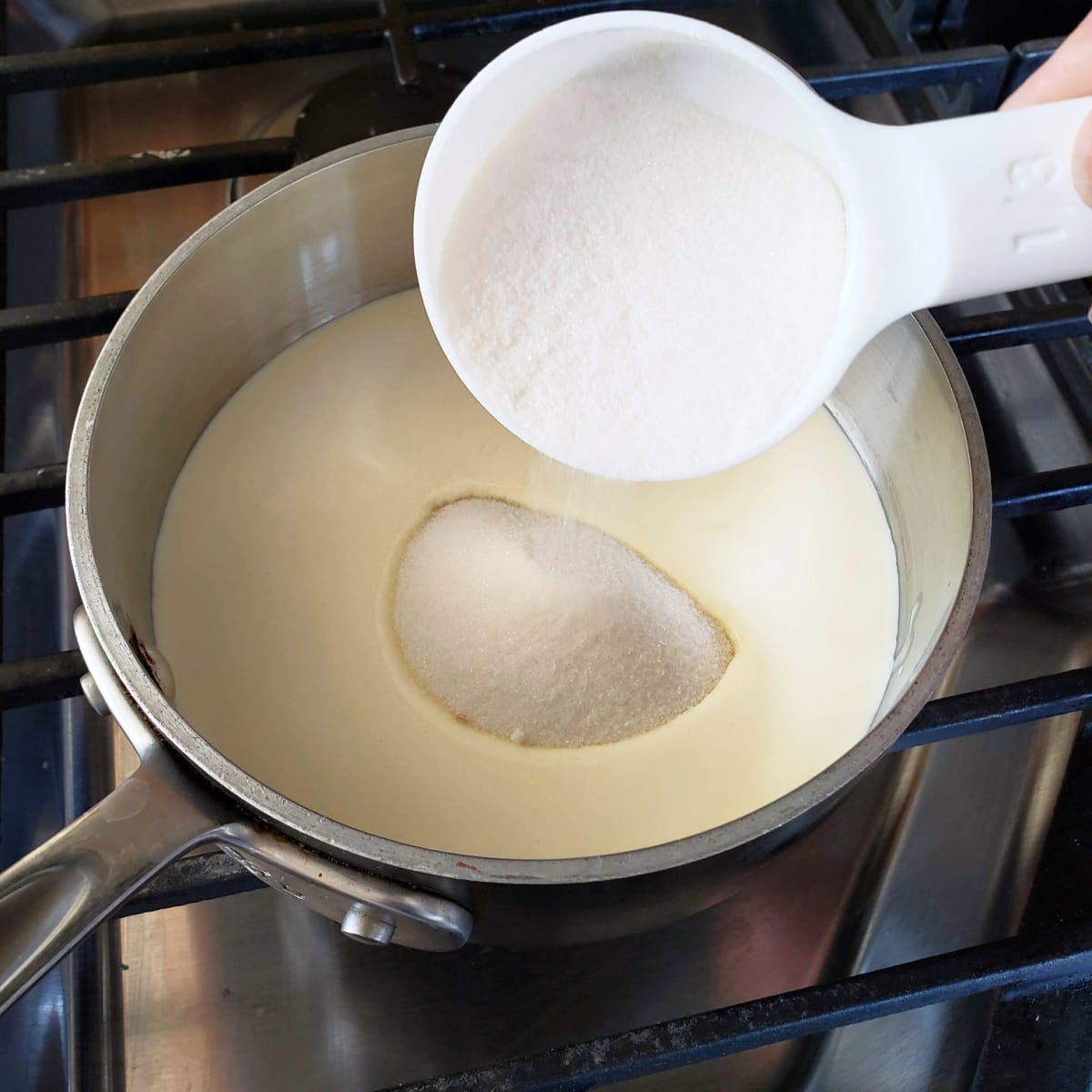 Heat the sugar and cream in a small pot on the stove, until the mixture simmers. Remove from heat and set it to cool for 20 minutes.
Meanwhile, zest 2 lemons. It's easiest to zest them first before you juice them.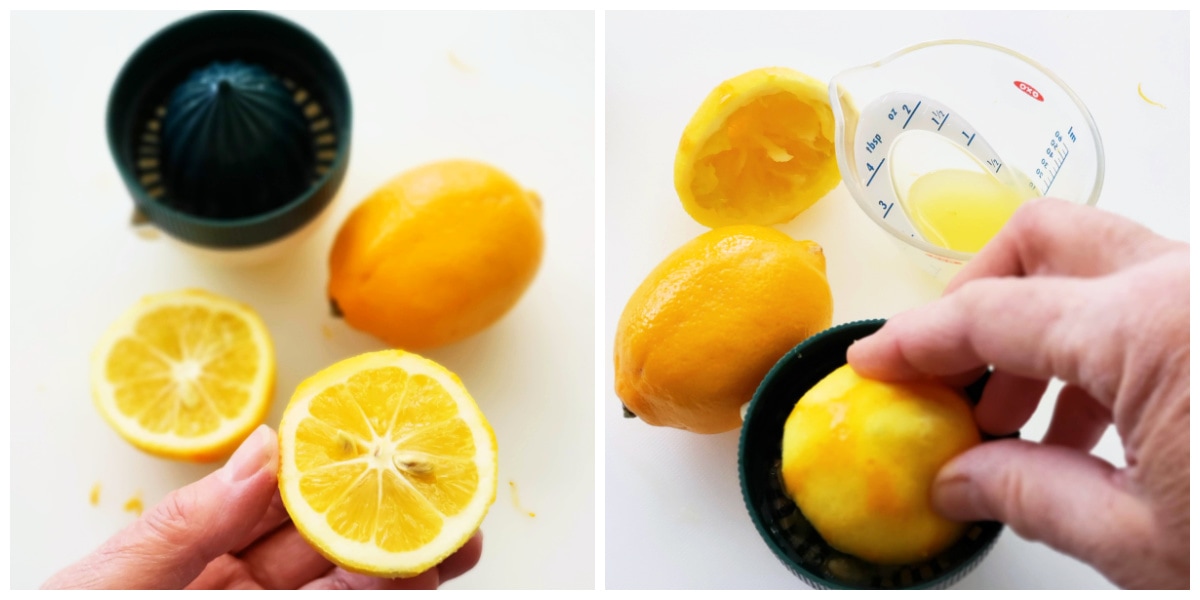 Meyer lemons will have a few seeds. Flick them away! Cut 1 lemon in half and juice it. If you don't have enough, cut the other lemon and juice it. You need 1/4 cup.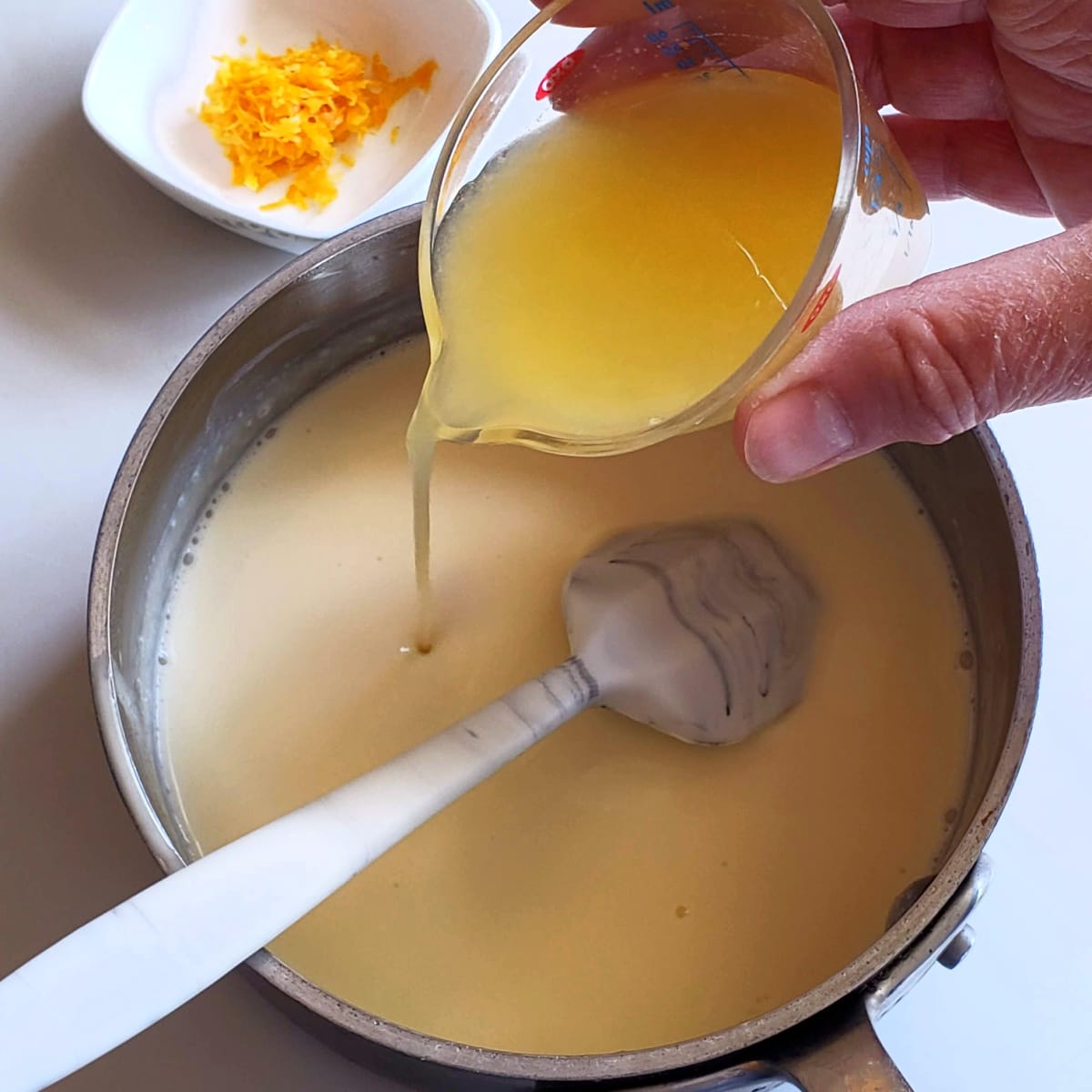 Once the cream and sugar mixture has cooled a bit, stir in the lemon juice and half the zest. You will be able to feel it thicken up a bit as you stir.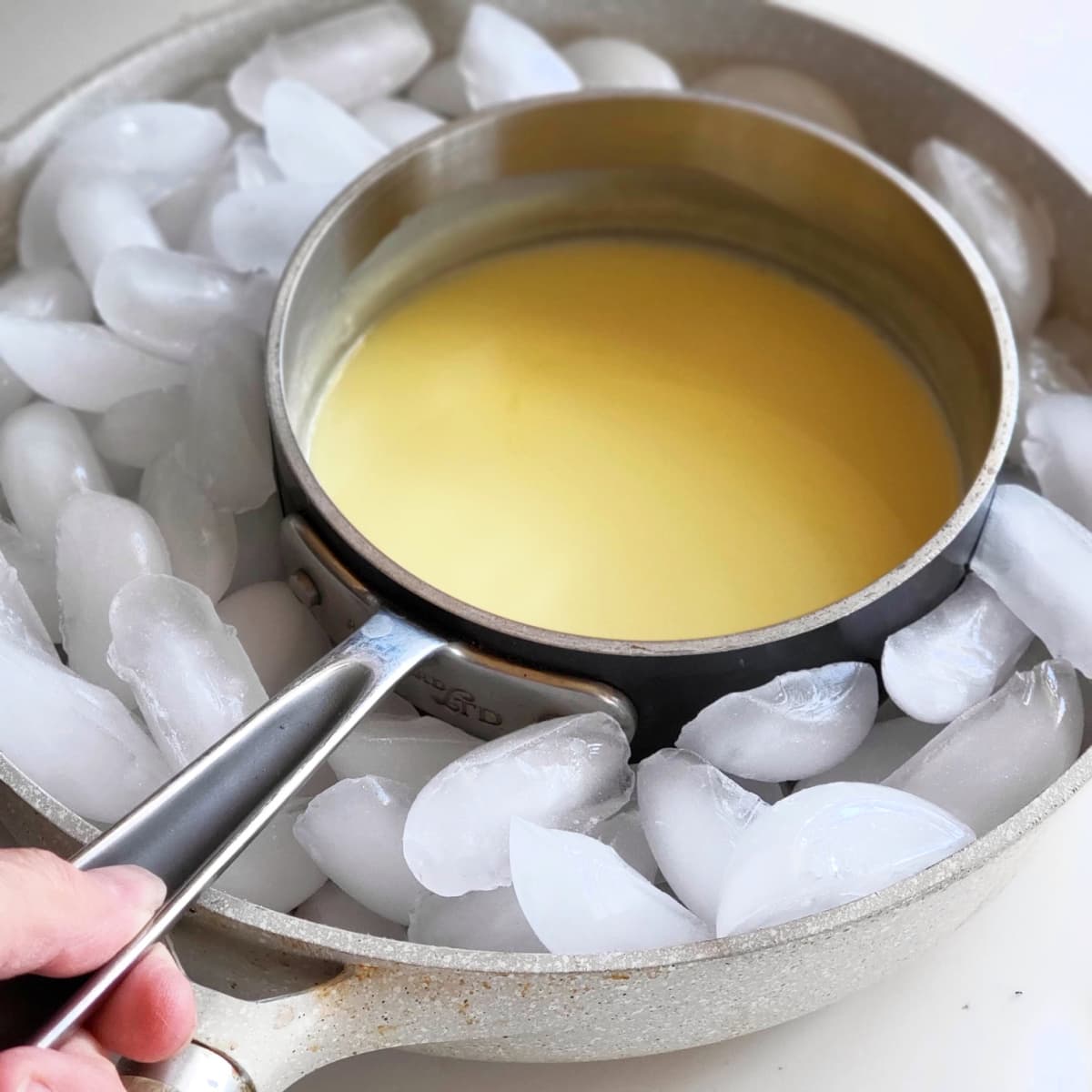 Here's a trick I do to cool the whole thing quickly before I get ready to put it in the refrigerator. I fill a big skillet with ice cubes and nestle the saucepan into it, which will cool the posset down nicely. This is entirely optional, but I do it to be more efficient with the refrigerator.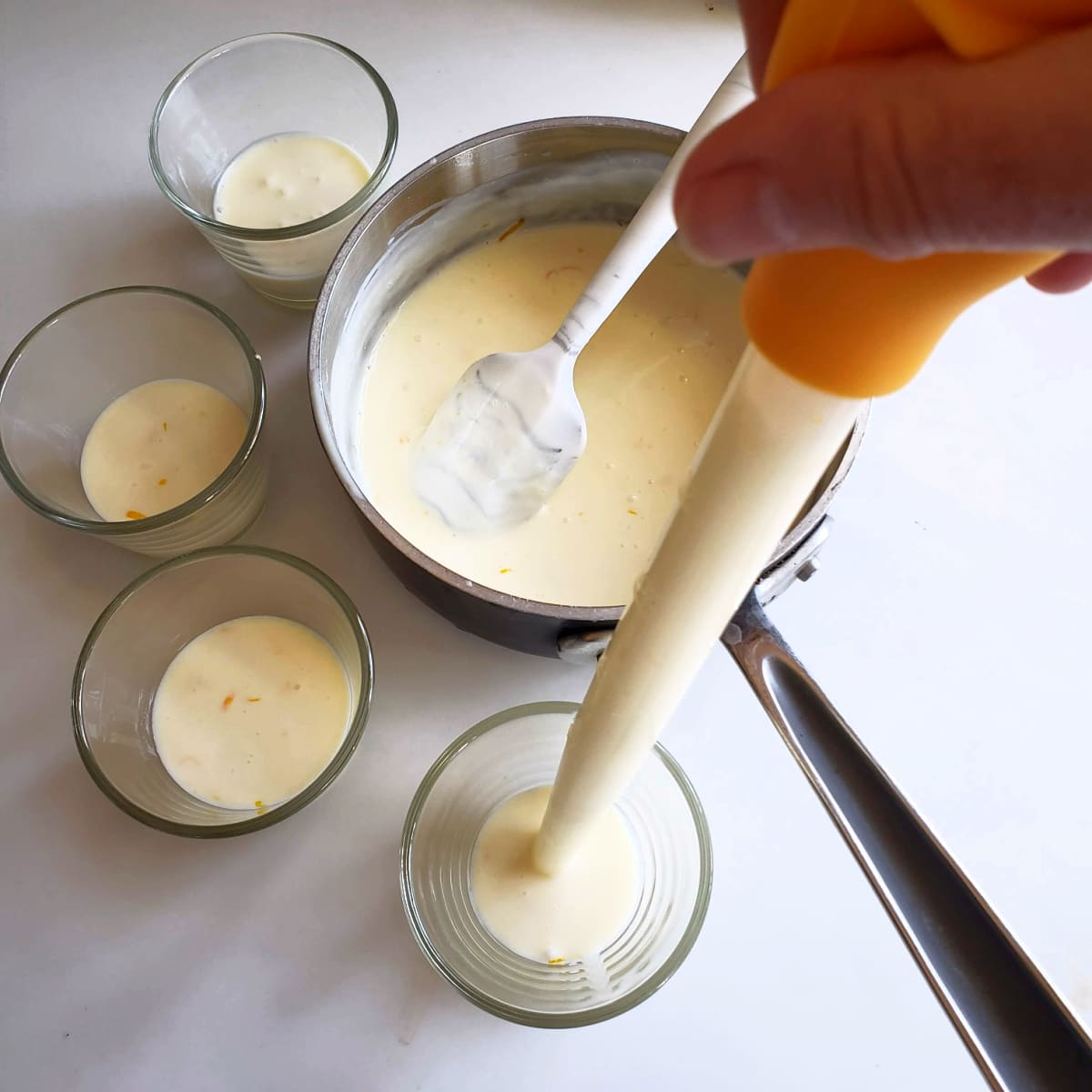 Here's the other trick: I use a turkey baster to transfer the Meyer Lemon Posset to the small glasses, to avoid splashing. Since I was going to take photos of this dessert, I didn't want the glasses to look messy, so the baster helped keep it controlled. You don't have to do that, but it's a handy trick to know. Or you could use a pitcher with a spout to direct the liquid exactly where you want it to go.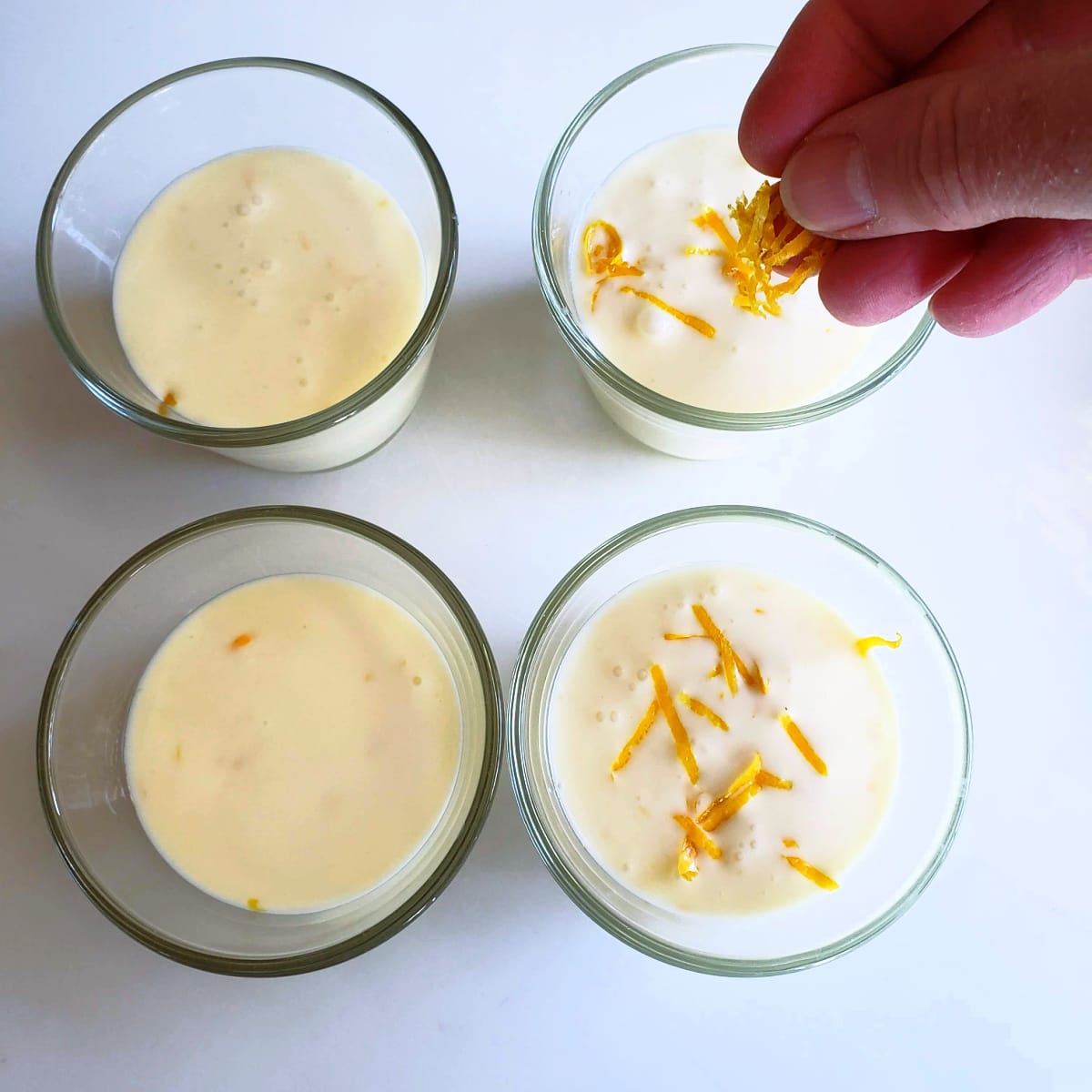 Sprinkle the rest of the lemon zest on top of the puddings.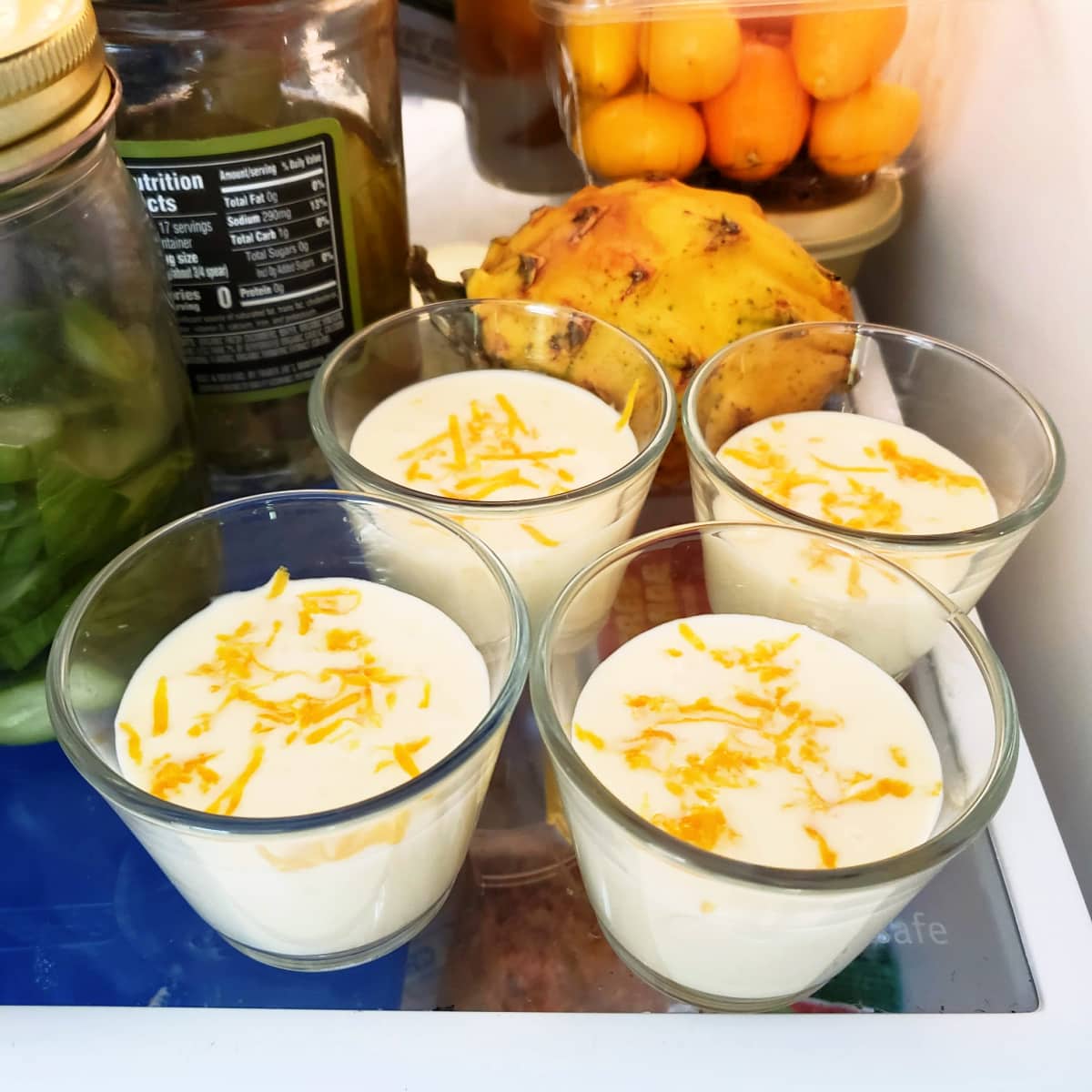 Put the puddings in the refrigerator for a least 6 hours, and ideally overnight. (See that yellow dragon fruit in there? Come to think of it, that would be great as a dramatic garnish on top of this! Or the kumquats behind that would be wonderful chopped small and sprinkled on top.)
Questions about Meyer Lemon Posset
What makes it thick? There are no eggs or thickeners like cornstarch, gelatin or flour in it.
Citrus juice acidifies the cream, which causes the proteins in the cream to clump. But the fat in cream prevents it from clumping tightly (like milk would if it sours and curdles into clumps or becomes grainy), and instead the posset thickens luxuriously. Heating the cream before adding the juice also affects the proteins and helps stabilize the gelled cream.
Can I use regular lemons instead of Meyer lemons?
Of course! I'm a big fan of using what you have and of trying new things. If you use regular lemon juice, it is likely more sour than Meyer lemon juice, so increase the sugar by 1-2 tablespoons (that's my guess).
How far ahead can I make Meyer Lemon Posset?
You need to make it AT LEAST 6 hours ahead so it has a chance to set up, but 24 hours is ideal. So, if you're serving it tomorrow night, make it tonight after dinner. I have had it in the refrigerator for 3 or so days with no problem, but I cannot speak to any time greater than that because mine didn't last that long. If you plan to keep it longer than 24 hours in the refrigerator, I would cover the top with plastic wrap, so it doesn't begin to dehydrate.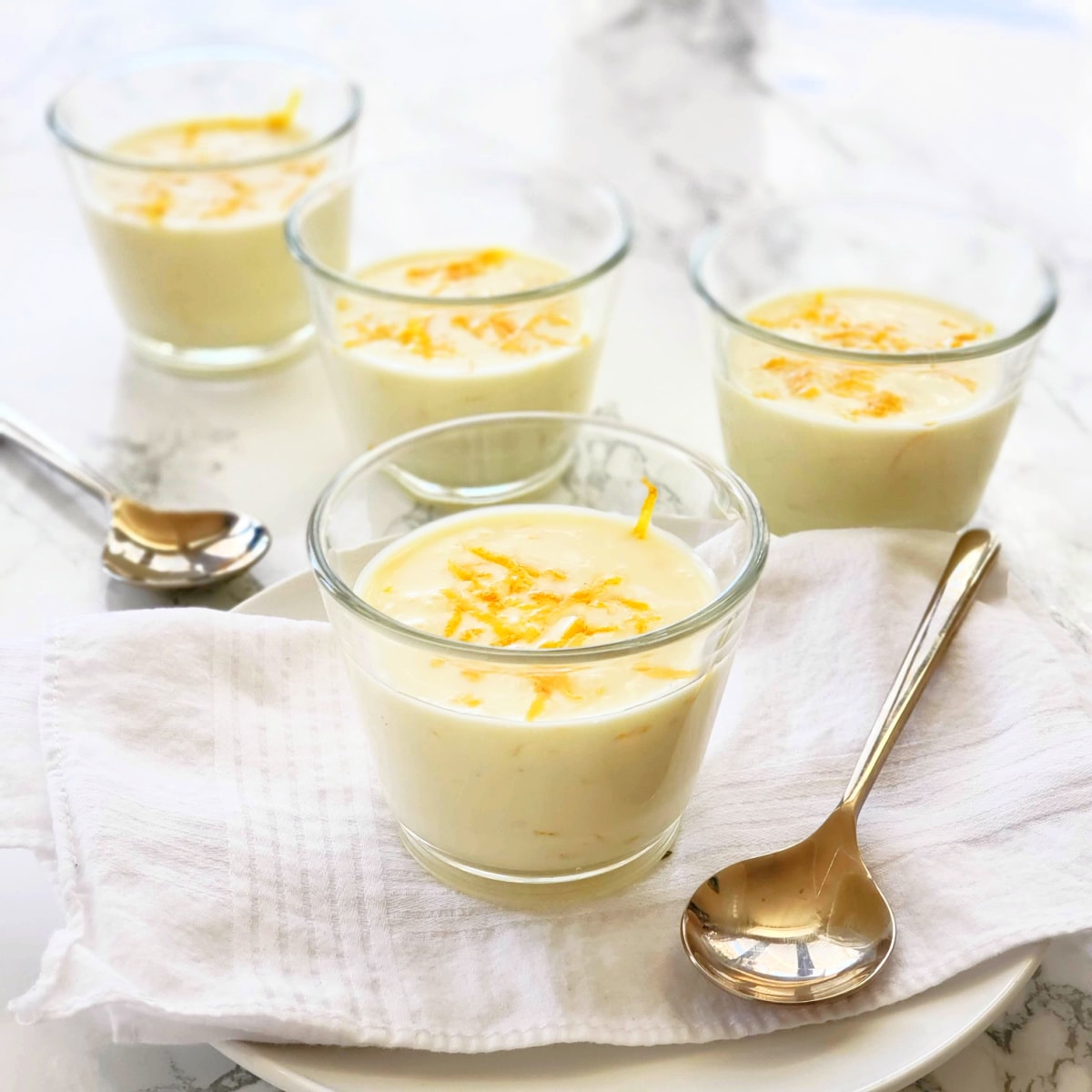 Doesn't that look delicious? Shall we make it? Let's go!

Meyer Lemon Posset is a creamy, light, lemon-flavored dessert, sort of a cross between a pudding and mousse. Made from nothing more than cream, sugar, and lemon juice, it is impossibly light!
Ingredients
1 cup heavy cream
1/3 cup sugar
1/4 cup Meyer lemon juice (it took me 2 lemons to get this; your mileage may vary depending on lemon size)
Garnish: Zest of 1 Meyer lemon, or coconut flakes, mint leaves, strawberries, etc.
Directions
Pour cream and sugar in a small saucepan and stir to combine. Heat over medium-low until mixture simmers, and then remove from heat. Let it stand off heat until it is just cool, stirring once in a while, about 20-ish minutes.
While cream is heating and then cooling, zest both of the lemons using a microplane grater and set that zest aside. Slice a lemon in half and squeeze it. If you have 1/4 cup juice, you're good to go. If you don't, cut and squeeze the other lemon and juice it until you have a total of 1/4 cup.
Stir lemon juice and half the zest into the now-cooled cream. You will notice it thickening. Pour into 4 tiny glass goblets, shot glasses, cocktail glasses or whatever you have. Garnish tops with the rest of the lemon zest. It is very rich so I think it makes 4 servings. Place in refrigerator at least 6 hours, or better yet, overnight, until it firms up.
Garnish with anything else you like, including coconut flakes, mint leaves, strawberries, etc.
Notes
Recipe source: Dorothy Reinhold | Shockingly Delicious
https://www.shockinglydelicious.com/meyer-lemon-posset/
[3]
Copyright Dorothy Reinhold | ShockinglyDelicious.com. All rights reserved.
Pin the image below for Meyer Lemon Posset to your Pinterest board to save this recipe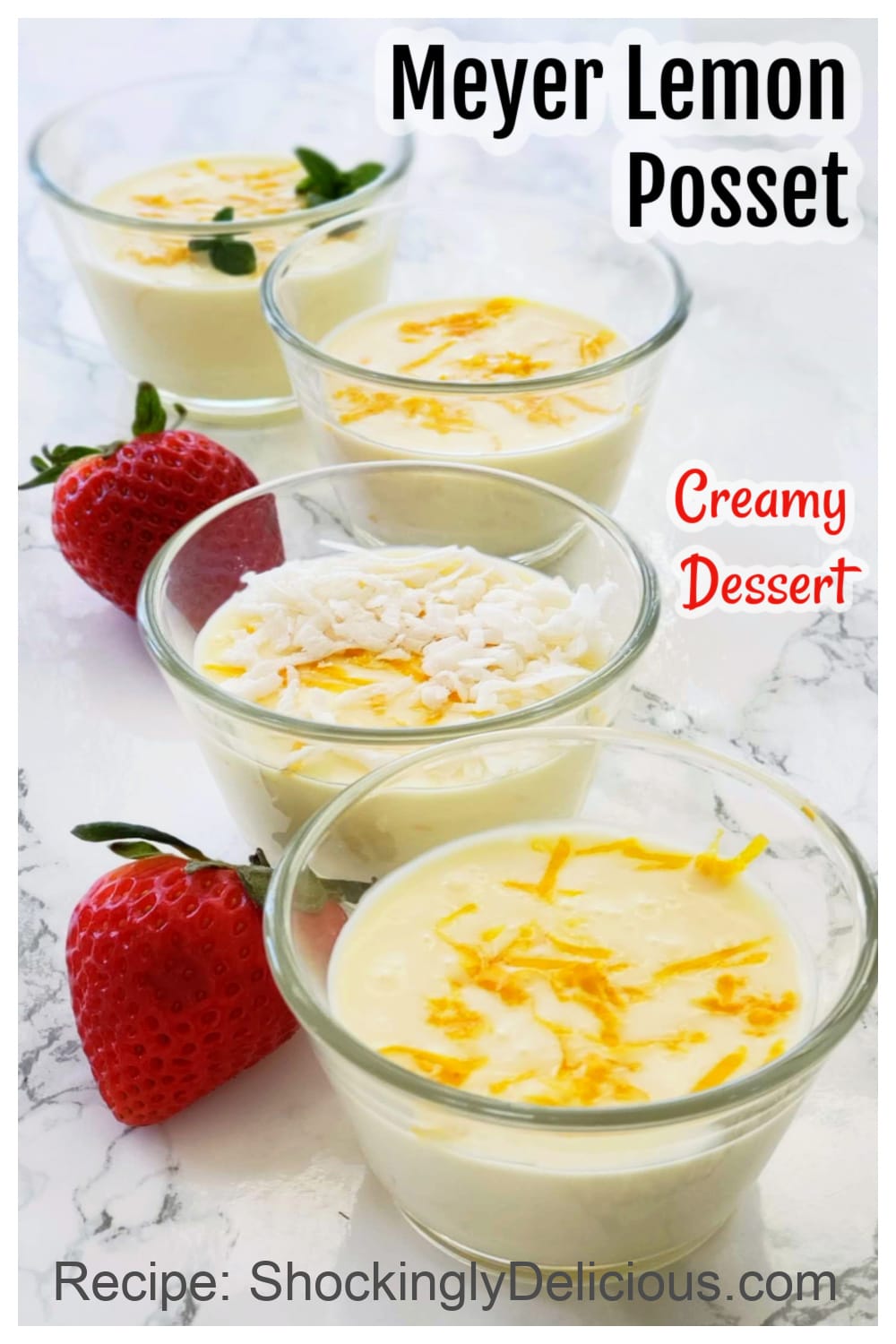 It's Spring Sweets Week!
This is the last day of #SpringSweetsWeek 2022 hosted by Heather from Hezzi-D's Books and Cooks [4]! Flowers are starting to bloom, the weather is getting warmer, and we're celebrating with spring sweets and a fun giveaway! This year 22 food bloggers from around the country are sharing over 75 sweet recipes that are perfect for spring. So get ready to enjoy amazing spring treats like cupcakes, cookies, pies, dessert boards, and even a few beverages! Our #SpringSweetsWeek sponsors are helping us give away some great prizes. Thank you to Dixie Crystals [5], Melissa's Produce [6], Anolon [7], Sweets & Treats [8], Taylor and Colledge [9], and Nairn's [10] for your generosity. We have an incredible giveaway with six amazing prizes and would love if you would take a moment to read about it and the prizes that you can win! GO HERE TO SEE THE PRIZES [11].
Enter giveaway here!
Friday #SpringSweetsWeek Recipes
We share recipes from #SpringSweetsWeek [31] on Pinterest! Make sure you follow the board to see all the delicious recipes shared this week.
Disclosure: Thank you #SpringSweetsWeek Sponsors: Dixie Crystals, Anolon, Sweets & Treats, Melissa's Produce, Taylor and Colledge, and Nairn's for providing the prizes free of charge. These companies also provided the bloggers with samples and product to use for #SpringSweetsWeek recipes. All opinions are my own. The #SpringSweetsWeek giveaway is open to residents of the United States who are 18 years of age or older. All entries for the winner will be checked and verified. By entering you give the right to use your name and likeness. The number of entries received determines the odds of winning. Six (6) winners will be selected. The prize packages will be sent directly from the giveaway sponsors. The #SpringSweetsWeek Bloggers are not responsible for the fulfillment or delivery of the prize packages. Bloggers hosting this giveaway and their immediate family members in their household cannot enter or win the giveaway. No purchase necessary. Void where prohibited by law. This promotion is in no way sponsored, endorsed or administered by, or associated with Facebook, Instagram, Pinterest, Twitter or any other social channel mentioned in the #SpringSweetsWeek posts or entry.
Thanks for visiting…are you hungry for more? Follow Shockingly Delicious on…
FACEBOOK [32] | PINTEREST [33] | INSTAGRAM [34] | TWITTER [35]
…for all the latest recipes, ideas and updates!
This post may contain affiliate/referral links. It is a way for this site to earn advertising fees (at no cost to you) by advertising or linking to certain products and/or services that I approve and prefer. Thank you for using my affiliate link to shop, so I can continue to bring you shockingly delicious recipes!