Recipe: Fat Witch Whiteys
3/4 cup high quality white chocolate chips (or 6 ounces good quality white chocolate, coarsely chopped)
5 tablespoons unsalted butter
2 eggs
1 cup sugar
1 teaspoon vanilla extract (I used Penzey's Double-Strength Vanilla [1], for a double dose!)
1/2 teaspoon baking powder
1/4 teaspoon salt
1 cup unbleached flour
Heat oven to 350 degrees.
In a small saucepan over low heat, melt the butter. When it has melted, turn the heat off and add the chocolate chips or chunks. Allow to sit for a couple of minutes, then stir; you will see that the chips have begun to melt from the heat of the butter. Keep stirring until smooth. Set pan aside off the hot burner to cool for a couple of minutes.
Prepare a 9-inch square baking pan. I lined mine with foil and let the sides overhang, so I could remove the entire cookie-block at one time. Or you could grease and flour the pan; your choice.
In a mixing bowl, beat the eggs, sugar and vanilla together, until smooth. Add the cooled white chocolate mixture, baking powder and salt, and mix until well combined. Add the flour and stir in until well combined and no trace of the dry ingredients remains.
Spread the batter evenly into the prepared pan. An offset spatula works well for this.
Bake for about 25 minutes or until the top is light brown and cracked. Turn off the oven, leaving the pan inside for 8 more minutes. After that time, a toothpick inserted in the center should come out clean or with only crumbs, not batter, on it.
Remove pan from oven and let cool on a rack for 1 hour. If you have used foil, as I did, simply lift the whole cookie-block out, peel off and discard the foil, and cut into bars.
Makes 20-24 bars. (She thinks it makes 12-18 bars, but I think it is extremely rich, and needs to be cut into smaller bars for home eating.)
Source: Ever so slightly adapted from Fat Witch Brownies: Brownies, Blondies and Bars from New York's Legendary Fat Witch Bakery, by Patricia Helding; Rodale; $22.50.
Linking to:  http://Tidymom.net [2]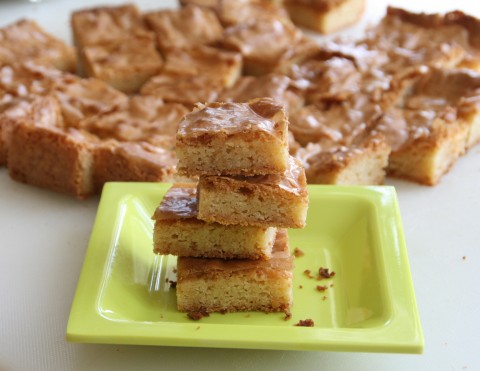 [3]