Recipe: Chicken Teriyaki Meatballs
Summary: A tender, Asian-inflected, flavorful chicken meatball poached in a gingery bath and drizzled with sweet and salty teriyaki. Sublime!
Ingredients
1 pound ground chicken
½ cup panko (Japanese bread crumbs)

(I was out, so I used regular fresh bread crumbs)

1 large egg
1 scallion, minced, plus more for garnish if desired
1 tablespoon cornstarch
1 tablespoon peeled and shredded fresh ginger (use large holes of a box grater)
1 tablespoon soy sauce
½ teaspoon kosher salt
¼ teaspoon freshly ground black pepper
8 quarter-sized slices peeled fresh ginger, crushed under the flat side of a large knife, for the cooking liquid

(see my note in recipe)

Cooked rice, for serving
Teriyaki Sauce
My version
3 tablespoons dark soy sauce

3 tablespoons mirin

2 tablespoons sugar

½ tablespoon rice vinegar
Add all sauce ingredients to a small pan, heat and stir. Bring to a boil, immediately turn off heat and let it sit until needed. Refrigerate for storage.
2/3 cup soy sauce

2/3 cup mirin

1/3 cup sugar

1 tablespoon rice vinegar
Bring the soy sauce, mirin, sugar and rice vinegar to a boil in a medium saucepan over high heat. Boil until thickened and reduced to about 2/3 cup, about 5 minutes. Pour into a small bowl.
Instructions
To make the meatballs, combine the chicken, panko, egg, scallion, cornstarch, shredded ginger, soy sauce, salt and pepper in a large bowl and mix well.

I used my Kitchen-Aid mixer, on low, for 30 seconds.

Cover and refrigerate for at least 15 minutes or up to 4 hours.
Bring 2 quarts water and the sliced ginger to a boil in a pot over high heat.

I had no more fresh ginger after using it in the chicken balls, so I simply used 2 tablespoons dried ground ginger in place of the fresh, and dissolved it in the boiling water.

Reduce the heat to medium-low to keep at a simmer.
Using your wet hands rinsed under cold water, shape the chicken mixture into 20 equal meatballs. Transfer to a baking sheet or plate. Carefully add the balls to the pot.

They will likely sink, but will float to the top soon enough.

Simmer until cooked through, about 6 minutes.
While the balls are cooking, make the teriyaki sauce, using either version above.
Using a wire spider or sieve, remove the meatballs from the cooking liquid. Drain briefly on paper towels. Spoon the rice into serving bowls. Top with the meatballs and drizzle with the sauce. Sprinkle with minced scallion and serve hot.
Serves 4.
Quick notes
Make ahead: The second time I made them, I did them ahead of time and refrigerated the chicken balls. I reheated them in the microwave quickly, and it worked very well.
You can see my personal comments above in blue.
The publisher, Andrews McMeel [2],  provided a review copy of the book.
Preparation time: 15 minutes
Chilling time: 15 minutes
Cooking time: 15 minutes
Diet tags: High protein
Number of servings (yield): 4
Culinary tradition: Japanese-ish
My rating 5 stars: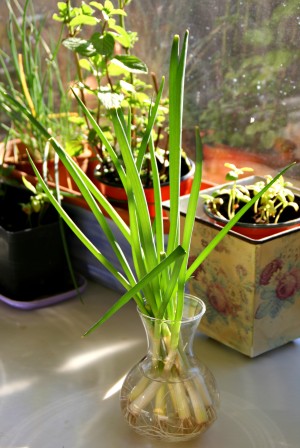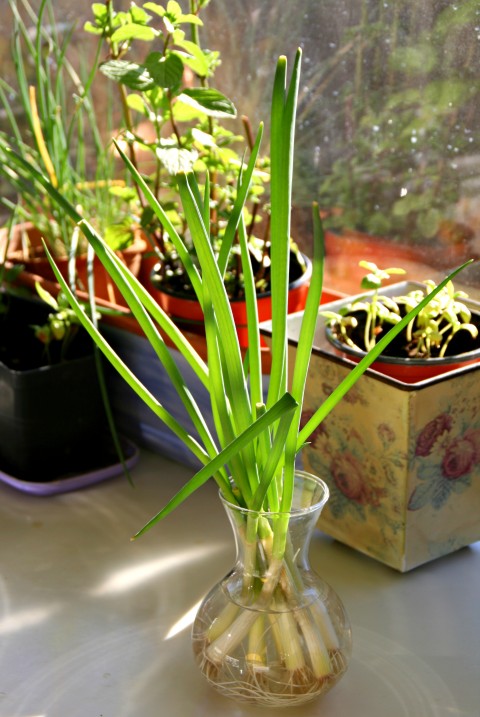 [3]If you need just one scallion, as you do in this recipe, here's a suggestion for how to grow them easily on your kitchen window sill [4], which makes it simple to use one at a time.