Recipe: Thai-Style Cabbage Salad
Summary: Chock full of crunchy greens, this slaw features both cabbage and kale, onion for bite, and mint and cilantro for Asian flavors. The light, lemony dressing has a secret ingredient – fish sauce — that is a game-changer, taking the salad from nice to WOW!
Ingredients
4 tablespoons lemon juice (I used Meyer lemon juice because I had it)
1 tablespoon plus 1 teaspoon peanut oil
1 tablespoon plus 1 teaspoon brown sugar
2 teaspoons Thai fish sauce  (see note below)
1 green cabbage, finely shredded
5-6 leaves kale (I used Redbor magenta kale, but use your favorite variety)
1 small red onion, sliced extremely thinly (see note below)
3 peeled and grated carrots
1/2 cup chopped fresh mint leaves
1/2 cup chopped fresh cilantro leaves
Honey-roasted peanuts
Instructions
In a large mixing bowl, stir together the lemon juice, oil, sugar and fish sauce until the sugar is dissolved. Add the cabbage, kale, onion, carrot, mint and cilantro and toss well. The dressing will coat the ingredients very lightly; there will not be a pool of dressing in the bottom of the bowl. Throw in a handful or two of peanuts, toss again, and serve.
Serves 8-10.
Quick notes
Technique note: An easy way to get super thin slices of onion for use when you are eating them uncooked, as in this salad, is to do it this way. Slice an onion in half lengthwise (stem to root), cut off stem end and root end, peel off and discard papery skin. Then peel off a single layer of onion, press it flat against the cutting board, and slice as paper-thin as possible. Chop the onion one layer at a time, for maximum control.
Fish sauce: The light, lemony dressing has a secret ingredient – Asian fish sauce, an odiferous, dark brown liquid that smells like…well…an aquarium gone bad. Why would you want to use this stinky sauce in your cooking? You use only a tiny bit, and trust me, if you leave it out, you WILL notice the absence. It won't taste like a cannery in your salad; rather, the alchemy of the dressing takes this salad straight from "nice" to "WOW!"
What is santoku? According to Wikipedia, the Santoku bōchō (Japanese: 三徳包丁; "three virtues" or "three uses") or Bunka bōchō (文化包丁) is a general-purpose kitchen knife originating in Japan. Its blade is typically between 5 and 8 inches (13 and 20 cm) long, and has a flat edge and a sheepsfoot blade that curves in an angle approaching 60 degrees at the point. The top of the santoku's handle is in line with the top of the blade. The word refers to the three cutting tasks which the knife performs well: slicing, dicing, and mincing. The santoku's blade and handle are designed to work in harmony by matching the blade's width/weight to the weight of blade tang and handle, and the original Japanese santoku is considered a well-balanced knife.
CUTCO
I wrote this post and created this recipe as part of a partnership between Kitchen PLAY [1] and CUTCO [2]. They have compensated me for my time and cooking expenses. The content of this post is my own.
Preparation time: 30 minutes
Number of servings (yield): 8
Culinary tradition: Thai-inspired
My rating 5 stars:  ★★★★★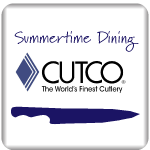 [3]To celebrate summertime dining, CUTCO Cutlery [2] is also sponsoring a delicious giveaway at Kitchen PLAY. Simply recreate one or more recipes from this month's Progressive Party, post about the experience on your blog and provide a link to your post on Kitchen PLAY to enter.  All qualifying bloggers in each course will be entered to win a CUTCO Salad Mates gift set [4], which includes a Paring Knife and Trimmer (six prizes total, valued at $113 each). Prizes will be shipped directly to each winner. Please review the complete contest rules [5] before entering.