Recipe: Tastes-Like-Ice-Cream Kale
Summary: This sweet green kale smoothie by The Blender Girl is fashioned after one served at SunCafe, a Los Angeles raw restaurant.
Ingredients
½ cup (120ml) water (or use coconut water)
½ teaspoon probiotic powder (optional)
½ cup (70g) unsalted cashews, soaked
1 cup (25g) torn curly green kale leaves (1 or 2 large leaves with stalk removed, ripped into small pieces), plus more to taste
2 ripe bananas, fresh or frozen
¼ cup (43g) chopped pitted dates, soaked, or 1 tablespoon pure maple syrup, plus more to taste
½ teaspoon vanilla extract
2 cups (250g) ice cubes (a bit less if using frozen bananas)
½ teaspoon minced ginger, plus more to taste (optional)
Instructions
Put all of the ingredients into the blender in the order listed and puree for about a minute, until smooth and creamy. Tweak flavors to taste (you may like a bit more kale, sweetener or ginger).
Quick notes
With a conventional blender, you'll get the smoothest consistency if you use maple syrup or chop the dates finely before adding them to the blender.
Recipe source [1]
"The Blender Girl: 100 Gluten-Free, Vegan Recipes," by Tess Masters (2014; Ten Speed Press; $19.99).
Preparation time: 5 minutes
Diet type: Vegan
Diet tags: Gluten free, Raw
Number of servings (yield): 2
Culinary tradition: USA (Nouveau)
My rating 5 stars:  ★★★★★ 
Cookbook Giveaway!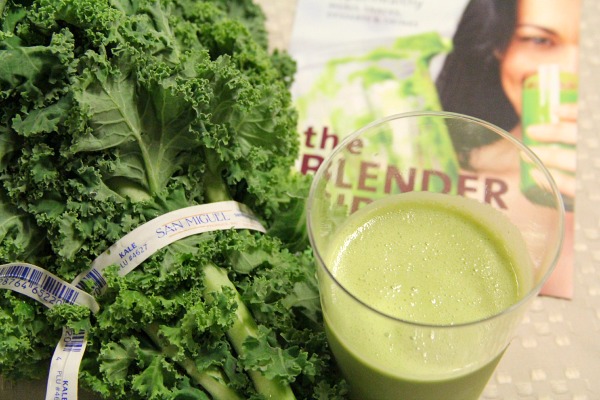 [2]
Want to win a copy of "The Blender Girl" cookbook? You'll be the first among your friends to have it!
Enter using the Rafflecopter widget below, and good luck!
Deadline: Contest ends April 16, 2014.
Sweepstakes open only to U.S. residents 18 and over, with mailing addresses in the U.S. (I will be mailing the winner a copy of the book).
Read the legal fine print here [3].

 
Disclosure: Melissa's Produce provided a copy of the book for me, and a copy of the book for the giveaway.