Recipe: Sweet Sesame Crock-Pot Chicken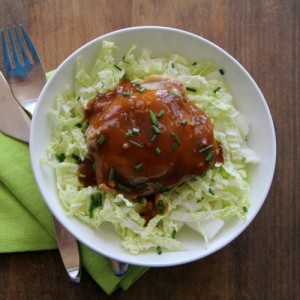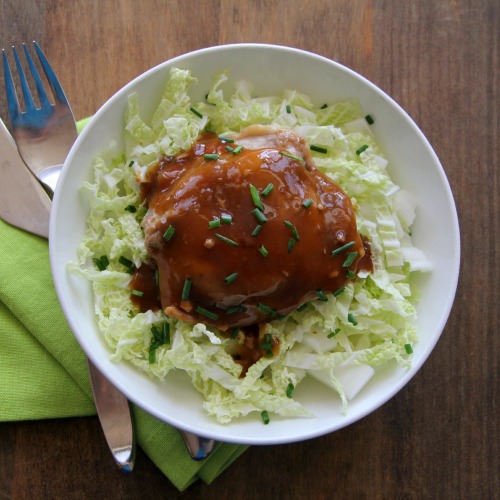 [1]Summary: A low-salt marinade is used to make a flavorful teriyaki glaze for Crock-Pot chicken, for an Asian-influenced dinner.
Ingredients
1 ½ pounds boneless, skinless chicken thighs (about 5 thighs)
9 tablespoons Mrs. Dash Sweet Teriyaki Marinade, divided use
Slurry: 2 teaspoons cornstarch mixed into 2 teaspoons water

Garnish

: Sesame seeds, chopped green onions or chives

Served on

: Cooked rice or shredded Napa cabbage (for the low-carbers)

Serve with

: Steamed gai lan or broccoli and steamed carrot coins
Instructions
Mist inside of crock with nonstick spray. Lay chicken pieces in the crock, and top with 6 tablespoons of the marinade. Spread it over the chicken, close the lid and cook on LOW for about 5 hours. The chicken will release juice over this time, so the juices will accumulate in the crock with the marinade.
When chicken is done, remove it to another plate, and pour juices from crock into a small sauce pan. Bring juice to a boil, and then add slurry of cornstarch and water, stirring while adding. Bring it back to a boil; it will thicken. Add the remaining 3 tablespoons of the marinade to the thickened juices, and boil for about 30 seconds or so.
Put the chicken atop cooked rice, shredded Napa cabbage or your choice of "bed," and pour thick teriyaki over. Sprinkle with chopped chives and sesame seeds, for pretty. [2]
Serves 4.
Source

[3]Adapted from Crock Pot Honey Sesame Chicken [4] on JessFuel
Disclosure: Mrs. Dash sent the marinade for recipe testing. 
Preparation time: 5 minutes
Cooking time: 5 hours
Number of servings (yield): 4
Culinary tradition: Asian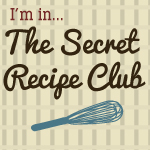 [6]I enjoyed exploring Jess's blog this past month as part of my assignment from Secret Recipe Club [7].
Join us in the Secret Recipe Club this month for some delicious eats, from Jess's blog and many others!
You can see what other cooks in the Secret Recipe Club made this month, right below here in the array of photos. Click any of them to be transported to that particular recipe!