Print This Post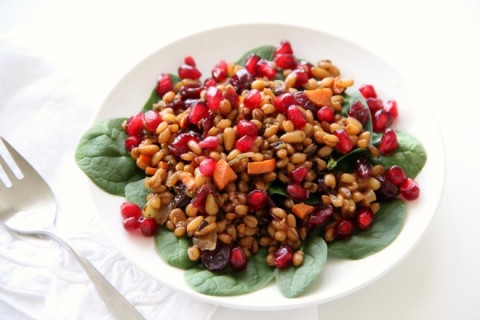 Chewy, nutty, satisfying spelt – a whole grain, heirloom wheat – stars in our healthy salad today.
Spelt originated in the Near East 8,000 years ago and later became popular in Europe and especially so in Germany in the Middle Ages. Luckily, it hasn't been hybridized, so it still has its desirable characteristics of superior flavor and nutrition.
Maybe I'm channeling my inner German, because I like it for pilafs and salads. It is especially nice in a main-dish salad because it offers a welcome chew. It's fiberlicious, and can be more easily digested than other forms of wheat (although it isn't gluten-free).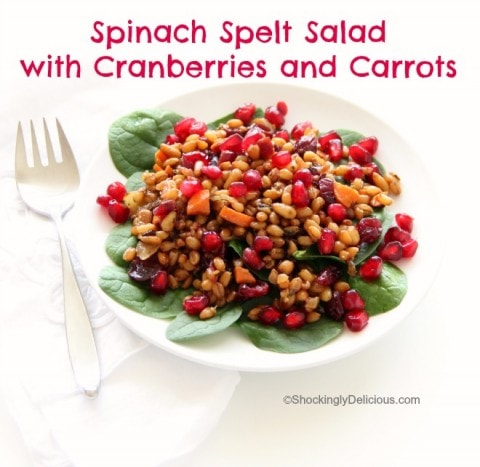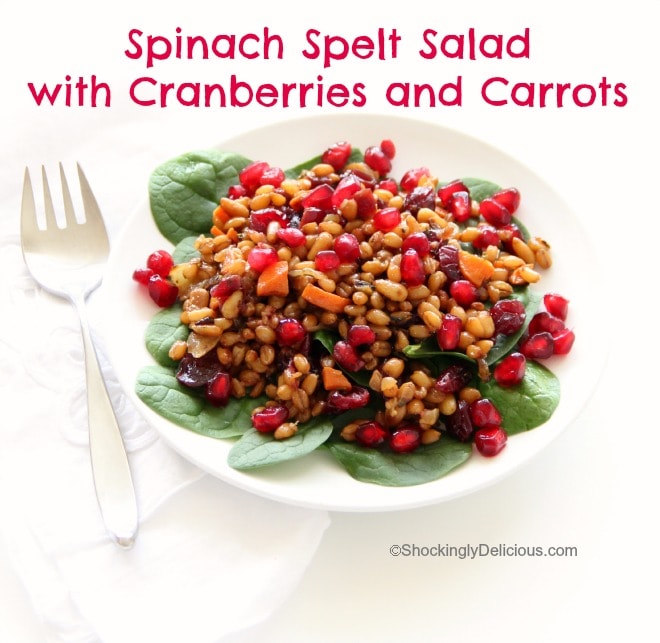 I often cook a big pot of grains on the weekend, and keep them in the refrigerator to throw into salads or to make a quick side dish for dinner. This strategy makes using whole grains very easy.
That's how this salad came about. I saw the cooked grains at the ready, and went sniffing for a few other ingredients.
It turned into one of my prettiest salads!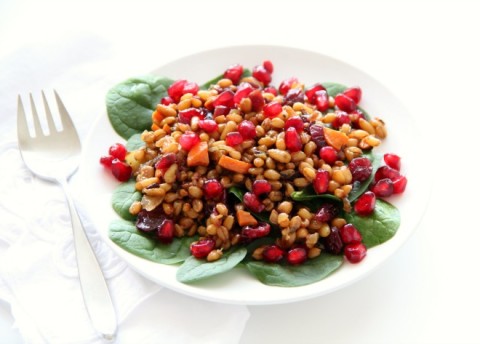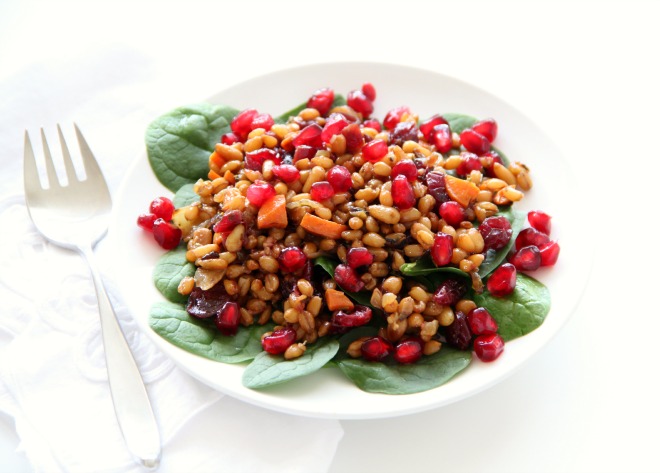 Today our Salad Bar cooks are featuring grains. Join us on our chewy culinary adventure!
Recipe: Spinach Spelt Salad with Cranberries and Carrots
Summary: Chewy, complex, nutty spelt joins garlicky onions and carrots, pine nuts and pomegranate for a gorgeous winter spinach salad.
Ingredients
1 (3-ounce) bag Melissa's Sweetened Dried Cranberries
1 tablespoon extra-virgin olive oil
1 onion, finely chopped
1 carrot, finely chopped
2 garlic cloves, pressed
1 ½ teaspoons finely mined fresh rosemary
1 ¾-2 cups cooked Bob's Red Mill spelt
¼ cup pine nuts, toasted
¼ cup pomegranate arils
Fresh spinach
Instructions
If cranberries are soft and pliant, leave them alone. If they are a bit dry and hard, add cranberries to a 2-cup measuring cup, cover with water, and microwave on high for 30 seconds. Remove from oven and allow to steep and soften while you prepare the rest of the salad.
Heat oil in a large skillet, and sauté onion and carrot for about 5-8 minutes, stirring frequently. Add garlic and rosemary and sauté for another minute or two. Remove from heat, add spelt, pine nuts and drained cranberries. Stir to combine.
Line plates or shallow bowls with spinach leaves, and portion spelt mixture on top. Sprinkle with pomegranate arils.
May be eaten warm or at room temperature.
Serves 4.
Source
Dorothy Reinhold | Shockingly Delicious
Disclosure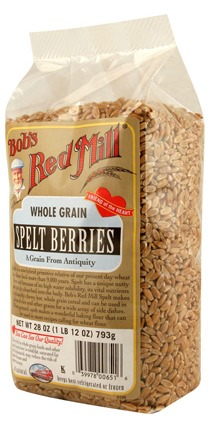 Bob's Red Mill sent the spelt, and Melissa's Produce sent the cranberries and pine nuts for recipe testing.
Preparation time: 10 minutes
Cooking time: 10 minutes
Diet type: Vegan, vegetarian
Number of servings (yield): 4
Culinary tradition: USA (Nouveau)
My rating 5 stars:  ★★★★★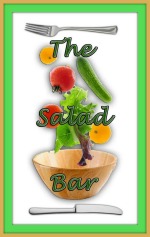 Here are the other salads created by my fellow cooks for #TheSaladBar, a monthly cooperative feature. Choose my spinach-spelt creation today, or one of theirs to try for your own grains-inspired meal! You can't go wrong with any of these beauties.