Print This Post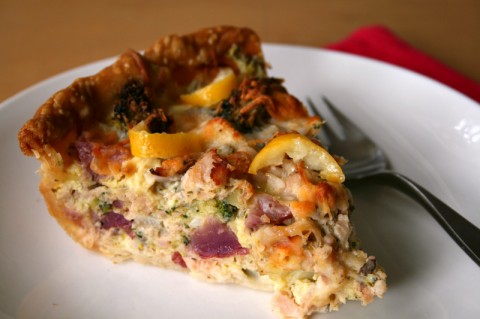 If we travel in the Wayback Machine*, we might recall we were treated to a lot of nonsense in the 1980s.
Chief was a best-seller titled "Real Men Don't Eat Quiche," which satirized stereotypes of masculinity. The problem was, some didn't quite get the satire, and they really thought that manly men didn't eat egg and bacon pie because it wasn't…manly.
Pshaw. Manly men have always eaten savory pies, and whether you Frenchify it and call it quiche, or just call it a lunch pie, it's a darn fine meal, and that's all there is to it. Slap some salad alongside, and you can call me or my husband for lunch or dinner, anytime.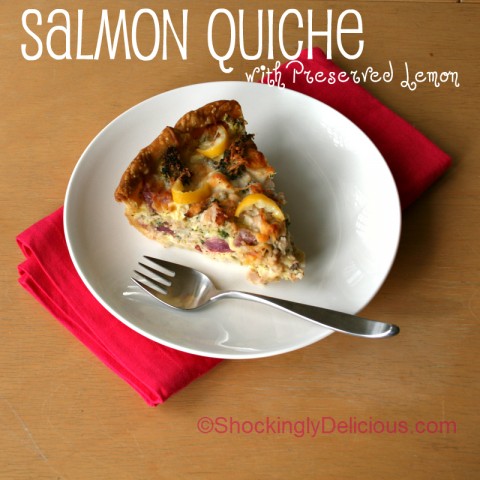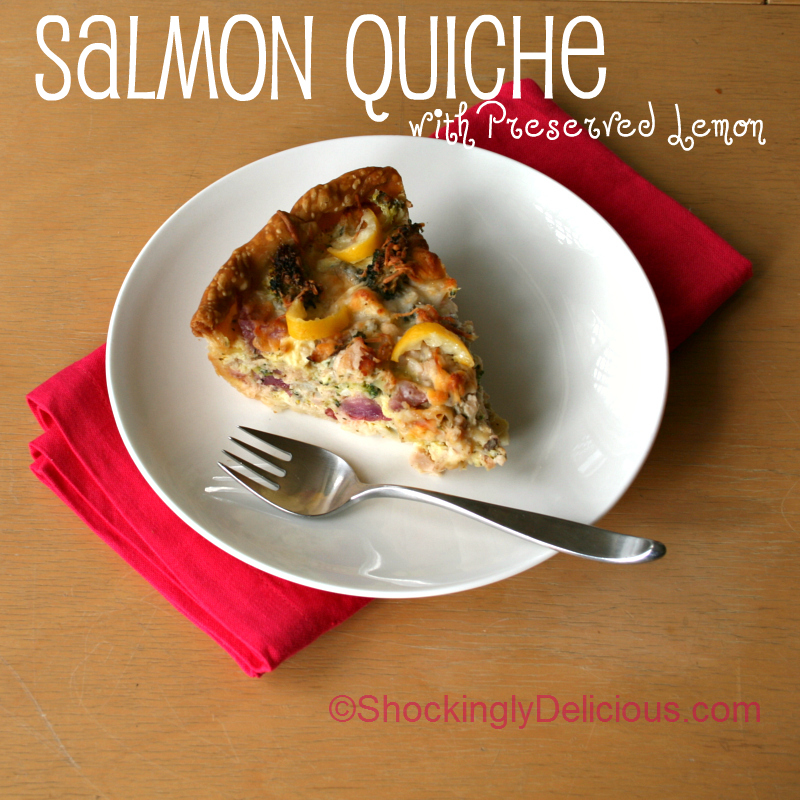 I have updated the version we used to make in the 1980s to include salmon instead of bacon, leftover veggies from the night before, and a bright spark from preserved lemon. If you have never made or used preserved lemon before, you are in for a treat! It's also called lemon pickle.
I like to think that in today's world, these changes make it even more manly. Or womanly. Or whatever "ly" you need it to be. How about deliciously satisfying?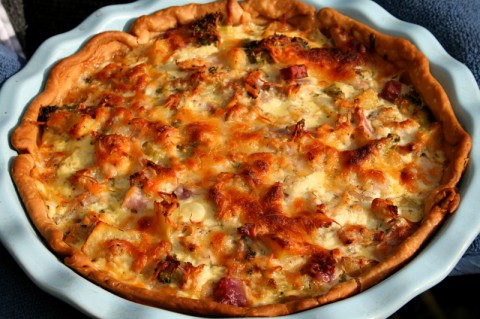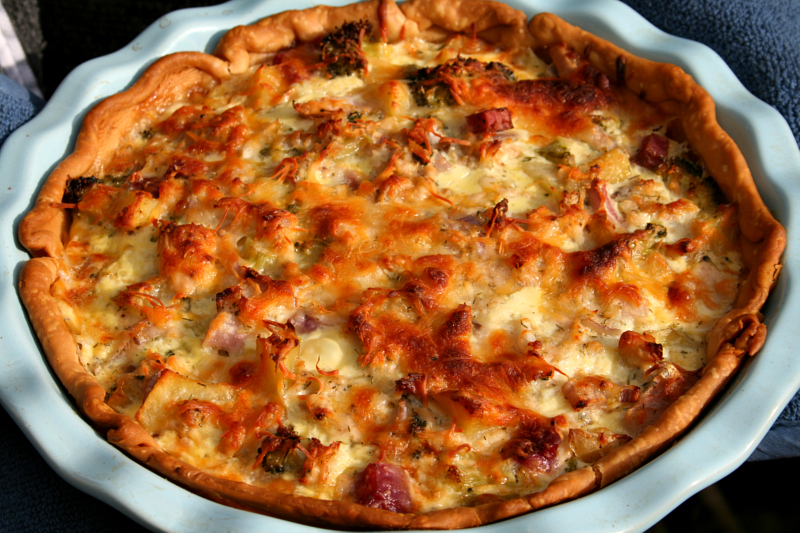 Recipe: Salmon Quiche with Preserved Lemon
Summary: A ready-made crust, some canned wild salmon and a few veggies leftover from last night's dinner make an easy, perfect savory pie, sparked by salty preserved lemon. Brunch or lunch, anyone?
Ingredients
1 (10-inch) ready made pie crust (Pillsbury Pie Crust is perfect)
2 (6-ounce) cans skinless, boneless wild salmon (Bear & Wolf Skinless & Boneless Pink Salmon from Costco is wild caught and dandy!)
1/2-3/4 cup diced onion
1 cup chopped steamed broccoli
1 cup chopped roasted Idaho potato
3 ounces (3/4 cup) shredded cheese
1/2 cup milk
1/4 cup cream
2 eggs
2 garlic cloves, crushed
2 teaspoons minced preserved lemon rind
½ teaspoon dried dill
¼ teaspoon salt
Grinding of fresh pepper
Garnish: a couple of strips of preserved lemon rind, if you wish
Instructions
Heat oven to 375F. Fit crust into 10-inch pie plate and crimp the top edge.
To the raw pie shell, add the drained salmon, onion, broccoli, potato and cheese.
In a 2-cup measure, add all remaining ingredients (milk through pepper), and whisk to combine. Pour over ingredients in pie shell.
Bake for 50-60 minutes. Remove from oven, cool 5 minutes, cut and garnish with strips of preserved lemon rind, if you like.
Serves 6 as a main dish.
*What is the Wayback Machine?
"The name Wayback Machine is a reference to a segment from 'The Rocky and Bullwinkle Show' (1959-1964) in which Mr. Peabody and Sherman use a time machine called the 'WABAC machine' (pronounced 'Wayback') to witness, participate in, and, more often than not, alter famous events in history." This, from Wikipedia, the new source of all knowledge in the universe.
Source
Recipe created by Dorothy Reinhold/ShockinglyDelicious.com.
Preparation time: 10 minutes
Cooking time: 1 hours
Diet type: Pescatarian
Number of servings (yield): 6
Culinary tradition: USA (Nouveau)
My rating 5 stars:  ★★★★★ 
Does Sunday Supper bring you back to your childhood? Does it bring back memories of a favorite dish?  Time around the family table has a way of creating the most memorable moments.  It is amazing how we can smell or just think of a favorite food and immediately be transported back to the moment we enjoyed it.
This week's Sunday Supper is all about "Retro Recipes,"  those food memories that immediately take us back in time.  Some of us enjoyed them so much that we will never change mom or grandma's recipe.  Others were ready to reinvent and update their favorite Retro Recipe.
Join us around the family table this Sunday at 4 p.m. Pacific Time and share your favorite Retro Food memory with us!
Sunday Supper Retro Appetizers:
 Sunday Supper Retro Salads:
 Sunday Supper Retro Breads and Sandwiches:
Sunday Supper Main Dishes:
Sunday Supper Retro Sides and Veggies:
 Sunday Supper Retro Desserts and Cocktails:
Join the #SundaySupper conversation on Twitter each Sunday. We tweet throughout the day and share recipes from all over the world. Our weekly chat starts at 4 p.m. PT and you do not want to miss out on the fun. Follow the#SundaySupper hashtag and remember to include it in your tweets to join in the chat. Check out our #SundaySupper Pinterest board for more fabulous recipes and food photos.
Would you like to join the Sunday Supper Movement? It's easy. You can sign up by clicking here → Sunday Supper Movement.