Print This Post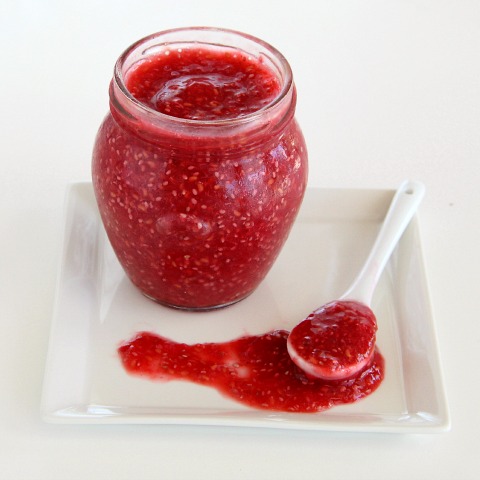 Our Sunday Supper cooks are saving the season today, with lots of suggestions to show you how you can simply save summer.
We have ketchup and chutney, sauerkraut and kimchi, jams and jellies, preserves and conserves, salsas and freezer stuff and pickles galore.
Browse our suggestions below, but first, let's make the easiest, no-cook, no-can, no-sweat raspberry chia jam. We've made a few chia jams before:
This new one is chia-tastic!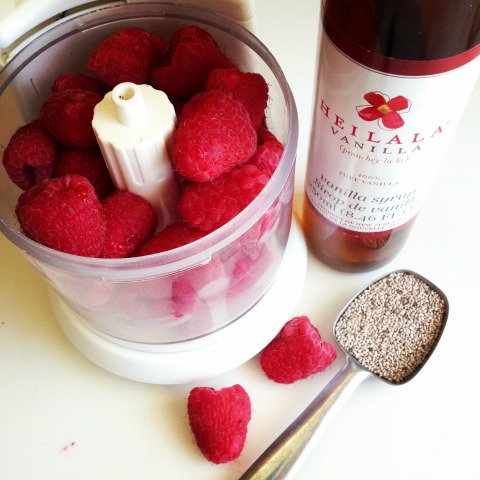 Raw Raspberry-Vanilla Chia Jam
Chia seeds thicken fresh fruit puree nicely, and vanilla syrup adds sweetness and depth, for a raw jam that saves a little bit of summer.
Ingredients
6 ounces fresh raspberries
3 tablespoons vanilla syrup (I used Heilala Vanilla Syrup)
1 tablespoon chia seeds (I used white chia)
Directions
Whirl raspberries, syrup and chia in a small food processor until fruit purees, about 15 seconds. Pour into a squeaky-clean lidded jar and refrigerate for at least 2 hours, until the chia seeds gel and the jam firms up a bit.
Spread on toast or pancakes, dollop on plain Greek yogurt or stir into smoothies – however you like to eat your jam!
Notes
Recipe source: Dorothy Reinhold | Shockingly Delicious
https://www.shockinglydelicious.com/raw-raspberry-vanilla-chia-jam/
Copyright Dorothy Reinhold | ShockinglyDelicious.com. All rights reserved.
Now let's hit the kitchen! Save summer with us!  
Learn how to …
Sip sunny cocktails and smoothies
Scoop up special salsas and sauces
Jump into jellies, jams and preserves
Pucker up for pickles
Slurp and spoon soup and a side dish
Dive into divine desserts
Join us around the family table for #SundaySupper