Recipe: Raw Rainbow Kale Salad of the Gods
1/4 cup extra virgin olive oil
3-4 tablespoons Meyer lemon juice
Pinch sea salt
Pinch sugar (or a drizzle of agave)
Pinch garlic powder (about 1/8 teaspoon)
Add-ins
1 yellow or orange bell pepper, chopped
Chopped Kalamata olives
Sliced cherry tomatoes (or seeded regular tomatoes)
Craisins, hydrated in hot water
Sliced mushrooms
Garnish
Toasted pine nuts
Fresh basil cut into chiffonade
Wash, dry and cut the kale into very thin strips (think chiffonade); place in a large mixing bowl. Toss in oil, lemon juice, salt, sugar and garlic powder.
Massage method: If using the massage method, make sure your hands are squeaky clean (you should have done this before you began cooking anyway, right?) and roll up your sleeves. Using your bare hands, massage the kale by tossing it and rubbing it with your fingers until you feel it soften and you can see it wilt. This will take several minutes. Add your choice of add-ins, and toss to combine. Serve immediately, or refrigerate until serving time. When ready to serve, top with either or both garnishes.
Time method: As above, place kale and dressing ingredients in a large mixing bowl. Add any or all of the add-ins, and stir to combine. Place in a covered container and refrigerate at least 24 hours (or 72 hours if you forget it like I did). When ready to serve, plate it and garnish with either or both of the garnishes.
Serves 4-6.
Variation

:
Sprinkle with ricotta salata or feta crumbles
Add grilled chicken chopped into bite-size pieces
Stir in a rinsed, drained can of cannellini beans
Source: Inspired by my mother, Helen Reinhold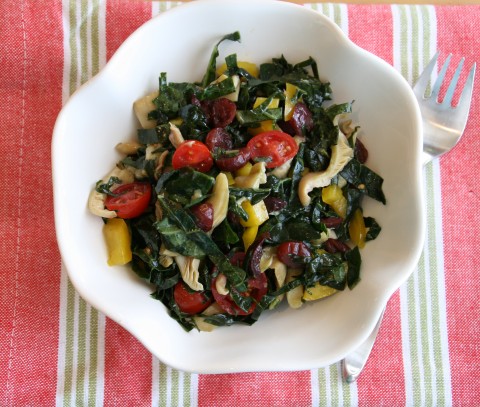 [2]