Recipe: No-bake Peanut Butter Chia Seed Protein Bites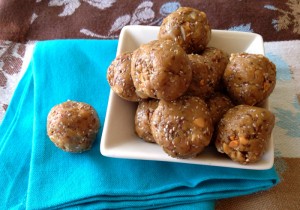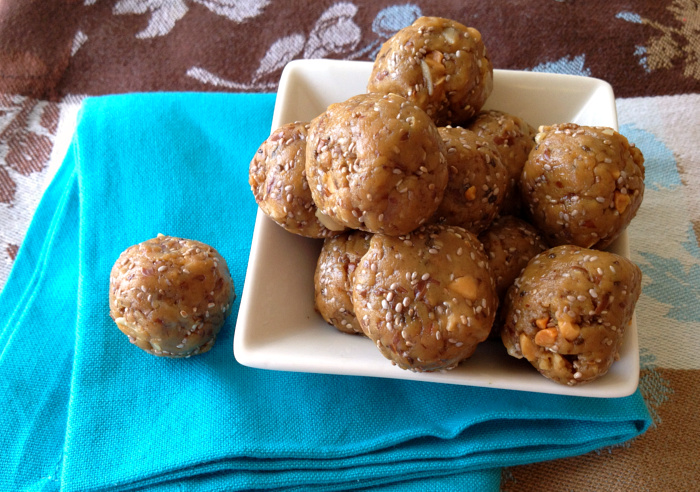 [1]Summary: A nutrient-dense snack for surfers, mountain bikers, athletes and anyone who needs a bite of energy without too much sweetness.
Ingredients
1/2 cup creamy or chunky natural organic peanut butter
1/3 cup honey
¼ cup vanilla-flavored protein powder
2 tablespoons oats (either regular or quick will work)
2 tablespoons ground flax
2 tablespoons chia seeds (I used Melissa's White Chia Seeds [2])
1 tablespoon wheat germ
¼ teaspoon vanilla extract
Instructions
Heat peanut butter and honey for 30-40 seconds in a microwave-safe bowl, and then stir to blend.
Add rest of ingredients and stir in. Dough will be very stiff.
Using clean hands, roll dough into 22-24 little balls. Place balls in lidded container and store either at room temperature or in refrigerator.
Makes 22-24.
[4]My Secret Recipe Club creations
Here is a list of what else I have made for the Secret Recipe Club [5] since I joined the group. Check it out!
Preparation time: 15 minutes
Cooking time: 1 minute
Diet type: Vegetarian
Number of servings (yield): 22
Culinary tradition: USA (General)
Melissa's Produce [6] sent the white chia seeds for recipe development. 
You can see what other cooks in the Secret Recipe Club made this month, right below here in the array of photos. Click any of them to be transported to that particular recipe!