Print This Post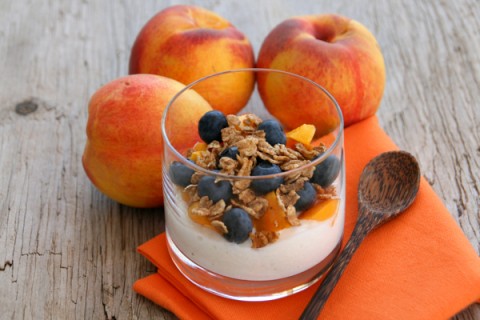 This is a sponsored post written by me on behalf of Nectresse™ Sweetener for SocialSpark. All opinions are 100% mine.
There's a new no-calorie sweetener in town, and it's different than the others. It's NECTRESSE™Sweetener, the only 100% natural sweetener made from fruit.
Made from monk fruit extract, it's 150 times sweeter than sugar, so to achieve the same sweetness, you'll use less by volume than you would with granulated sugar. It comes in either single-serve packets (40 packets per box; $3.99) or canisters (140 servings; $6.99) for sprinkling, pouring or spooning, and is available at grocery stores, drugstores, supercenters and online. It's made by McNeil Nutritionals, the makers of Splenda.
I had never heard of Monk fruit, but it is a small, super sweet green melon that grows on vines in steep, mountainous Asia, often in small family orchards. According to legend, monk fruit is named after the Buddhist monks who first cultivated it nearly 800 years ago.
The monk fruit extract is combined with other natural sweeteners to create a no-calorie sweetener that tastes just like sugar.
Although I routinely bake with sugar, I often use no-calorie sweeteners in my iced tea and other drinks like homemade lemonade that can use a sweet boost. I found Nectresse had a clean, sweet taste like ordinary sugar, with none of the aftertaste I sometimes get from Stevia, for example.
If you'd like to try a sample of Nectresse, you can get it here FREE sample of NECTRESSE™Sweetener. See for yourself!
Once you have your sample, try this easy, pretty breakfast idea using Nectresse.
Recipe: Breakfast Nectarine and Blueberry Parfait
Layer sweetened Greek yogurt, sliced nectarines, blueberries and granola for an easy, elegant breakfast.
1/3 cup Greek yogurt
1 packet Nectresse No Calorie Sweetener
1 nectarine, pitted
Handful fresh blueberries
Granola
Stir Nectresse into the yogurt (start with ½ packet and add more after you taste it if you desire) and layer it in a glass, adding the nectarine, blueberries and granola as you like.
Serves 1.
Journalist Lisa Ling, who has a family history of diabetes and because of that watches her sugar intake, is the Nectresse spokesperson. Here's what she has to say about this new no-calorie sweetener: