Recipe: Mulled Wine
Summary: Seasonal, swanky, spicy and slightly sweet, this Mulled Wine will warm you up in front of the Christmas tree.
Ingredients
1 (750-ml) bottle red wine (I used Cocobon from Trader Joe's; $7)
1/3 cup sugar
2 tablespoons Frieda's Mulling Spice [1]
Instructions
In a saucepan, gently simmer wine, sugar (to taste) and mulling spices. If serving immediately, simmer for 10-15 minutes. If making ahead to serve later, simmer for 5 minutes, turn heat off and allow spices to steep in wine as it cools.
Remove the spices and serve the wine hot in mugs garnished with a cinnamon stick, or chill and serve over ice as a cooler.
Variation
I also like to serve this not quite as-is, but add it as a splash of flavoring to a glass of plain red wine. It dilutes it and makes a pedestrian red wine more interesting!
A note on Frieda's Mulling Spice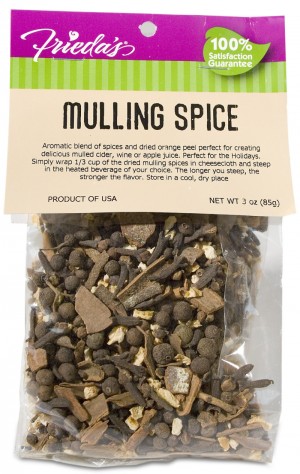 [2]This mixture consists of cassia, allspice berries, orange peel and cloves. Yum! It retails for about $3 at grocery stores. Frieda's also suggests putting a bit with your coffee grounds for a nip of morning coffee cheer. How interesting is that? Frieda's sent the Mulling Spice [1] for recipe testing.
Preparation time: 1 minute
Cooking time: 15 minutes
Diet type: Vegetarian
Number of servings (yield): 4
Culinary tradition: USA (Traditional)
My rating 5 stars:  ★★★★★