Recipe: Mrs. Plagemann's Savory Pickled Grapes
Summary: Sweet and sour pickled grapes are wonderful with sandwiches, cold meats, roasted chicken or turkey, lamb, sausages…anything!
Ingredients
3 pounds seedless red Flame grapes (I used green, red and black Muscato Grapes [1])
2 cinnamon sticks, broken in half (I used a 3-inch cinnamon stick in each jar)
4 small sprigs fresh or dried thyme (I used a fresh thyme sprig in each jar)
2 cups white wine vinegar
3 cups sugar
2 tablespoons finely minced shallots
Instructions [2]
Prepare your jars by immersing them and the lids in boiling water for a couple of minutes. This will make them squeaky clean. Remove from water and allow to dry. [3]
Choose grapes that are freshly picked, firm and crisp. Remove them from the stem and wash well. Pack them snugly into four prepared pint jars. It's fine to compress the grapes to squeeze in a few more, but don't crush them. Tuck half a cinnamon stick and a small sprig of thyme into each jar. [4]
Combine the vinegar, sugar and shallots in a saucepan, and bring to a boil. Ladle the boiling syrup over the grapes to cover, seal the jars and store in the refrigerator. This will give you the best texture. [5]
Serve cold, drained of the syrup.

For long-term shelf storage

, leave a generous ½ inch headspace when you ladle the boiling syrup over the grapes. Seal and process in a boiling-water bath for 10 minutes (usual canning procedure).
Makes 4 pint jars.
Sizing
I made 8 jars. Each of my jars held 27-30 grapes, and I made 1.5 times the recipe to create enough syrup for my 8 jars.
Source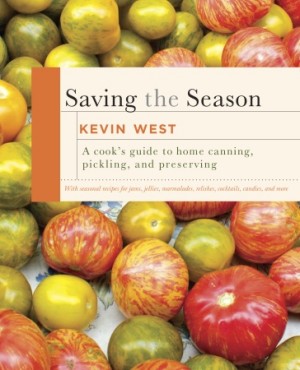 [6]"Saving the Season: A Cook's Guide to Home Canning, Pickling and Preserving," by Kevin West (2013; Alfred A. Knopf; $35). Recipe reprinted with permission.
Preparation time: 30 minutes
Diet type: Vegan
Number of servings (yield): 4
Culinary tradition: USA (Traditional)
My rating 5 stars: ★★★★★
Disclosure: The publisher sent a copy of the book for review. Melissa's Produce [7] sent the grapes for recipe testing. The surfboard bamboo serving board is by Totally Bamboo [8].
Save
Save