Recipe: Mini Pumpkin-Maple Tarts with Toasted Pecan Streusel
Summary: Deeply spiced maple-scented filling that sports a crunchy toasted streusel topping, these Mini Pumpkin Maple Tarts are the perfect Thanksgiving dessert.
Ingredients
For the filling
1 cup pure pumpkin purée
1/2 cup pure maple syrup (preferably grade B)
3/4 teaspoon ground cinnamon
1/4 teaspoon ground nutmeg
1/4 teaspoon ground ginger
Pinch of ground cloves
Pinch of table salt
1 large egg
1/2 teaspoon pure vanilla extract
For the crusts
7 ounces pie dough (homemade or store-bought)
For the toasted pecan streusel
1/2 cup (2 ounces) toasted pecans, chopped
2 tablespoons firmly packed light brown sugar
1/2 teaspoon ground cinnamon
Instructions
Position an oven rack in the lower third of the oven and heat the oven to 375°F.
Make the filling: Put the pumpkin purée, maple syrup, cinnamon, nutmeg, ginger, cloves, and salt in a medium bowl or 4-cup measure (this makes it easy to fill the tarts). Whisk until well blended and smooth. Add the egg and vanilla and whisk until just blended.
Line the tart pans: Lightly grease ten regular-sized (2-3/4-inch diameter) muffin cups. If using homemade dough, roll it out to a 1/8-inch thickness on a very lightly floured surface. If using store-bought dough, unroll it on a very lightly floured surface. Using a 3-1/2-inch round cookie cutter, cut out 8 rounds. Gather up the scraps, reroll to a 1/8-inch thickness, and cut another round. Reroll and cut one more round for a total of 10 rounds of dough.
Working with one round at a time, use your finger to gently press the dough into a prepared muffin cup, making sure that there are no air bubbles in the bottom and that the dough is pressed firmly and evenly up the side to within 1/4-inch of the top of the cup. Repeat with the remaining dough rounds.
Fill and bake the tarts: Evenly spoon (or pour if you're using a 4-cup measure) the filling into the lined muffin cups. Bake until the crusts are golden brown and the centers jiggle slightly when the pan is nudged, 27-29 minutes.
While the tarts are baking, make the streusel topping. Put the pecans, brown sugar, and cinnamon in a food processor and pulse until the nuts are finely ground.
Move the muffin tin to a wire rack and let cool for 10 minutes. Using a thin, metal spatula or the tip of a paring knife, carefully remove the tarts from the muffin cups and set them on a wire rack. Serve warm or at room temperature. Just before serving, sprinkle the tops with some of the pecan streusel.
Makes 10 mini tarts.
Note from the author
The tarts can be filled, covered in plastic, and stowed in the refrigerator for up to 1 day before baking. [1]
You'll get the deepest maple flavor from grade B, but if it's not available, use the darkest grade A that you can find.
Before sprinkling the tarts with the pecan streusel, drop a small dollop of sweetened whipped cream onto the center of the tarts.
Source
"Mini Treats and Hand-Held Sweets: 100 Delicious Desserts to Pick Up and Eat," by Abigail Johnson Dodge (The Taunton Press; $22.95)
Dorothy's changes
I needed more than 10 tarts, so I baked them in mini muffin tins to yield 20 mini-mini tarts. I made these alterations:
[2]Used a 2 ½-inch diameter cutter (drinking glass…easy!) to cut my circles.
Used a 2-inch diameter mini muffin pan.
Used a turkey baster to fill the tiny tarts. Suck up the filling in the baster and squirt it out to fill the tiny shells.
Baked at 375F degrees for 25 minutes.
Baked them a day ahead and kept them at room temperature (or you can refrigerate). The next day, I carried them to my party and sprinkled the topping on while I was putting them on the platter there.
There will actually be enough filling for 24 mini-mini tarts, so if you like, open another package of pie dough and cut 4 additions rounds, so you can make a total of 24 mini-mini tarts.
Do yourself a favor and use the Pillsbury rolled pie crusts.
Preparation time: 30 minutes
Cooking time: 27 minutes
Diet type: Vegetarian
Number of servings (yield): 10 (20-24 if you make mini-mini tarts like me)
Culinary tradition: USA (Nouveau)
My rating 5 stars:  ★★★★★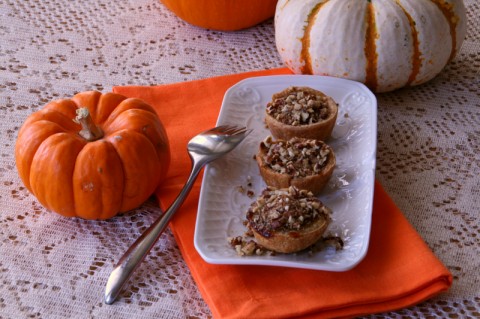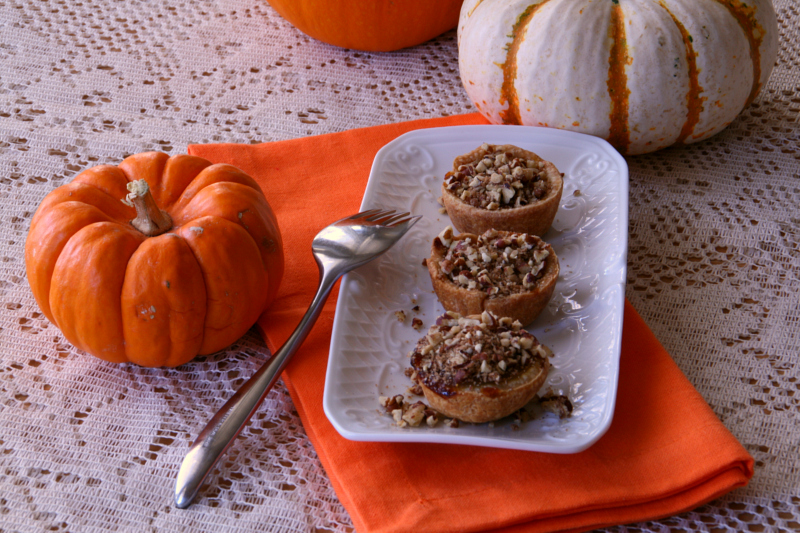 [3]