Recipe: Marcella Hazan's Tomato Sauce with Onion and Butter
Summary: A three-ingredient simple sauce that tastes transcendantly of tomatoes! Marcella Hazan's brilliant, deeply rich sauce will make a convert out of you. Yes, it is not only the most famous, but the best tomato sauce in the world.  
Ingredients
2 pounds fresh, ripe, heirloom organic tomatoes (or 1 28-ounce can Marzano tomatoes with juice)
5 tablespoons unsalted organic butter
1 onion, peeled and chopped
1/2 teaspoon salt (or to taste)
Instructions
If using fresh tomatoes, they must be peeled first. The easiest way is to put them in the freezer and freeze solid. When frozen, take them out and thaw in a bowl on the counter (they will weep tomato water as they thaw). When they have thawed, the skin will slip right off and can be discarded.
Put tomatoes and their juices in a saucepan, break them up with a knife or spoon, add the butter, onion, and salt, and simmer, uncovered, for about 45 minutes, until droplets of fat float free of the tomatoes. Stir occasionally during cooking, and use a potato masher to mash up the tomatoes. The sauce will thicken while cooking.
Serve with cooked pasta. Offer Parmigiano-Reggiano to grate over the pasta. Close your eyes and enjoy!
Serves 4. Makes 2 cups of sauce – enough for 1 pound pasta.
Quick notes
Adapted from Marcella Hazan's "Essentials of Italian Cooking."
How I changed the recipe: Marcella calls for cutting the onion in half and simmering the two halves with the sauce, then discarding the onion before serving. I can't stand discarding food, and I also didn't want to have a saved cooked onion in the refrigerator, so I chopped the onion and cooked it in the sauce. We loved it that way! I also prefer to freeze my tomatoes as an easy way to get the skin off. You could certainly blanch them and then skin them, but that requires an extra pot and I'm lazy that way. Just put your tomatoes in the freezer the day before you want to make the sauce, and you'll be good to go.
Variations
My suggestions for variations:
–sprinkle with drained capers and fresh basil cut in a chiffonade
–serve your pasta alongside grilled Italian sausages
–after the sauce has cooked, stir in some canned Italian tuna to take your meal in a whole different direction. Garnish with chopped Italian parsley.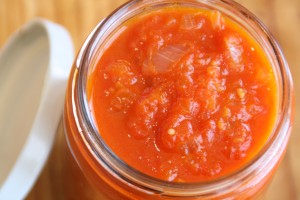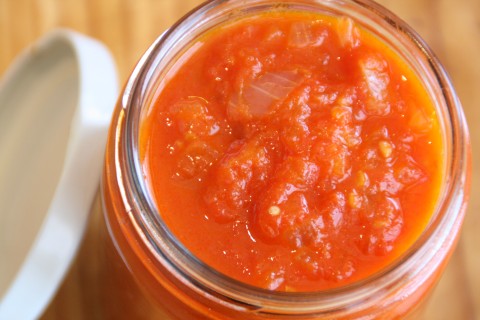 [1]Preparation time: 10 minute(s)
Cooking time: 45 minute(s)
Number of servings (yield): 4
Culinary tradition: Italian
My rating 5 stars:  ★★★★★ 1 review(s). I would give it 10 stars if I could!