Recipe: Lemon-Lime Basil Shortbread Cookies
Summary: A simple sweet-tart cookie with bursts of citrus zest, a delicate hint of basil, and a crunchy sugar crust on top. You'll have the dough made before the oven heats.
[1]Ingredients
1 cup all-purpose flour
1/2 cup powdered sugar, plus more for pressing cookies
1/2 cup chilled unsalted butter, cut into ½-inch cubes
2 tablespoons sliced fresh basil leaves

(I used 2-3 tablespoons)

1 teaspoon finely grated lemon zest
1 tablespoon fresh lemon juice
1/2 teaspoon finely grated lime zest
1/4 teaspoon kosher salt
Sanding sugar (optional;

I used washed raw sugar crystals

)
Instructions
Heat oven to 375 degrees. Place flour, 1/2 cup powdered sugar, butter, basil, both zests, lemon juice, and salt in a food processor. Pulse until large, moist clumps form.
Divide dough into quarters, and each quarter into 5 pieces (so 20 pieces total). Roll each piece between your palms to form balls. Place balls on cookie sheet lined with parchment paper, about 2 inches apart.
Lightly dust the bottom of a flat measuring cup with powdered sugar and press cookies into flat rounds, dusting the cup bottom with powdered sugar as needed to prevent sticking. Sprinkle tops of cookies with coarse sugar, if using.
Bake until edges are brown, about 11-12 minutes. Remove from oven and transfer to a wire rack; let cool.
Makes 20 cookies.
Variations
Next time I make them, I will try some finely minced fresh rosemary instead of the basil!
Preparation time: 10 minutes
Cooking time: 12 minutes
Diet type: Vegetarian
Number of servings: 10 (2 cookies per serving)
Culinary tradition: USA (General)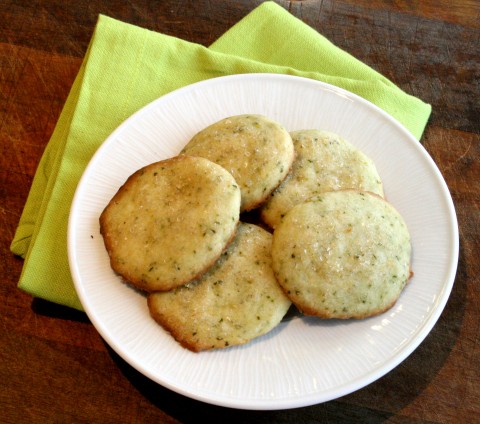 [4]
Thanks for visiting…are you hungry for more? Follow Shockingly Delicious on…
FACEBOOK [5] | PINTEREST [6] | INSTAGRAM [7] | TWITTER [8]
…for all the latest recipes, ideas and updates!
This post may contain affiliate/referral links. It is a way for this site to earn advertising fees (at no cost to you) by advertising or linking to certain products and/or services that I approve and prefer.