Recipe: Kale Salad with Chicken, Garbanzos, Oranges and Cherry Chipotle Dressing
Summary: An update on the classic Chinese chicken salad features kale, chicken, garbanzos, fresh orange and a spicy cherry chipotle dressing.
Ingredients
2 tablespoons Cherry Chipotle Not Ketchup
1 tablespoon extra virgin olive oil
1 tablespoon water
3/4-1 cup chopped roasted chicken
3/4-1 cup cooked garbanzo beans
1/2 bunch Dinosaur kale (aka Tuscan, lacinato or Cavolo Nero)
2 oranges, skinned and diced
Garnish: Chow mein noodles
Instructions
In a large salad bowl, whisk Not Ketchup, olive oil and water. Add chicken and garbanzo beans.
Remove center rib from kale leaves, roll up leaves like a long cigar, and cut them in thin ribbons (chiffonade cut). Add kale to salad bowl, and stir/toss to mix everything well. Remove skin from oranges and chop the flesh in small pieces. Add oranges and any accumulated juice to the salad.
Stir again to combine and coat all ingredients, and taste. Adjust flavor by adding more Not Ketchup, or a splash of vinegar if you prefer a tangier salad. (I don't.)
Portion onto plates and sprinkle with a fistful of chow mein noodles. Enjoy!
Serves 2.
Source
Dorothy Reinhold | Shockingly Delicious
Preparation time: 10 minutes
Diet tags: High protein
Number of servings (yield): 2
Culinary tradition: USA (General)
But not so fast! There are plenty of other ways to use Not Ketchup!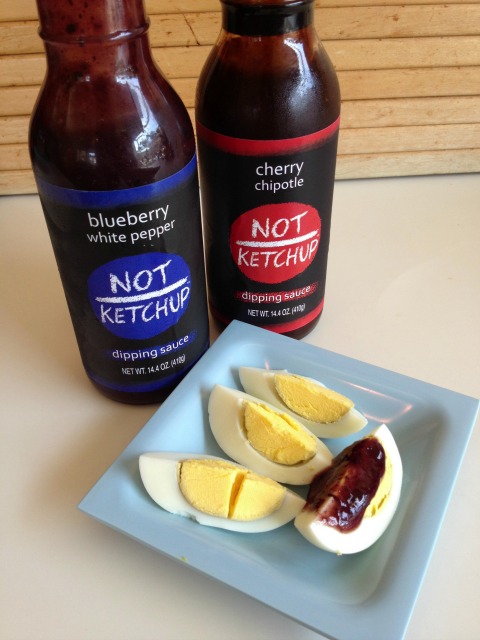 [1]
Even breakfast! [8]
Even dessert!
Limoncello crème brulee with fresh blueberries and Blueberry Not Ketchup
It's a wonderful new product, well worth the search or the wait. Once you have it in your house, you will be slathering it on everything! Me? Just go ahead and give me a straw.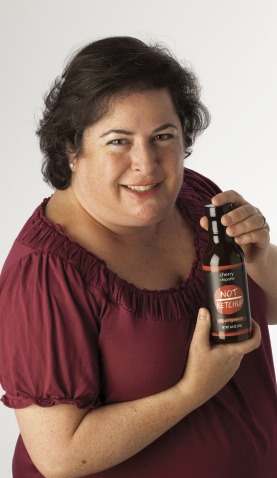 [10]You can read Erika Kerekes' path to production in her own words here [11], or visit the brand on social media:
Not Ketchup is currently available at two places in Santa Monica, Calif. — Bob's Market [15] and Wine Expo [16] — and at Artisan Cheese Gallery [17] in Studio City, Calif., for about $8.99 per bottle (fruit is a LOT more expensive than tomatoes). More stores will be added very soon, but the online store is up and running [18]for those not nearby.
Disclosure: My friend Erika of Not Ketchup gave me samples to taste and test. It's a perk to have talented friends!