Recipe: Beef Tagine
Summary: Jamie Oliver calls this Moroccan Beef Tagine "a stew with attitude" — it's all about the spices and slow cooking, with a rich and wonderful flavor.
Ingredients
1 ½ pounds stewing beef
Olive oil
1 onion, peeled and finely chopped
A small bunch of fresh cilantro
1 (14-ounce) can chickpeas, drained
1 (14-ounce) can diced tomatoes
3 ½ cups vegetable stock, preferably organic
1 small squash (about 1 ½ pounds), seeded and cut into 2-inch chunks
3 ½ ounces prunes, pitted and roughly torn
2 tablespoons sliced almonds, toasted
For the spice rub
Sea salt and freshly ground black pepper
1 tablespoon ras el hanout spice mix
1 tablespoon ground cumin
1 tablespoon ground cinnamon
1 tablespoon ground ginger
1 tablespoon sweet paprika
Instructions
Mix all the spice rub ingredients together in a small bowl. Put the beef into a large bowl, massage it with the spice rub, then cover with plastic wrap and put into the fridge for a couple of hours – ideally overnight. That way the spices really penetrate and flavor the meat.
When you're ready to cook, heat a generous lug of olive oil in a tagine or casserole-type pan and fry the meat over a medium heat for 5 minutes. Add your chopped onion and cilantro stalks and fry for another 5 minutes. Tip in the chickpeas and tomatoes, then pour in half of the stock and stir. Bring to the boil, then put the lid on the pan or cover with foil and reduce to a simmer for 1½ hours.
At this point add your squash, the prunes and the rest of the stock. Give everything a gentle stir, then pop the lid back on the pan and continue cooking for another 1½ hours. Keep an eye on it and add a splash of water if it looks too dry.
Once the time is up, take the lid off and check the consistency. If it seems a bit too runny, simmer for 5 to 10 minutes more with the lid off. The beef should be really tender and flaking apart now, so have a taste and season with a pinch or two of salt. Scatter the cilantro leaves over the tagine along with the toasted almonds, then take it straight to the table with a big bowl of lightly seasoned couscous and dive in.
Serves 4-6.
[1]Source
Recipe reprinted with permission from "From Jamie Oliver's Food Escapes," by Jamie Oliver (copyright Jamie Oliver, 2010, 2011; published by Hyperion; all rights reserved. Photo reprinted with permission from "From Jamie Oliver Food Escapes," by Jamie Oliver (copyright Jamie Oliver, 2010, 2011; photo copyright David Loftus, 2010, 2011; published by Hyperion; all rights reserved. Disclosure: Hyperion sent a copy of the book for review.
Sunday Supper
See this page [2] for all the wonderful #SundaySupper dishes I have made since I joined this group, and links to all the other delicious dishes made by my fellow cooks.
Preparation time: 3-24 hours (marinating)
Cooking time: 3.5 hours
Diet tags: High protein, Gluten free
Number of servings (yield): 4-6
Culinary tradition: Middle Eastern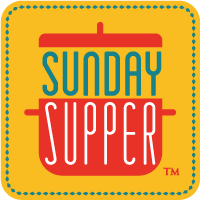 [3]
This week our #SundaySupper blogger crew is 
all about the Middle East.
 Check out the variety of things we have cooked up for you! Try this Beef Tagine or find something else from the menu below that floats your boat:
Mezze {Appetizers}
Salata {Salads and Sides}
Main
Halwa {Desserts}
Join us around the family table for #SundaySupper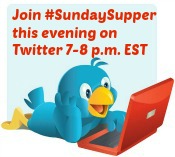 [33]