Recipe: Parmesan Garlic Roasted Baby Artichokes
Summary: Fiesole Baby Purple Artichokes — almost entirely edible, with no hairy choke — charm after a bath of garlicky olive oil and a blanket of Parmesan cheese. A quick broil, and the pleasures of the artichoke are all yours.
Ingredients
1 pound Fiesole Baby Purple Artichokes
3-4 tablespoons extra-virgin olive oil
2-3 cloves crushed garlic
Grated Parmesan cheese
Instructions
With a sharp knife, trim stems and tops off artichokes (about half an inch off the top), and peel away tough outer leaves, leaving just the soft inner leaves.
Bring a shallow pot of water to a boil, insert a steamer tray, add trimmed artichokes, cover and steam for about 8 minutes. Remove from heat; remove chokes from pot onto a cutting board. Fire up the broiler.
Slice each steamed choke in half vertically. Into a large mixing bowl place olive oil and garlic and whisk to combine. Add halved chokes and toss to coat them with garlicky oil. Using a tongs, place each half choke, cut side up, on a baking tray. Sprinkle each choke half with some grated Parmesan.
Place tray under broiler and broil until bubbly and cheese is just starting to tinge light brown; this might take 3-5 minutes.
Remove and serve!
Serves 4.
Preparation time: 20 minutes
Cooking time: 10 minutes
Diet type: Vegetarian; Gluten free
Number of servings (yield): 4
Culinary tradition: USA (Nouveau)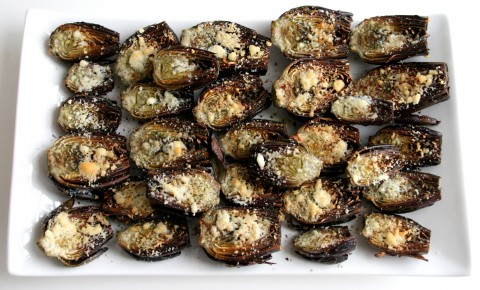 [1]