Recipe: Honey Mustard Pretzel Crunch
Summary: Sweet, salty, savory, smoky, spicy and crunchy – this addictive snack has all the food groups covered, and is perfect for game day munching.
Ingredients
4 ounces (1 stick) unsalted butter
1/2 cup honey
2 (12-ounce) packages pretzel pieces (honey mustard and onion flavor), such as Snyder's of Hanover brand
3 (6-ounce) can smoked almonds
2 tablespoons Melissa's Hatch Chile Powder (or your favorite chile powder)
Instructions
Heat the oven to 350 degrees. Lightly mist 2 large baking sheets with cooking spray, or coat them with oil.
In a small microwave-safe bowl, combine butter and honey, then cover and heat in the microwave on medium-high until melted. Stir to blend.
In a large bowl, combine pretzels, almonds and chile powder. Add the butter and honey mixture and mix well. Spread the pretzel mixture in a single layer on the baking sheets. Bake for 15 minutes.
Let the mixture cool, and then transfer to a serving bowl, toss and serve.
Serves 6-8.
Pair this with ice-cold beer or a nice Pinot Grigio (Gallo Family Vineyards, anyone?).
Source
"Melissa's Hatch Chile Cookbook" by Sharon Hernandez and Chef Ida Rodriguez (2013; World Variety Produce, Inc.). Melissa's sent the cookbook for recipe testing. 
Sunday Supper
See this page [1] for all the wonderful #SundaySupper dishes I have made since I joined this group, and links to all the other delicious dishes made by my fellow cooks.
Preparation time: 5 minutes
Cooking time: 17 minutes
Diet type: Vegetarian
Number of servings (yield): 6-8
Culinary tradition: USA (General)
My rating 5 stars:  ★★★★★ 
[2]
Today's Sunday Supper  recipes
This week our #SundaySupper blogger crew is celebrating Super Eats for Game Day, hosted by Heather of Hezzi-D's Books and Cooks [3]. Check out the variety of things we have cooked up for you! Try my addictive Honey Mustard Pretzel Crunch or find something else from the menu below that rings your chimes:
Game Day Appetizers:

Game Day Entrees:
Game Day Desserts:
Join us around the family table for #SundaySupper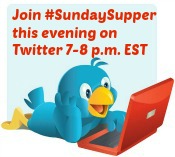 [52]