Print This Post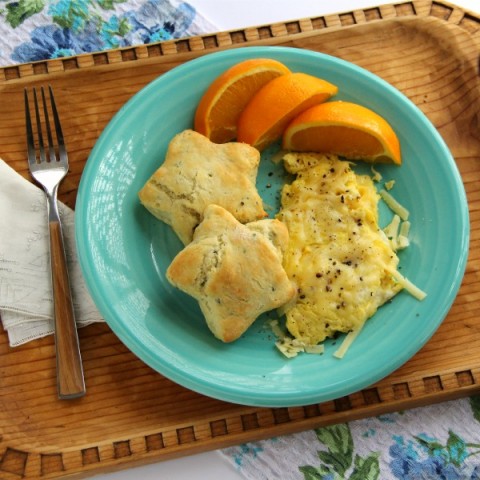 I wanted to send us out in style today, on the last day of our winter break from school. We're all a little sad that our 2-week lazy-days vacation is over. School starts again tomorrow, and even though we have only one high school senior in our house, we ALL have senioritis.
Savory biscuits and cheesy eggs were required. Luckily, a shipment from Kerrygold, the Irish cheese and butter producers, arrived in the nick of time. Those Irish cows roaming the verdant hillsides, happily munching grass…they sure make some tasty butter and cheese. #KGgrassfed, indeed.
My current obsession is the Kerrygold Garlic and Herb Butter, a perfectly flavor-balanced butter than I will share only if I have to. Today, I had to. It made some wonderful breakfast biscuits that would also be good served with soup for dinner, IF there were any left.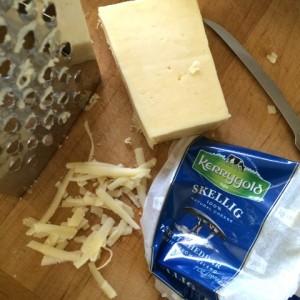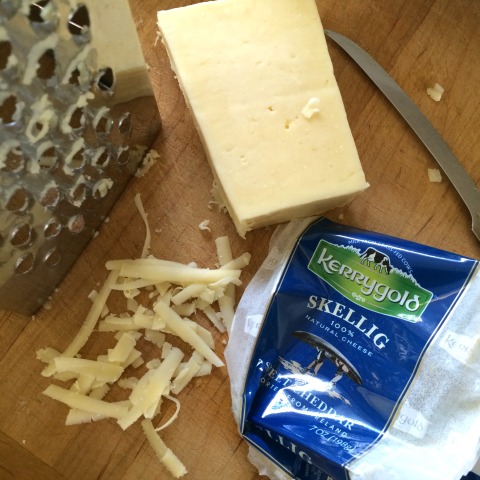 And I've discovered that when you use really, REALLY good cheese, such as our favorite Skellig, you only need a little bit to impart the cheesy flavorful goodness your mouth wants. You don't have to pile it on and envelop your food like a snuggie blanket. More like a little lacy shawl, it should enhance and be just barely there on your scrambled eggs.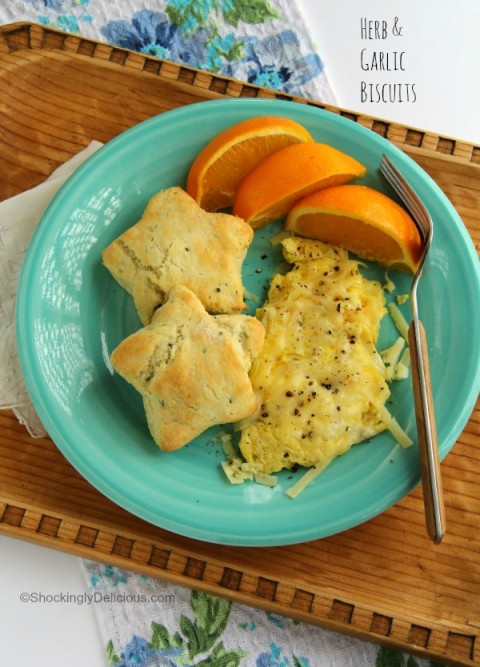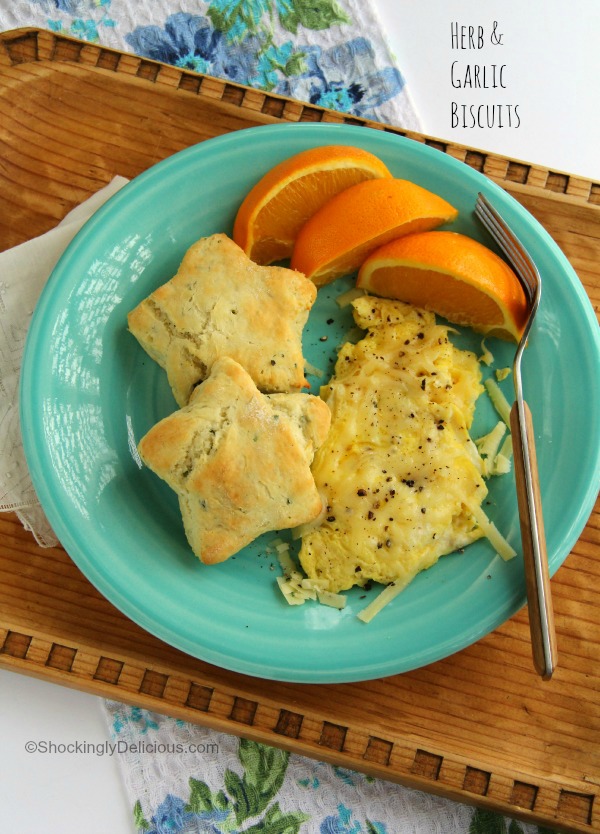 A perfectly seasoned, fluffy, savory biscuit to accompany cheesy eggs for breakfast or soup for dinner.
Ingredients
2 cups all-purpose flour + plus more for rolling and dusting
2 tablespoons baking powder
2 teaspoons sugar
1/2 teaspoon salt
5 tablespoons cold Kerrygold Garlic and Herb Butter
1 cup milk
1 teaspoon minced fresh chives
Directions
Using an electric mixer, add flour, baking powder, sugar and salt to the bowl, and mix on medium until combined and any flour lumps are dissipated. Cut butter into pats and add to flour, mixing until butter is cut into the flour and resembles rough crumbs. (If you don't have an electric mixer, you may use a fork or pastry cutter to cut the butter into the flour mixture.)
Add milk and chives and mix for 15-20 seconds or so to combine ingredients. It should form a rough ball. Do not over mix.
Scrape the dough out onto a well-floured board or surface and pat it down into a reasonable rectangle about 1 inch thick. Heat oven to 425F. Allow the dough to rest on the board while the oven heats.
Gently pat the dough a bit more, so it is roughly a 10-a by 6-inch rectangle. Cut dough into biscuits using a biscuit cutter, the floured rim of a drinking glass, or a knife. You could make round, square or shaped biscuits, depending on your cutter. I made stars today, to cheer us up.
Using a spatula, transfer biscuits onto a cookie sheet and bake until golden brown, approximately 10-12 minutes.
Serves 6 to 8.
https://www.shockinglydelicious.com/herb-and-garlic-biscuits/
Copyright Dorothy Reinhold | ShockinglyDelicious.com. All rights reserved.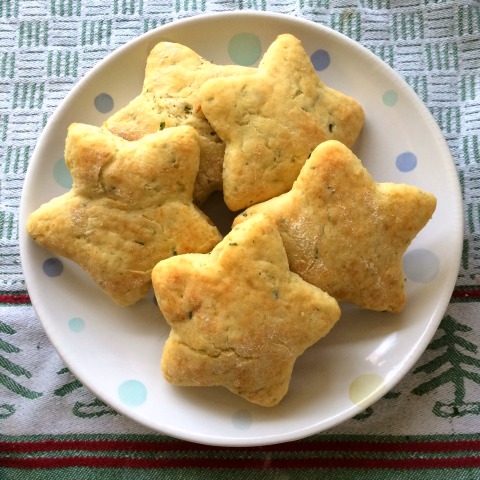 Disclosure: Kerrygold sent butter and cheese for recipe development.