Recipe: Heart-Shaped Potato Lovers' Potato Chips
Summary: A genius idea to soak raw potato slices in beet juice yields charming pink heart-shaped homemade potato chips!
Ingredients
2 large Idaho Russet potatoes
2 tablespoons salt
1 (15-ounce) can beets (whole, sliced or shredded)
Oil for frying
Equipment: small heart-shaped cookie cutter
Instructions
Using a mandoline, thinly slice the potatoes. Punch a heart shape out of each slice. Put all the heart-shaped pieces in a colander, add the salt and toss. Let the heart-shaped pieces sit about 30 minutes. (This extracts some of the water out of the potatoes so they can better absorb the color from the beets.)
Put the beets with their liquid into a blender; whirl until smooth.
Rinse the potato slices and pat dry very thoroughly with paper towels. Put the potato slices into a bowl or plastic container, pour the beet puree over, and stir gently to make sure every slice of potato is in contact with the beets. Refrigerate overnight.
The next day, fish the heart-shaped potato slices out of the container. Rinse in a colander and dry thoroughly with paper towels. They will be stained pink.
Pour 3 inches of oil into a heavy pot or saucepan. Heat the oil to about 350 degrees F. Drop in a few chips at a time and fry until golden around the edges and crisp. Remove the chips with a slotted spoon and drain on paper towels. Sprinkle with salt while still warm.
Preparation time: 30 minutes
Cooking time: 10 minutes
Diet type: Vegetarian
Diet tags: Gluten free
Number of servings (yield): 4-6
Culinary tradition: USA (General)
My rating 5 stars: ★★★★★
If you like this recipe and want to save it, pin it to your Pinterest board using the image below

Here are a couple of the recipes from the party, posted elsewhere. Check them out!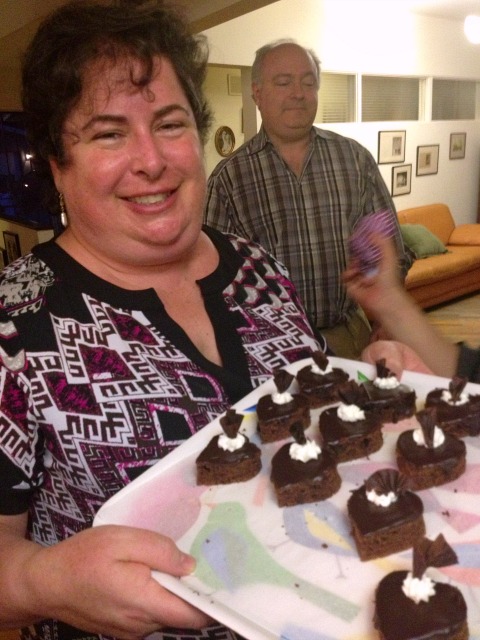 [7]
This post was originally published Feb. 11, 2014, and has been republished today.
Save
Save