Recipe: Fireworks Roasted Cauliflower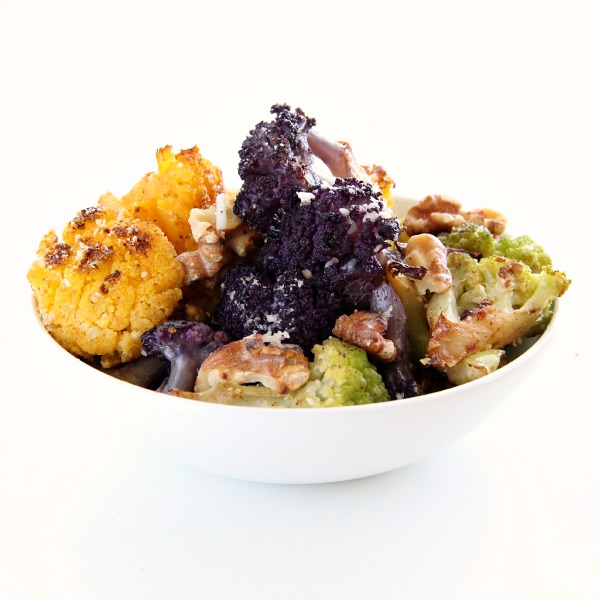 [1]Summary: Tri-colored cauliflower bursting with chipotle chile flavor makes a perfect reminder of July 4th fireworks.
Ingredients
1 head purple cauliflower
1 head orange cauliflower
1 head green cauliflower
3 tablespoons orange-flavored olive oil (I used Hotel Valencia Blood Orange Extra-Virgin Olive Oil)
Sprinkle of ground chipotle powder (~1/4 teaspoon; more if you like it hotter)
4 tablespoons grated Parmesan cheese
1/3 cup California walnuts, toasted
Instructions
Turn oven on to 375 degrees.
Trim stems and leaves off cauliflower heads, and break them into individual florets. Cut large florets in half vertically, or even in quarters if they are very large. Add florets to a large mixing bowl.
Drizzle with olive oil, toss to coat florets, and sprinkle with ground chipotle. Toss again for even distribution of the chile powder. Scrape onto a baking sheet with low sides. Roast for 30-35 minutes, stirring once at the halfway point.
Remove from oven and sprinkle with cheese. The heat from the cauliflower will melt the cheese. Break up walnuts and sprinkle on top.
Serves 6 or more, depending on appetites.
Recipe source
Dorothy Reinhold | Shockingly Delicious
Variations
Omit the Parmesan cheese for a vegan version.
Preparation time: 15 minutes
Cooking time: 35 minutes
Diet type: Vegetarian
Diet tags: Gluten free
Number of servings (yield): 6
Culinary tradition: USA (Nouveau)
My rating 5 stars:  ★★★★★ 
Disclosure: Thanks to Frieda's Produce for sending the cauliflower for recipe development. As always, all opinions are mine. The photos and recipe are  Shockingly Delicious originals.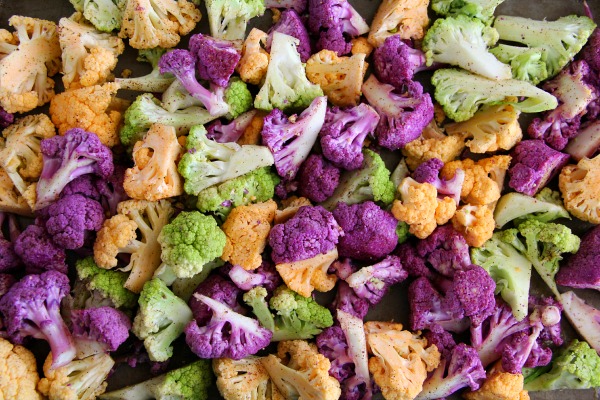 [2]