Recipe: Endive Stuffed with Blue Cheese, Walnuts and Honey
Summary: Endive leaves are the perfect receptacle into which blue cheese, walnuts and honey are stuffed, making a tangy-sweet-crunchy appetizer.
Ingredients
3-5 heads fresh endive
Crumbled blue cheese
Toasted walnuts, broken in half
Honey
Instructions
Slice root end off endive and separate leaves into individual spears. Rinse and dry well.
Arrange endive spears/leaves on a serving platter, and into each spear put some blue cheese crumbles (stuff the leaves to suit yourself), a few walnut pieces, and finish with a slight drizzle of honey.
Serve with a flourish (maybe put a towel over your arm like a maitre'd because you have earned the right to be fancy like that).
Allow at least 5-6 spears per person. (You could aim modestly and allow 2 spears per person, but you would run out and feel badly about it. This happened to me at a party so I know firsthand.)
Recipe source
Dorothy Reinhold | Shockingly Delicious
Sunday Supper
See this page [1] for all the wonderful #SundaySupper dishes I have made since I joined this group, and links to all the other delicious dishes made by my fellow cooks.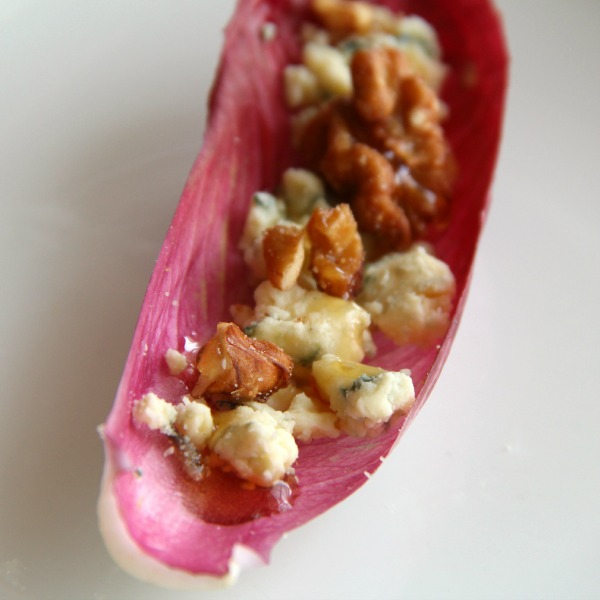 [2]Preparation time: 20 minutes
Diet type: Vegetarian
Diet tags: Gluten free
Number of servings (yield): 8-10
Culinary tradition: USA (General)
My rating 5 stars: ★★★★★
Disclosure: California Endive Farms [3] sent the endive for recipe testing and California Walnuts [4] sent the nuts.