Recipe: Crunchy Granola Bars (Better than Nature Valley)

Summary: Crispy, sweet and oaty, these classic granola bars beat Nature Valley's version in our family taste test. They make a great soccer game snack, or nosh for a voracious teenager.

Ingredients

2 cups rolled oats
1 cup all purpose flour
1 cup shredded coconut
2 sticks (8 ounces) unsalted butter
Pinch of kosher salt
1 tablespoon Lyle's Golden Syrup [1] (or use honey)
1 cup brown sugar
1 teaspoon vanilla extract
1 teaspoon baking soda

Instructions

Heat the oven to 350F degrees. Mist a 12- by 8-inch baking dish (I have a glass Pyrex dish this size) with nonstick spray, or grease it with butter, and set aside.
Mix the oats, flour and coconut in a large mixing bowl.
Melt the butter in a medium saucepan on the stove, and then add the salt, syrup and brown sugar. Stir and heat to a simmer. After it simmers, turn off the heat, add the vanilla and baking soda, and gently stir. The mixture will foam up slightly and lighten in color, thickening somewhat. Pour this mixture into the dry ingredients and stir by hand.
Turn the mixture out of the pan into the prepared baking dish, and tamp it down, using an offset spatula or the back of a metal spoon.
Bake for 15 minutes at 350F degrees, and then turn the oven down to 325F degrees and bake for another 10 minutes, until golden brown.
Remove pan from oven and cool it completely. Invert pan onto a cutting board and the block of cookies should pop out of the pan. Give it a tap if it doesn't.
Cut into 36-40 bars.
VARIATIONS: Please see the variety of suggestions in the reader comments below. People have been experimenting with them!

Preparation time: 15 minutes
Cooking time: 25 minutes
Diet type: Vegetarian
Number of servings (yield): 36
Culinary tradition: USA (General)
My rating 5 stars:  ★★★★★ 

If you like this recipe and want to save it, pin the image below to your Pinterest board.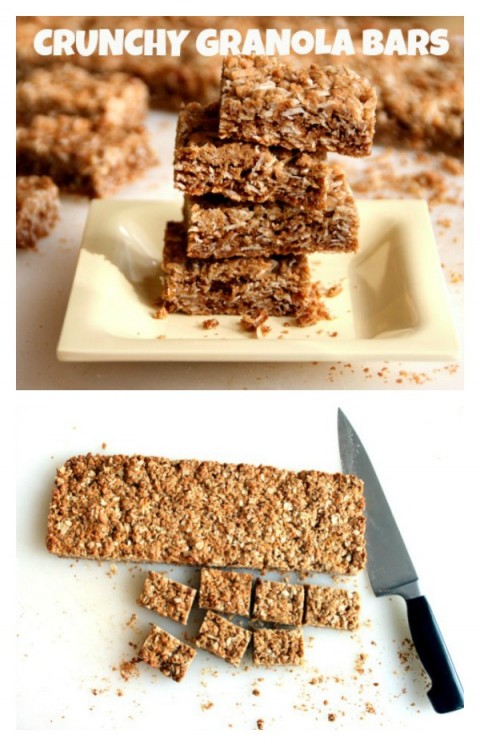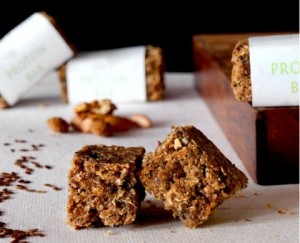 And if you want to try another snack-type bar for your athletes to munch, try this homemade protein bar [2] (gluten-free, without protein powder) by my pal Helene. →
Thanks for visiting…are you hungry for more? Follow Shockingly Delicious on…
FACEBOOK [3] | PINTEREST [4] | INSTAGRAM [5] | TWITTER [6]
…for all the latest recipes, ideas and updates!
This post may contain affiliate/referral links. It is a way for this site to earn advertising fees (at no cost to you) by advertising or linking to certain products and/or services.